Infrastructure To Gulp N347.2B - FG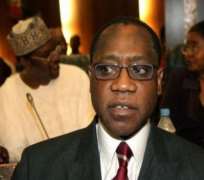 ABUJA, Dec 23, (THEWILL) - The Federal Government today made announced that about N347.2 billion would be spent on infrastructure development.
The breakdown of the amount indicates that N86.25 billion will be spent on Power, N20.74 billion on Aviation, N10.27 billion on Petroleum Resources, N136.88 billion on Works, N48.9 billion on Transport and N44.18 billion for the Federal Administration. Finance Minister, Olusegun Aganga made the disclosure to newsmen in Abuja while speaking on the 2011 budget estimates submitted to the National Assembly. Aganga hinted that about N102.3 billion would be devoted to Human Capital Development including N35.01 billion for education, N33.35 billion for Health and N33.81 billion for Millennium Development Goals (MDGs). Aganga further stated that about N54.22 billion was set-aside for Land Reform and Food Security comprising N29.46 billion for Agriculture and N24.76 billion for Water Resources. N104.1 billion is proposed for Security, while N100.2 billion is for Niger Delta, comprising N46.79 billion for allocations to the Niger Delta Development Authority (NDDC) and N53.4 billion for the Ministry of the Niger Delta Affairs. Speaking on the rationale for the $900 million loan got from the Chinese Export Import Bank, Aganga pointed said it has two components; $500 million is for the Abuja-Kaduna railway project and $400 million for national security commission project.
"It is a concessionary loan to be repaid in 20 years; it attracts 2.5 percent interest with a moratorium of 10 years," said Aganga, adding that "It is cheap money that any country will like to have access to. And we are determined to reduce Nigeria's domestic debt profile which stands at $28.5 billion. On the country's external debt, Aganga said it stands at $4.8 billion, 90 percent of which is on concession, stressing that President Goodluck Jonathan abhors borrowing but would like to do this to solve the critical nature of Nigeria's infrastructure.