BAMANGA TUKUR'S SUCCESS STORY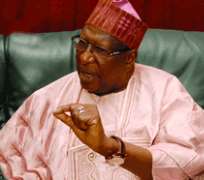 Bamanga Tukur
Foremost African businessman and New Partnership for Africa's Development, (NEPAD) chairman, Alhaji Bamanga Tukur, has compared the massive support ex-President Olusegun Obasanjo had over Dr Alex Ekwueme in 1999 to the ruggedness of a truck driver against that of a bus driver.
Bamanga Tukur traced his robust relationship with Obasanjo back to the days the latter was Commissioner (equivalent of Minister) of Works when he (Tukur) was Managing Director of the Nigeria Ports Authority (NPA), during which period most of the ports in Nigeria were built.
Speaking to Sunday Sun on the public presentation of his biography, Bamanga Tukur: A Statesman and African Private Sector Legend, which took place December 10 at the International Conference Centre in Abuja, he said he has come a long way with Obasanjo and would therefore not join the mainstream thinking in the North to vilify him.
'Somebody asked me, why did we choose Obasanjo over Alex Ekwueme in 1999? And I said, well, it is just like a bus driver and a truck driver. At that time Nigeria needed a truck driver. Let us call a spade a spade,' alluding to Obasanjo's ruggedness and audacity.
Dismissing the insinuation that he is closer to Obasanjo than other former heads of state from the North, the marine transport magnate said: 'Babangida is a good friend of mine. He respects me and I respect him. He is a very charismatic leader. My friends can be in government or they can be out of government, but they are still my friends.
'I have worked with Obasanjp since he was Commissioner of Works. It was under him I built all the ports complexes (in Nigeria). Under him and (Gen) Murtala Muhammed, I built the Wharf extension; the container terminal, the Tin Can Island, Warri, Sapele, Calabar and Onne ports. I improved ports authority by about 500 per cent when I took over.'
According to the current chairman of Africa Business Round Table, while developing the maritime sector, he made sacrifices to ensure the ports were built.
'I used to work 18 hours. There was a time I was away from my house for three months to clear the ports.'
The biography, written by Prof J.H. Pongri, is a compendium of Bamanga Tukur's life, upbringing, education, business and his politics. Indeed, business is what defines this 75-year old technocrat and business tycoon. Having had a good head-start in life with a disciplinarian father-teacher and a good foundation, the father of 18 children said he is a creator of wealth, which he said manifests in the good training he has given all his children.
All his children schooled abroad (to avoid interruption in their educational pursuit) and to go through the mill, none of them is working for government as they are all self-employed. The business mogul admitted that he was never poor, even though he quickly added that wealth is not about material acquisitions only.
On his upbringing, he said: 'My parents are strict disciplinarians. My father was a teacher, a headmaster. He was among the first set of people who went to Katsina Middle School to acquire Western education. He impacted in us the Qur'anic and Western education, from elementary school to middle school, to university. So he brought us up to follow the system.'
On the secret of his wealth, he said: 'I don't know what you mean by wealth. I have never been poor in my life but I create wealth. When you create wealth, you cannot be poor, but I don't mean material wealth. I mean the understanding and satisfaction of what I do, which I do well. I work hard, I look at challenges and I try to scale them. There is nothing impossible. Part of creating wealth is in the training and education I give my children. None of them works for government, and they are all self-employed.'
Despite being a well-heeled and popular businessman, Tukur was also active in politics and has remained in the business of politics. In 1983, he was elected governor of Gongola State (now defunct). He was there for only three months before the military takeover of 1983.
Tukur was a founding member of the Peoples Democratic Party (PDP) and a former member of the party's Board of Trustees (BOT). He is however not happy that the party, which prides itself as the biggest in Africa, has been run aground. This and the absence of clean politics, according to him, contributed to his waning interest in politics and PDP activities.
'I want peace, I want clean politics. I don't like the way the party is being run. As a founding father of the party, we wanted an all-inclusive party not only for Nigeria but even for the black race. We wanted United States of Africa. Regrettably, PDP has derailed and no longer holds on to the principles of its founding fathers. It was not supposed to be a party of individuals.'
The former governor revealed that he quit active politics because those who hold the strings in the party and within the inner caucus have overwhelmed, out-numbered and pushed people like him out of the mainstream, despite his assumed towering influence.
'By the time they hold meetings and you only get to know through the press, you should see the handwriting on the wall.' Interestingly, Tukur has his own opinion on political issues. Thus his observations about the ongoing political battle between President Goodluck Jonathan and former Vice President Abubakar Atiku, on one hand, and the Adamu Ciroma-led Northern Political Leaders Forum, which picked Abubakar as the group's consensus candidate ahead of the PDP presidential primaries. Tukur, however, likened politics to competition and urged both Atiku and Jonathan to compete and win. While presenting Jonathan when the latter publicly declared for the presidential race, Tukur said he was with him (Jonathan) 'but if Atiku wins, fine. It is still the PDP family.'
But he faulted the process that produced Atiku, whom he refers to as 'a junior brother,' as the NPLF consensus candidate. 'I wish him well, but there is nothing like a consensus candidate. The process is wrong. Consensus is like electing a pope. The list could go out the first, second and even third time until you arrive at a candidate and everybody agrees with. Because the course and process are not complete, as far as I'm concerned, there is no consensus.'
Predicting that the 2011 election would be difficult, he adds: 'I hope people will understand that it is only a competition; there is no enmity. It is like participating in the Olympics. You don't have to win, participation is what matters. Let the best win and let the PDP win, because it is the party I helped found.'
Tukur may not be active in partisan politics but he is very much at home in the politics of business. As chairman of the NEPAD Business Group and Africa Business Round Table, represents the continent's business at the United Nations, African Union, ECOWAS and the G-8, all of which are geared towards good corporate governance for Africa.
'We mentor people on how to make money without being cheats, the ability to do things right and get the price and added value right. At NEPAD, in addition to mentoring small and large-scale businesses, we create access to finance for them. We talk on how to prepare good business plans that will make them acceptable to finance institutions.'
On debt relief, he said NEPAD worked for Africa to get debt relief while its Peer Review Mechanism framework ensures good governance, transparency and accountability. It is also a means by which member countries and their countries are reviewed, monitored and evaluated independently.
On charges that NEPAD or AU can only bark and not bite, he gave as example the stand of ECOWAS on the current crisis in Cote d'Ivoire as a potent force by which activities of member countries are measured. Threats of sanction, blocked access to funds and economic embargoes and the enjoinment of democratic tenets are all ways through which members are checked.
That Tukur is one of the most forward-looking and detribalised Nigerian is not in doubt. Recently, his daughter got married to Hajiya Bola Shagaya's son in a cross-cultural display of opulence and splendor, which got tongues wagging. The question people are asking is: were the parents poor, would their ethnic affiliation not be a major consideration in the betrothal of their children?
Tukur, however, dismissed such insinuations as crazy, to think that a Yoruba cannot marry a Fulani.
'I don't have sympathy for region or tribe; it has never been in my calculation. In my business, everybody is on board, no matter who you are or where you come from. I only like the best. Is it by choice that I'm Fulani or he is Fulani?'
What is important in marriage, he said, is the family one comes from and for the two people involved to work together and 'to be a good ambassador of your family.' Tukur himself is married to women from diverse backgrounds – Hausa, Ijaw, Yoruba and Calabar.
His liberal attitude also accounted for the fact that he was not bothered about where his biographer hails from except that he is from Adamawa State and teaches at the Gombe State University. His aide had to remind him that Dr Pongri is Kilba, an ethnic group in Adamawa.