JEGA, INEC AND 2011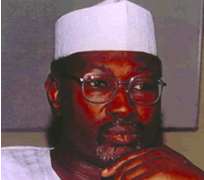 Jega
The chairman of the Independent National Electoral Commission (INEC), Prof. Attahiru Jega, should have known by now the enormity of his job to conduct the 2011 general elections in the country.
Before his appointment as INEC boss, which was hailed by all Nigerians, Jega's only prominent role that perhaps got him the job, apart from being a university teacher at Bayero University Kano (BUK), was leading the national Academic Staff Union of Universities (ASUU) on a national strike.
Jega made a name by remaining adamant to government's moves then to make ASUU succumb to its antics. He was commended then by Nigerians for his guts. But now, the ball game is different. I do not know if Jega is in a familiar turf with INEC's job or not. What is clear is that leading ASUU in a confrontation with government is not the same as leading INEC to conduct a general election in the country.
In case Jega is not aware, let him know right now that there is a big difference between ASUU activism and being chairman of INEC. The politics of the former is entirely different from the politics of the latter. They require different approaches and methodologies to achieve the desired results. While you may escape the label of partisanship in one, it is hard, if not difficult, to escape such in the other. But all the same, one can come out clean in both depending on one's goal and methods of achieving it.
At ASUU, Jega dealt with sane minds in government but in INEC, he will be dealing with a motley crowd of politicians of different colours and temperament including those of amala and gbegiri, bread and butter, egusi and agbolo, agbataekee, do or die and other forms of politicians the nascent democratic dispensation has produced. They also include political entrepreneurs, the god fathers and those who see politics as a business that would attract high return on investment (ROI).
Actually, I do not envy Jega or any other person that sits on the chair of INEC. As INEC chairman, you are already in a hot seat. You are on fire and your head will always ache. While politicians that win election will hail you, those that lose, either fairly or unfairly, will cast you in the mode of Judas or Satan. Truly, the job of an electoral umpire is not easy in Nigeria from independence till date. If Jega is in doubt, let him ask those that have travelled that road before.
He should ask Iwu, Guobadia, Ovie-Whiskey and others still alive. The job of INEC's chairman is a thankless job. It is also a powerful and influential job. The job attracts more enemies than friends. After such a job, you are on your own. Nigerians and politicians including those you help win election will loathe you forever. When Jega was appointed newly, he exuded great optimism and assured Nigerians that all will be well in the 2011 polls.
And we applauded him. After some days, Jega started to sound differently. Recently, the same Jega told us not to expect a perfect election in 2011. Before that, he has said that only INEC cannot guarantee credible polls in the land. What Jega has told Nigerians is not entirely news. But something tells me that Jega at times appears contradictory. There should be a difference between optimism and pessimism. Both can hardly go together.
Granted that INEC alone cannot do the magic, but Jega should raise our hopes. For now INEC is the only official body charged with conducting election in Nigeria. It should ensure that it is well done. We know that INEC needs the assistance of all Nigerians to succeed in 2011-security operatives, INEC staff (permanent and ad-hoc), the politicians and their thugs. We also know that a perfect election is not obtainable in this world even in the US-the bastion of modern day democracy. But INEC should give us hope and try to reach the standard set by Prof. Humphrey Nwosu in 1993.
The recent disappearance of INEC's Direct Data Capture (DDC) machines at Murtala Muhammed International Airport (MMIA), Ikeja, Lagos and Jega's response that the missing machines were not those of INEC (which later became those of INEC) was not amusing. I think that like most Nigerians too, that Jega should sit up and think deeply on how he is going to give Nigerians a credible poll next year. Jega should indeed not have any excuse. INEC's budget has been jerked up and it has been given extra time to prepare for the polls, therefore any other pronouncement that we should not expect a free and fair poll is inexcusable.
Jega should not use such excuse as an alibi to justify any failure on his part to deliver an acceptable poll. If he likes, let him go for tutorials at the knees of Nwosu of Option A4 fame. Till date, Nwosu is the best electoral umpire this nation has produced. Nwosu gave us a free and fair poll in 1993 but unfortunately it was annulled by those in power.
To avoid failure or disappointment, let Jega build on what Nwosu achieved. Option A4 is still the best anti-rigging election methodology, indigenous to us, that has put riggers and power pretenders and contractors at bay. Politicians dread Option A4. That is why it has been abandoned. Jega can still use it or modify it a little.
But it remains the best method to checkmate electoral fraud and impunity. Nigerians want credible election next year. If Option A4 can guarantee that, which I believe it can, Jega should use it and stop dishing out these well rehearsed excuses at intervals. Jega should convince all of us that he can deliver and nothing more.