NEW NSE DG: IKE, ONADELE DIVIDE COUNCIL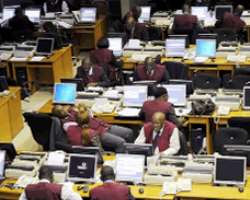 Baring last minute change, the Nigerian Stock Exchange (NSE) may announce the newly recruited chief executive officer of the Exchange this week, with Mr. Bola Onadele and Yvonne Ike being front runners to clinch the exalted job. Both finalists are said to have divided the Council of Nigerian Stock (NSE) as to who should clinch the top position at last.
Already, Mrs. Taba Peterside and Binus Yaroe are said to have emerged successful as the Executive Directors. The duo who are already employees of the Exchange are to be joined by two other successful applicants for the post of Executive Directors who are coming from outside.
As one of the three finalists pencilled down for the job, Onadele has another strong contender, Yvonne Ike, to beat. Oscar Onyema has also been found worthy of the job and can pull a last minute surprise. Daily Sun gathered from impeccable sources that Onadele has divided the Council of the Exchange as some of the members are predisposed to have him for the job.
Mr. Onadele, an Economics graduate and a Chartered Accountant is the founder of Financial Datanet. Koko, (as he is popularly called in the Nigerian financial market), is vast in Treasury Management Operations with experience spanning over 10years as Assistant General Manager Treasury (Citibank Nigeria) and Vice-President, Treasury group of FCMB.
With a passion for Treasury development, he has been involved with a number of market development activities of the Money Market Association of Nigeria (MMAN); having served on the FX Advisory and Market Development Committees of the MMAN between 1997 and 2000.
He was the Chief Operating Officer of Lead bank between 2003 and 2005 and served as a Director of the Nigeria Inter Bank Settlement System (NIBSS) in 2000. Koko championed the two-way quoting system in trading in the foreign exchange market, the Nigerian Inter-bank Offered Rate (NIBOR), Nigeria Inter-bank Foreign Exchange Index (NIFEX) and the introduction of screen based dealing in Nigeria.
He was a facilitator for the Citibank Bourse Game (Foreign Exchange & Money Market Simulation) course in Nigeria and Ghana between 1997 and 1998. He also served as faculty member of the Lagos Business School/MBC International Bank Treasury Simulation Course. He is currently the President of FDHL.
However, Yvonne Ike, a South Easterner married to Hon. Habeeb Fashinro, a House of Representative member, is believed to have the backing of highly placed insiders in government and at the capital market.
Presently out of job, Mrs. Fashinro was a senior investment banker and until 2009 was a Managing Director at JP Morgan Chase, one of the world's biggest financial services institutions, where she was Head of Investment Banking for West Africa. Prior to that, Yvonne worked at Lehman Brothers. She is an Ernst and Young trained Chartered Accountant and holds a BSc in Economics.