WHY ORLU LEADERS CAN'T TAKE UDENWA SERIOUS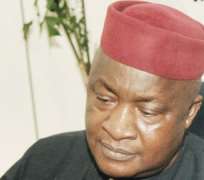 From a distance, former Imo State Governor, Chief Achike Udenwa is a pleasant man. He exudes an uncanny humility, which disarms the unwary. But behind the façade lies an unforgiving spirit, foxy demeanour and ruthless political executor. That accounts for the reason why remarkable and notable political, religious and traditional rulers in Orlu zone don't see eye to eye with him. Recent altercation with his successor, Governor Ikedi Ohakim has gone a long way to confirm that the Amaifeke-born politician is not weary of political battles even as he has been reportedly boxed out of the ruling People's Democratic Party (PDP). Ironically, when he chanced on the political firmament in Imo State, his kiths and kin from Orlu gave him an unprecedented massive support because they believed that he was their messiah. They had every reason to in that Udenwa was the first Orlu man to emerge as a democratically elected governor since the creation of Imo State in 1976. With Nze Ignatius Umunnah as his Secretary to State Government, there was a glimpse of hope that the people of Oru were on their way to political and economic freedom. Unfortunately, they did not contend with the awesome nature of power with its intoxicating and alluring influence which goaded Udenwa to believe, albeit wrongly, that he was a god to be worshipped. His failure to heed to advice soon drove him to commit a monumental political blunder, which still haunts him till today. He is on record as being the only governor who could not choose his successor in 2007. That marked Udenwa's descent from his Olympian height. As soon as he was re-elected in 2003, he started alienating those who helped him into office. Prominent among them were Senators Arthur Nzeribe and Ifeanyi Araraume. While he wanted to take over the seat of Nzeribe, Udenwa's grouse with Araraume was that the senator was already seeing himself as a governor by using siren! It was in a bid to "deal" with Nzeribe that the former governor set up Orlu Political Consultative Assembly (OPOCA) to demystify him through the destruction of his political structures. The battle against Nzeribe was so fierce to a ridiculous extent that Udenwa caused a coffin of the senator to be carried along the streets of Orlu under a mock political burial organized by OPOCA. When eventually Nzeribe was dethroned, Udenwa quickly dumped OPOCA and formed an alliance with Araraume to fight Governor Ikedi Ohakim. Before then, the former governor had chalked up more political enemies from Orlu zone because he wanted to be seen as the only cock crowing in the area. He had lined up his business partner, Chief Iyke Ibe as his successor. But then President Olusegun Obasanjo rejected it based on an alleged security report that the said Ibe was laundering money for Udenwa. It was when Aso Rock asked him to shop for a successor that he unleashed the second leg of his terror against notable Orlu politicians namely, Eze Festus Odimegwu, Chief Hope Uzodimma and Chief Tony Ezenna. Knowing fully well that it was the turn of Okigwe to produce the next governor, Udenwa sold a lie to those leaders that Obasanjo and PDP had given clearance for anybody from any zone to contest the governorship for 2007. Thus Eze Odimegwu who had just left Nigerian Breweries squandered almost all his gratuity on the quest to be Imo governor. He had the most colourful and purposeful campaign for the primaries and had the third position to show for it. Those who knew him well swore that he has a large sized grudge against Udenwa bordering on deceit and political 419. On the other hand, Hope Uzodimma who entered the race at the very last minute was set to clinch the PDP flag when he emerged second behind Araraume and both were set for an epic re-run since none secured outright victory. It was then that Udenwa turned around to say that PDP had zoned the position to Okigwe zone and that Hope Uzodimma was precluded from running. People were horrified after the PDP BOT member had spent millions of naira on campaigns. The story of Chief Tony Ezenna is not different from the aforementioned. He was also lured into the race with the promise that the coast was clear for Orlu zone to contest the election. It was much later that they all discovered to their greatest embarrassment that Udenwa never intended to have any of them as his successor. If they still had doubt about that, the unsuccessful bid of the former governor for the senate and his grabbing of the ministerial slot meant for Orlu zone, cleared such doubts. Having used Senator Osita Izunaso as a bait to corner the PDP senate ticket, the former governor was paid in own coin when his former aide on publicity refused to yield the ticket to him. Izunaso went ahead to become the senator. But as soon as the late President Umaru Musa Yar'Adua dissolved his cabinet and sacked Engr Charles Ugwu, Udenwa renewed his quest for political domination by insisting on being made a minister against the examples of his colleagues like Orji Uzor Kalu of Abia who nominated their political aides and associates for the position. His lack-lustre performance as a minister which earned him flaks from all local government areas of the zone ensured that he was not noticed when he was kicked out by President Goodluck Jonathan. However Udenwa has continued to re-open healed wounds with his purported intention to contest the Orlu senatorial seat next year. Although he has not openly declared owing perhaps to the uncertainly pervading his political future, having lost out in the power tussle in PDP, Udenwa is said to be heading to the ACN to seek relevance. Though it has not been confirmed, the emergence of his cronies as ACN state executives in Imo more than lends credence to the speculations that the former governor is on his way to ACN. Interestingly that way may be very rough for Udenwa, as these leaders appear to have laid an ambush to extract their pound of flesh. Even the man who used to provide a buffer for him, Eze Cletus Ilomuanya, Chairman of South East and Imo Councils of Traditional Rulers has equally abandoned him owing to irreconcilable differences that have to do with unbridled thirst for raw power. As it were, his one time allies, members of the dreaded OPOCA have vowed to make the political terrain uncomfortable for Udenwa for abandoning them after they were used to dislodge Nzeribe and denigrate other notable Orlu leaders. The OPOCA leaders have since joined forces with Governor Ohakim to secure Orlu zone away from the former governor. As it stands now, Udenwa is not only on his own, he has a long and lonely road to walk as restitution for his past political perfidies.
Mr. Onyekwere wrote from Mgbee, in Orlu LG of Imo State.
Disclaimer:

"The views/contents expressed in this article are the sole responsibility of

thewillnigeria.com

and do not necessarily reflect those of The Nigerian Voice. The Nigerian Voice will not be responsible or liable for any inaccurate or incorrect statements contained in this article."
Articles by thewillnigeria.com