Again, PDP Says No Automatic Tickets For Politicians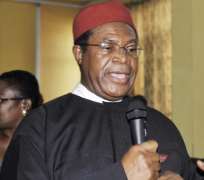 ABUJA, Dec 18, (THEWILL) - The Peoples Democratic Party (PDP) has for the umpteenth time said that at no time did the party offer any automatic ticket to any member or group of members aspiring to different political offices in 2011.
The party today said the attention of the National Working Committee has once again been drawn to screaming headlines in some newspapers where the issue of the so-called "Automatic Tickets" to various aspirants in the party received generous mention.
Professor Rufai Ahmed Alkali, National Publicity Secretary, in a signed statement said the party received several calls from some members and aspirants enquiring about the true state of affairs.
"To clear all doubts emanating from these insinuations, the National Chairman of the Peoples Democratic Party, Dr. Okwesilieze Nwodo, on behalf of the National Working Committee wishes to state categorically that such insinuations are false and unfounded as they have no basis in the Constitution of our great Party." "We have had cause to refute this issue on a number of occasions. The persistence of this rumour is the handiwork of mischief makers who wish to create disharmony within the Party." He said the NWC is committed to the provision of a level playing field for all aspirants at all levels in the primaries.
He said the aspirations of thousands of Party faithfuls who purchased forms to contest for offices on PDP platform couldn't be truncated by fiat especially under the ongoing reforms in the Party.
"For the avoidance of doubts, ALL Positions in the 2011 Primaries are open to all members who have signified their interests to contest. Our guidelines are very clear that all positions shall be contested for. There is therefore no room for imposition of candidates under whatever guise.
"Aspirants are advised to disregard such statements and concentrate their efforts in participating in the primaries without fear or intimidation", he said.
Meanwhile, the National Working Committee has directed that the screening of state Assembly and National Assembly aspirants shall take place at the State Headquarters of the Party nationwide. On the other hand, all Gubernatorial aspirants shall be screened at their respective Zonal Headquarters.
The NWC also commended the leaders and members of the National Assembly for restoring the powers to determine internal electoral processes to the political Parties.
This gesture the party said will no doubt enrich the practice of politics and give the parties the opportunity to create and sustain distinct identities for themselves.