GAPS AS AN OPENING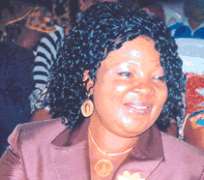 In her late 40s, Esther Aliu is sleek and sultry. She has the look of a celebrity, the charm of a socialite and the savoir-faire of a business mogul. Above all, she is also eminently qualified to be an educationist, what with her gilt-edged education and her salient contribution to the education sector. A holder of National Certificate in Education (NCE) from College of Education, Ilorin, Kwara State, in 1986, she is also a graduate of Ahmadu Bello University, (ABU) Zaria, where she obtained a Bachelor of Education degree in 1994. To cap it up, she is an alumnus of Lagos State University (LASU) where she had masters in Education Technology. In more than one way, she is qualified to be a stakeholder in the educational sector.
No wonder, today she is CEO of a private school. The Frontliners School, which she started in 2002, includes crèche, nursery and primary schools. Three years ago in 2007, as part of a continuing expansion of 'the school initiative,' she moved the complex to a new expansive site at Shasha Road, Akowonjo. Now she is laying down plans for the take-off of the secondary arm of the school to be sited at Alakuko, along Lagos-Abeokuta expressway. Barely eight years old, the Frontliners School is highly esteemed not only in Alimosho Local government; its name resonates around Lagos as a top-notch educational institute.
In her world, important events about Esther Aliu revolves around education. Her marriage, for instance, had an 'educational angle.' She recalls: 'I met my husband in Ilorin when I was doing my NCE programme; he came from the eastern part of the country where he was working to visit a family friend of his who was a lecturer at my institution.'
Looking back, she has come a long way, from being 'a Grade II teacher' to her eventual emergence as a school proprietress. Born in Ado-Ekiti, she spent her childhood in Ondo State. The quest for higher education took her to Kwara State, but marriage brought her to Lagos, because at the time, her husband worked in the Ministry of Finance in Lagos. And in Lagos, she 'put down a root;' incidentally, not as an educationist.
She started as a seamstress. By that, she was only actualizing a childhood flair for fashion, which she inherited from her mother who was herself an accomplished seamstress. By every count, Esther was successful in that chosen career. Her fashion school was thriving and it was a popular learning institute for several fashion-designing apprentices.
In addition to this vocation, she floated an agency called Frontliners Concern Limited that specialized in school promotions. As the Managing Director, she moved from one school to the other, contracting to organize children's activities and chaperone school children on excursions to several places, as well as organizing end-of-year parties for their respective institutions. She had no idea that she was 'tilling the ground.'
Waltzing within the educational circle, she ultimately caught the 'own-a-school bug' as she readily recounts: 'While I was in to full time promotions for schools, along the line, I was watching closely how those schools were being run, I mean how proprietors and proprietresses were running their schools. I saw a lot of lapses here and there. And I also saw a lot of inadequacies. I asked myself: how do I come in? Do I begin to point out these deficiencies? I don't believe they would listen to me.'
Rather than being a bystander, she decided to be a participant.  'I said to myself, why not go and start something; since I had all the necessary materials to start a model school,' she says. That desire prevailed - the desire to own a school; it consumed every other thing else. And 2002 was her year of decision. Actualizing that dream, however, called for sacrifices. To start the school, she had to forfeit her flourishing fashion business in 2002. Diving into that venture also called for realigning her priorities. Her other businesses became secondary, and merely means to an end, serving as leverages to raise the required capitals to drive the 'school dream,' in addition to inputs from her husband. The couple's residential building at Alakuko, Lagos, was converted to classrooms, which became the launching pad for the 'school project.' What started as a small idea has today transformed into a thriving, gold-plated educational institution.
Operating the school was not a bed of roses, she discovers. But the experience she had garnered from her peripatetic promotions business from one school to the other comes handy. 'I already knew what I wanted in my school' and as she says, 'it was just a question of putting them together.'
What gave her the conviction that she can successfully run a functional school was in fact her past experience as an insider in the education sector. She had worked in the past as a pioneer teacher at the prestigious Chrisland School. Her close working relation with the CEO of Chrisland, Dr. (Mrs.) Awoshika gave her insight and inspiration as to what the blueprint of an ideal school should be. More importantly, that learning experience taught her how to groom a college to meet international standards.
Nonetheless, eight years down the line, it's not yet Uhuru. Esther says the challenges are still enormous. 'I have had financial challenges; and there are infrastructure and equipment we still require to get us to our dreamland; I do not want to owe any of my staff; they, my staff, deserve their pay and I try to pay everyone of them before the end of the month,' she confesses.
Though, indeed, banks have been helpful by giving us financial aid to buy some facilities, ranging from computer systems to vehicles, she, however, insists, 'we can't say we have acquired all the facilities we need.' She is, nonetheless, not resting on her oars until she eventually 'shoot' her school to the lofty height she dreams of.
Now on a personal count. What is the 'good thing' about being in the education sector? The mother-of-four relishes: 'This profession allows me to run my home adequately. My day begins at 5a.m. and I don't leave home until probably past 7a.m. which gives me enough time to take care of my home; schools close earlier than any other parastatals; so now I have enough time to take good care of my home, my family.'
In spite of that, Mrs. Aliu is not yet fulfilled. She wishes she could do more. In fact, she is angling to go an extra mile for the sake of education. 'If I were the Minister of Education, with the power to effect changes, there are a lot of things I would want to change,' she declares.  First on her to-do list, she says is changing government's attitude to education in this country. If she has her way, she would make government to be committed to playing still a bigger role in funding education. 'Because a lot more still has to be put in place so that qualitative education is delivered at all levels beginning from pre-school to university level,' she argues.
Also she reflects: 'there are a lot of ills in the society today, particularly in the education sector which I believe if given the opportunity I can correct to some certain extent, beginning from the nursery school.'
She does not exonerate the society at large either, for some of the ills besieging the nation's educational sector. 'Many of us are at fault – wards and parents – and the sooner we accept that fact the better it would be for us to start to address these problems; the aggregate of our collective failure is what is causing the persistent fall in the standard of education.'
This apostle of education, in her own way, is ready to go the extra mile. 'These children' she says, 'are our future,' hence the motto of her school, 'raising tomorrows leader.'  This she believes is her call. And in doing this, she is totally committed. And all she needs is just one line of prayer: 'So help me God.'