AKUNYILI GETS APGA LG EXECUTIVES, TRADITIONAL RULERS' NOD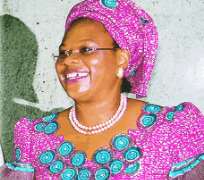 Immediate past Minister of Information and Communications and All Progressives Grand Alliance (APGA) senatorial aspirant, Prof. Dora Akunyili yesterday got the nods of traditional institutions and local government officials of her party for her senatorial ambition.
Akunyili, who visited five out of the seven local governments making up her Anambra Central Senatorial District where she addressed leaders of the party in the areas, was received with open arms by the party leaders and assured of full support of the local governments.
Also yesterday, the traditional rulers in Anaocha Local Government pledged their support for her senatorial ambition, promising to even campaign for her notwithstanding that monarchs were not expected to be partisan in politics.
The monarchs who prayed and poured libations on her behalf when she visited them at their council chambers at the Anaocha Local Government headquarters eulogized her performance throughout her national assignment and saluted her courage of resigning honourably and coming home to seek the people's mandate to serve them at the Senate.
Igwe Innocent Obodoako and Igwe A. C. Oragwam, Traditional Rulers of Agulu and Obeledu respectively who spoke on behalf of the other traditional rulers in the council, said her performances as Director-General (DG) of National Agency for Food, Drug Administration and Control (NAFDAC) and as Minister of Information and Communication made her stand out both in Nigeria and the diaspora.
Commending Akunyili that she had made them proud, they urged her to march forward in her quest for the Senate as it would not be in doubt that she would represent them very well, 'We thank you for your courage in leaving the exalted position of a minister, to come home and seek the mandate of your people to represent us at the Senate. We're proud of you, we are happy and we are solidly behind you.'
One of the local government chairmen, Chief Paul Aniekwe of Njikoka Local Government said his local government believes in the best and that Akunyili remains the best candidate for them in the forthcoming general election.
His words: 'We in Njikoka believes in the best and you are the best. You are very responsible. Njikoka is not committed to any of the aspirants and we want to tell you that we are for you.'
Prior to that, Akunyili had told the traditional rulers, just as she told the party leaders at the local government areas that she came home to seek their mandate to represent them at the senate so as to help the Governor, Mr. Peter Obi to ensure that the state and the zone were fully developed.
She noted that she started her political career from the local government as a councilor and rose to a Minister but all on appointments and now wants her people to elect her to represent and serve them as that would give her more impetus to do greater things for her people and Nigeria in general.
Akunyili who charged the people to participate in the forthcoming voter registration exercise, promised to use her connections worldwide to bring development to bear on her zone and the state. She added that she would, as soon as she wins and is sworn-in begin with major markets in the zone by building toilet facilities and boreholes, just as she would give, with the help of others, scholarships to children from the zone.
The former minister promised that the level of development in the zone would get in her first year in office would shock them and asked them to remind her to resign if after one year, they did not see any tangible work she did.
She therefore called on all to come together and build APGA to an enviable height, stressing, 'We want APGA to envelop the five eastern states', urging them to be orderly and ensure that the party's primaries were conducted in a free, fair and peaceful manner.
Warning them not to allow their children be used as thugs during the elections, she insisted that 'thuggery is sub-human and reduces human beings to the level of animals. Don't allow anybody to rig and don't rig for me. It is better that it is done in peace and I lose than winning and it will look like a mourning arena'.