NO SHAKING: GOV SYLVA CONFIDENT ON HIS 2011 RE-ELECTION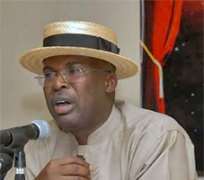 Gov Sylva
Ahead of the 2011 gubernatorial elections, Governor Timipreye Sylva of Bayelsa State has allayed fears that his position was threatened by other aspirants.
He believes that his great achievements in the three and half years he has been in the saddle would secure him victory at the polls.
Speaking with Daily Sun, a confident Sylva declared: 'No shaking at all. I am firmly and fully on ground. If elections are about solid achievements, I have no fear.
If elections are about catering for the welfare of the people, no shaking. If elections are about one man, one vote, no shaking. If it's about having the people on your side, we have no worries.
'I don't worry about newspaper propaganda.  I don't lose sleep over those whose campaigns are basically on the pages of the newspapers and the electronic media.  The diaspora politicians who are not on ground.
'All you have to do is go round Yenagoa, the state capital. Go round all the other parts of the state and they will tell you how much we have impacted on their lives in the period we have been in the saddle. Is it in terms of infrastructure?  Is it in terms of roads where we have constructed and rehabilitated over 50 urban roads? Is it in the health sector, education, electricity generation? Is it the construction and equipping of the new Law School complex, which is billed to take off in January 2011? Our achievements are rock solid that our people are enthusiastically waiting to extend our mandate for a second term.'
On the reported feud between him and President Goodluck Jonathan, Governor Sylva said the whole issue had been orchestrated by mischief-makers and blown out of proportion for political gains by opponents and critics of his administration. 
He assured that he was in the best of terms with the nation's No.1 citizen. 'All these are just phantom stories created, developed and packaged for media and public consumption. I have a very cordial relationship with Mr. President. 
I have nothing against him and I believe he has nothing against me. We are happy and proud that a Bayelsan, a Niger Deltan is, by the grace of Almighty God and the support of the generality of Nigerians, the president and commander-in-chief of the Armed Forces. We are also solidly behind his presidential ambition and we are confident he will win. So, you must disregard all these political mischief-makers who peddle all kinds of stories, just to cause friction and malign one. 
They believe the only way they can triumph at the polls is to fan the embers of discord and then go ahead and sell the story that the president is not with him. The president supports us because he knows we mean well for the people and that we have been doing our best.'
He expressed regrets that some sections of the media had gone ahead to publish damaging stories about him without critical investigation or verification. A case in point, he said, was the report linking him with drugs use.
'You know, the media needs to be more discerning. They just can't allow it to be used to denigrate others, especially public officials when the stories are completely false, when there are no facts at all. How can you write; oh, this man is a drug addict when the story is not true? How do you write; he's always drunk when the story has no iota of truth? When you do that, you destroy the official, you inflict psychological and emotional pain on his family, on his relations and friends. 
'That's not fair. That's not right. Especially when you have no facts to support your story; when you know the stories are completely wrong. The media is doing a great job but there are still a few others who tarnish the image of the profession by engaging in gutter journalism.'