"I DON'T HAVE A BOYFRIEND" SULTRY GHANAIAN SINGER EAZZY REVEALS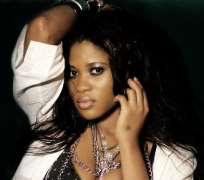 Ever since officially announcing her entry onto the Ghanaian music scene in July 2009, Eazzy has lived up to the billing of a talented artiste who knows her onions. Born Mildred Ashong in August, 1986, she released a hot single, 'Bo Wonsem Ma Me' in 2009, which became was an instant club and radio hit since then, the bubbly rapper/singer has become one of the favourites of Ghanaian youths.Her follow up party banger, 'Wengeze', further drummed home the fact that she was very good at provocative and alluring Pop music and her 3rd third single, 'Get Into My Pants' is already making waves too. The 23 year old beauty attended St Anthony's Junior High School, Mfantiman Senior High School and the Institute of Professional Studies in Ghana before proceeding to the Chartered Institute of Marketing in England. And on her arrival back to Ghana after school in the UK, her love for music overrode every other thing and she promptly signed on to Lynx Entertainment in 2009 as the first female artiste in the Lynx Entertainment family. The pretty and sexy artiste, who is presently the hottest female act in Ghana, spoke to me in Ghana about her love life and career amongst other things.
What type o f music do you do?
I do hip life, in Ghana we call it Hip life its like modern music it is infused with Afro pop, Hip Hop, R n B and Dance hall
When did you start music?
For me it started last year, I was exposed to do industry on the 1st of July, I remember very well so, it's like a year and a half and it's been very successful.
Was the exposure like a coming out party?
Yeah! I actually knew I wanted to sing and needed people to be aware. There was a party for me and there were other stars, big stars, actors, actresses, musicians and presenters, every body came. It was a lot of hype around me, and people were thinking it was just another with no talents , we had to do that show to expose me so people saw there was talent in addition to the hype.
So when did you actually realize music was the way for you?
I will say it started from Senior Secondary School you know, I used to be the entertainment prefect, then I used to play around and write some raps that don't really make any sense , thinking I'm on top of the game, and performing on different stages in different schools made me realize I could actually do this in Ghana but my parents stopped me and thought it was important for me to finish my tertiary education so I did that in the Chartered Institute of Marketing UK and I just jumped into music.
Did you just leave school last year then?
No, I've been out of school for almost 2 years.
How do your parents feel now, since they actually didn't like the idea of you doing music?
(Laughs) from the start they weren't okay with, actually it took a very long time for my Dad to come around, my mum came around pretty early, but at the moment they are both really very proud of me and I'm really happy with the way things are going.
Do you have any singles out now?
Yes I have had singles already and I have an album now, its called twinkles my first single was Bo Wonsem Ma Me', after 6 months I came out with Wengeze which took over everywhere and I launched my album late year august 28
So do you sing in your dialect?
I do, I sing in my native dialect which is Ga, I have bits of Ga , English and I have Twi, I do anything I can but I haven't done a whole song in my native dialect, I infuse it with English and pidgin.
A lot of those who sing hip life in Ghana are men, how do you cope with the discrimination?
Being in a male dominated industry actually is really very hard, you know, we are used to having the men be the ones to rock the stage and command the crowd, people had never had a female do that before, so actually it was a very big challenge, I had to work hard to get the same type of command they give to the crowd and I entered at a point, where women were blocked from the industry, there was a lot of discrimination and people felt that if you do music then you were not educated, if you do music you were not from a good home, but God being good people have grown to understand that very educated women are doing music, like I'm chartered with marketing and I'm doing music, there's Becca went to Croydon College in London where she attained her certificate in Child Care and Education and she's doing music, there's Mimi from Big Brother house , is educated and she's doing music so they are beginning to give us the respect we need and I hope that in years to come, more young females will find it easier to come into music.
So what's your relationship with your other female counterparts?
Ah! Its really cool, I hang out with Efya yesterday, she is a sensational singer, I think she was in Nigeria for the Fela show, I'm not too sure, my relationship with everybody is very cool, Mzbel, Irene, Mimi.
If you weren't doing music, what would you have opted for?
I'll definitely be doing marketing, you know it was my first profession but not the profession I really love and have passion for so , if music wasn't in my way, I guess I'll be seated in an office signing some cheques you know. (Laughs)
So are you still going to practice it later on in the future?
Sure I'm not going to throw my certificate away, I'm actually using it now, because as an artiste you need to know how to market yourself, to brand yourself and everything so I'm using it, so but professionally, hopefully when I make a lot of cash I could run things with my marketing.
How the remuneration from music is, is it really good?
Oh yes it is, I can't complain, it serves me very well and it's paying very well.
How's the acceptance of your music by Ghanaians?
It is very good, its very beautiful, like I said, Bon se mami came from nowhere, there was no girl in the industry doing hard hip hop and it came out and was different, I was even scared because it was all in English and just a little of my native dialect and I was thinking will it work? But it worked and was an instant hit and I came out with wengiso which was like a hit in every corner every pub, everywhere you go. The response has been marvelous and I thank God and my fans for it.
Has your instant success and popularity affected your relationship in any way?
(Laughs) I don't have a relationship; honestly I haven't had any relationship going since I started doing music.
Why not?
Em, I don't know, I guess I just wanted to focus on my music first, get my grounds and get my career going , I didn't want any form of distraction, now that I have my stand , I'll probably look into one or two you know but for now I'm single.
How old are you?
I'm 23
Let's know a little bit more about you
For my home background, I'm a Ga I'm from Ga, my dad is a Ga, my mum is half Togolese, quarter Ghanaian, quarter Dutch, very complicated so I'm here and there but my dad is a Ga so I pride myself as a Ga, that's from the great Accra region called Osu, my name is Mildred Ashong, oh yeah and basically I come out from a family of 4, my kid brother lives with my dad in London and I live with my mum in official town here in Ghana. It's a very small family.
Are your parents separated?
Yeah they are unfortunately, you know (Laughs)
Why did you choose Ghana over London?
Well basically, because I live with my mum and grew up in Ghana, when I started traveling I was already matured but my brother left when he was very little and grew up in the UK. You know I love my country and I want to do music here, I don't want to start from somebody else's country I want to build myself from here.
What schools did you attend?
I went to St Anthony's Junior High School, Mfantiman Senior High School, then I did a little bit of NIIT, that's computer engineering then I did a year of French in the Ghana institute of languages then I went to Chartered Institute of Marketing UK
Is Kiki Banson, Becca's manager yours as well?
No I'm managed by Links entertainment, Kiki works with them but somehow someway, he's more of a brand manger to me but I'm under Links entertainment.
How do you juggle you life as a star with your personal life?
I must be honest, Its really hard, I don't think I have a personal life anymore, anything I do is in the public, what you say, what you wear, what you do , the only time I have my own personal life is in my bedroom and its so boring in there you don't want to know (laughs)
What's fashionable to you?
I love fashion, I won't say I follow fashion but I think I like anything that looks very good on me, I like to be very decent and moderate but sometimes I mix it a little and I don't like to overstep it, you know my mum is really strict and I still live with her
What do your parents do?
My mum is a business woman and my dad is an engineer, he builds cars and things I don't even understand.
How does it feel being a star?
It feels good I'll tell you the truth, but as much as it feels good sometimes it feels embarrassing because you cant really do anything, at times when I just feel like walking to my junction getting credit for my phone its always difficult and I cant do lots of those things anymore and its separated me from some of the people I knew way back so its makes life boring and confusing but I'm managing.
Do you see music as a long term thing?
Yes I'll probably sing till I have no voice, Angelique Kidjo still sings we still have old people still doing music so I don't see why I can't. I will, I'll try my very best I know the biological clock will come clicking and all as a woman but I'll try to keep on for a very long time.