DAY CLARA OSHIOMHOLE BARRED HER PROTOCOL OFFICERS FROM USING SIREN, LARGE CONVOY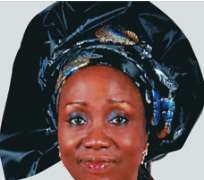 Clara Oshiomhole
Her toothpaste smile was her familiar signature; a look that exposes her sublime inner self, a gracious appearance that tells the world the simplicity of her personage, and a carriage that fits into every setting.
Meeting Aunty Clara could be as humbling as knowing her quintessential upbringing; meek as a lamb, gracious as an angel, calm and collected like a nursing mother and ever ready to give her attention to solving problems of others. She has been described by everyone as an exemplary woman, who stood firmly in support of her irrepressible husband, Comrade Adams Aliyu Oshiomhole, when the going was getting tough.
The struggle for the actualisation of the stolen governorship mandate was one that cannot go down memory lane without the mention of this woman of very strong character and a dependable companion, who, despite her initial resentment over her husband's incursion into politics, defied all odds to make sure she was there for her soul mate of over three decades.
Mrs. Clara Oshiomhole, Edo State First Lady, who kissed the dust barely a week ago, was one woman the people of Edo and Nigeria would not forget in a hurry. While the husband was out there in the public eye fighting battles under the auspices of the Nigeria Labour Congress, she maintained the home front and gave all the necessary support to him. One could measure the stability of the home front from the gesticulations of the public man. This great role model of a woman, tolerated all the imperfections of man, cultivated a home of wonderful children whose brilliance juxtaposes with that of their father and the discipline of their mother as they sojourn through life's everyday struggles.
As expressive as she was, Aunty Clara was never known to be carried away with the trappings of power, nor did she betray any sensibilities of being the happening woman. As a matriarch of the world of the Oshiomholes, she was profound, as she was pedestrian. She could relegate herself to the level of the ordinary woman in the village, doing her own thing in such a manner that underscores the humility of her upbringing and trying as it were to impress it on her circle of friends, that life, just like power, is a revolving door; one way in, another way out. This is one reason she was not carried away with the enviable position of First Lady of Edo State.
Aunty Clara conveyed different impressions to different people. To some, she was the ideal, home grown woman, beaming with beauty and raw class. To others, she was the burning wood in Comrade Oshiomhole's fire and struggles. Yet others saw her as one humble, principled, disciplined and highly religious woman, who had long prepared the way for the hereafter in the way and manner that she conducted herself in church serving the Almighty God. When I was a Chief Press Secretary to her husband sometimes in 2009, I had the privilege of flying with her from Abuja to Benin, and I could still recollect how she conducted herself to underscore the Oshiomholes' love for the people. When we got into Benin Airport and her vehicle  drove right into the tarmac, she told her protocol officer that she would prefer to pass through the arrival lounge, like every other passenger rather than being treated like one superhuman model. As the siren was about to start blaring, I heard her sending a word of caution to her aides in plain pidgin; wetin una dey do so? I beg, tell them make dem stop that noise.'
Unsatisfied with Madam's instruction, I heard one of the aides said; Madam no sabi effect, wetin come be say person be governor wife? As she made her way to the arrival lounge, waving at the ostentatious crowd that had gathered to catch a glimpse of her, she told her protocol officer almost immediately that she would not, henceforth, tolerate convoy of vehicles to receive her at any time. According to her: una dey cause traffic jam for road wey my husband dey try to repair, referring to the several urban roads in Benin City that are currently undergoing repairs.  
I could still recollect her conduct when the Oba of Benin Kingdom paid a solidarity visit to the Comrade Governor at the Governor's lodge. Almost appearing like a shy lady bubbling with so much respect for everyone, it took her time to come out to the fore when the governor was running through the list of introduction. With her velvety smile exposing her well lined dentition, she was all smiles and laughter as she squatted to pay homage to the highly revered Omo'Noba. In her gait was the symbol of submissiveness. As she found her way through the scores of people that had assembled to complement the Oba's visit, her dimples exposed both her ecclesiastical and natural beauty. She was full of life. She was full of affection for all. She exuded a great feeling of being alive and she graciously applauded God every now and then for being kind to the family.
Aunty Clara was quite an unusual creation of the Most High God. She created her own world and lived it with perfection. Her doctrine of total submission to God made her to be at peace with whatever situation the family found itself. She got a fulfillment of the inner mind. She craved for excellence in behaviour; she nurtured a God-fearing life and lived it. She impacted in her children same attributes that would shape their destinies in life; respect for elders, orderly behaviour, respect for due process, respect for fellow human beings, culture of tolerance, discipline and ability to live above board in their journey through life. Like a perfect and caring mother, she made sure that her children imbibed the spirit of godliness in their encounter with nature. She was thorough with her approach, she was religious about it and she never bended her rules when it comes to such attributes.
When she laid gracefully at the National Hospital on that fateful Wednesday morning, with scores of sobbing eyes and mournful looks gazing at her lifeless body, one could still feel the air of grace of someone who had gone to rest in the bosom of the Lord.  With uncontrollable tears streaming down the cheeks of a fighter, like Comrade Oshiomhole, one could understand the depth of the pain and anguish of the loss. Like a fighter herself, she battled with cancer in such a way that she became used to pains and never for once betrayed the inner recesses of her being. She was strong, hopeful and firm.
She tried to complement the efforts of her husband and swallowed the pains, so as not to distract comrade from delivering his campaign promises. She persevered and trudged on believing that her Omniscient God would bring succour. God gave her the inner strength. God comforted her. God called her home to rest. God took over her pains. Will cancer boast of taking away our solemn love, Clara? Not again. She conquered cancer and conquered life. She conquered pains and bade farewell to this sinful world.
As she has been lowered to her final resting place, we are rest assured that the sublimity of her existence, her love for mankind, her devotion to God and her quintessential lifestyle would make her a good companion to the angels of God. May the almighty God give her a good rest in the hereafter and may He comfort the family and grant them long life as they continue in their selfless services to the nation.
To Comrade Governor, sob no more and be a man. Madam Clara's testimonies and eulogies  are lessons that we should all imbibe. Aunty Clara; graceful woman, rest in perfect peace.
•Afegbua is the media spokesman to General Ibrahim Babangida.