Sikiru Ayinde Barrister Dies In London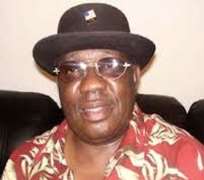 SAN FRANCISCO, Dec 16, (THEWILL) – Fuji maestro, Alhaji Sikiru Ayinde Balogun, also known as Barrister and Alhaji Agba, whose death was announced this morning at St. Mary's Hospital in London, United Kingdom has struck the Nigerian music industry a huge blow.
The popular Yoruba musician died following complications from a surgery at the age of 62.
He is believed to have created the Fuji genre of music (a fusion of Juju, traditional Yoruba popular rhythm).
Barrister, who had been plagued by ill health for a while had a great rivalry in Alhaji ('General') Ayinla Kollington, another veteran Fuji musician
Some of his hits from many releases include: 'Barry Special' (1983, 'Fuji Vibration' (1985), 'Maturity' and 'Barry Wonder' (1987), 'Fuji Garbage' and 'Reality and Questionnaire'.