RIVERS BUDGETS N414.1BN FOR 2011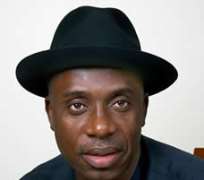 •Gov. Chibuike Amaechi
Rivers State Government intends to spend N414.1billion in the 2011 fiscal year. Tagged: 'budget of transformation', the budget is N14.9 billion less than the N429 billion projected expenditure for this year.
Presenting the 2011 budget on Thursday in Port Harcourt before members of the state House of Assembly, Governor Chibuike Amaechi said N267.841 billion representing 64.68 per cent of the budget would be committed to capital expenditure while N146.259 billion would be set aside for recurrent expenses.
He told the state lawmakers that the comparatively higher allocation to capital expenditure was to enable the completion of government's ongoing projects and programmes.
The governor said allocation to recurrent expenditure in 2011 which was 62.51 per cent higher than that of 2010 was due to the anticipated payment of the proposed minimum wage.
Further breakdown of the budget showed that Education which enjoyed priority placement in the regime's programmes, received the highest allocation of N67.92 billion while Works got N60 billion.
The Health sector came third with N17 billion allocation followed by Power and Sports that were allocated N12.5 billion and N10.55 billion respectively. Speculations that the administration remains reluctant to go into big-time housing project received a tacit official confirmation with the lowest allocation of N810 million representing 0.31 per cent of the budget.
On Agriculture which attracted N3.065 billion expenditure proposal, Governor Amaechi hinted that the government would invest in large scale oil palm and banana plantations as well as fish farms. He said the budget would be funded from a revenue projection of N205 billion from the Federation Account and N77.1 billion from internally generated revenue.
Besides, an unspent N32 billion carried over from 2010 would be used to finance part of the budget in addition to the N100 billion that would be sourced via issuance of bonds.
Governor Amaechi explained that N26 billion out of the unspent N32 billion was, 'the left over' of the N30 billion loan obtained by the state government this year, but was not fully deployed.
He assured that while focusing on ongoing projects in the new fiscal year, the government would also embark on a few new programmes that fell into its areas of priority attention. Stressing that, 'government spending must ensure service delivery to help improve the lives of the citizenry,' the governor said official focus in 2011 would remain the same, 'as we strive to transform the landscape of our state and the lives of our people.'