Akunyili Resigns, Defects To APGA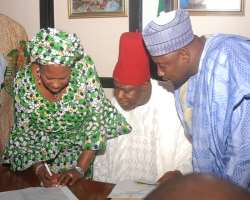 PHOTO L-R: FORMER INFORMATION MINISTER, PROFESSOR DORA AKUNYILI; APGA CHAIRMAN, CHIEF VICTOR UMEH AND NATIONAL SECRETARY, APGA SANI SHINKAFI AT THE APGA HEADQUARTERS IN ABUJA TODAY, DECEMBER 15, 2010.
ABUJA, Dec 15, (THEWILL) - President Goodluck Jonathan today accepted the resignation of the Minister of Information and Communication, Professor Dora Akunyili, though reluctantly.
In her place, President Goodluck Jonathan approved the appointment of Mr. Labaran Maku, as the substantive Minister.
Akunyili who spoke after the meeting of the Federal Executive Council (FEC) announced that she was leaving both the cabinet and the People Democratic Party (PDP) to achieve her senatorial ambition.
Akunyili openly said she was defecting to the All Progressives Grand Alliance (APGA) to contest as a senator representing Anambra Central Senatorial District.
"Having reflected over the years about events in Nigeria and in particular my state, Anambra, I have come to the conclusion that it is indeed a defining moment in my life when I should make the sacrifice of leaving a comfortable place to go to a difficult terrain in order to build a better place for our children," Akunyili said.
"I have, therefore, decided to join my governor, Peter Obi, who is doing a great job in continuing to build Anambra State as an APGA senator. In this regard, I intend to pick the nomination form today (Wednesday) to run for the office of senator representing Anambra Central Senatorial District in the National Assembly."
Akunyili earlier told fellow cabinet members that: "I am deeply grateful to you for giving me the opportunity to serve our dear country as Minister of Information and Communication. I am equally grateful for the cooperation which you, the Vice President, who sees me as his own sister and my cabinet colleagues, extended to me in the course of my duties, without which I would not have succeeded. "Today is therefore a very emotional day for me in Council. This is because I have been so closely bonded to most of you that my departure is like leaving a family. My heart is so heavy because in this Council, I have found comfort and friendship," she added. Maku, who is now the substantive Minister, said President Jonathan accepted the resignation of Akunyili reluctantly because of her dedication to duty in the service to the nation, stressing that the president had no alternative but allow her go to pursue her senatorial ambition in next year's election.