PA ANTHONY ENAHORO DIES AT 87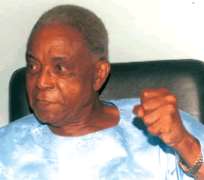 One of Nigeria's surviving foremost nationalists, Chief Anthony Eromosele Enahoro, yesterday passed on in Benin at 87. He died at about 6 a.m. in his residence, No.10, Aideyan Street, Benin.
Enahoro went into coma in October and was rushed to the University of Benin Teaching Hospital (UBTH), where he was diagnosed of diabetes. According to family sources, he was discharged from hospital two weeks ago. Only yesterday, he issued a statement in which he condoled with Governor Adams Oshiomhole over the death of his wife, Clara.
The message, it was gathered, was signed on his behalf by his wife, Helen Enahoro. Confirming the news of the death of his father to journalists yesterday, Chief Enahoro's second son, Dr. Eugene Enahoro said his father died in his sleep in the early hours of yesterday.
'He lived a fulfilled life to have lived up to 87 years considering the series of detention he went through during the nationalists struggle and immediately after independence and during Abacha Military Government,' he said.
Dr. Eugene Enahoro indicated that the family might issue an official statement later to formally announce the death of the octogenarian politician and nationalist. The mood at Chief Enahoro's compound was calm yesterday with an ambulance from Stella Obasanjo Women and Children Hospital, Benin on standby at the premises presumably waiting to convey the corpse to the hospital.
As at past 12 p.m. yesterday, the corpse was yet to be taken away, according to informed family sources.
Reacting to Enahoro's death yesterday on telephone, Chief James Ekpre Otobo, former Deputy Premier of the defunct Mid-west Region and one of Nigeria's few surviving nationalists, said: 'It is one of the things that is natural to human beings. You must die one day.'
Expressing regret that with Chief Enahoro's death he had stopped interaction with him between now and the 2011 elections, Chief Otobo said 'the only person left who took part in Nigeria's independence talks was I and Shehu Shagari.' 'I tried to reach him (Enahoro) when he was in the hospital. He was in Intensive Care then. They said it was not a proper thing to do. I tried to reach him after he was discharged so we could discuss 2011 elections with the politicians about the proper thing to do. Now, he is gone,' he said,. He added 'one has to die to live mature one day.'
In his reaction, former Governor of Edo State, Chief John Odigie-Oyegun described Chief Enahoro's death as 'a monumental loss to the family and nation'.
'First, my condolence goes to the wife, children, and family members. May God give them the fortitude to bear the loss and fill the vacuum that his death has created,' Chief Oyegun said. According to him, 'the only way to immortalize him is to continue his struggle for Nigerian people so that the people can be the centre-piece of governance: so that Nigerian can take its rightful place in the comity of nations. That had been his fight and we would continue with the fight.'
Also reacting, Senator F.S. Okpozo described Enahoro's death as 'a big loss because he was one of the nationalists poised to put Nigerian on the platform of democracy.' 'He fought relentlessly for the independence of this country. He was the mover of the motion for Nigeria's independence.' 'Despite his old age, he stood firmly to defend the democratic norms and principles as one of the leaders of Mid-west Region. He was a good counsel, a wise and erudite politician and a good leader,' Okpozo said.
He said his death had created a vacuum that cannot be filled, adding that 'those he left behind would continue to cherish his good ideas'. In his reaction, the Speaker of the Edo State House of Assembly, Bright Ehi Omokhodion expressed shock and grief over Enahoro's death, describing his death as 'another shocking tragedy.' He regretted that Enahoro's death was coming barely a week after another illustrious daughter of the State, Mrs. Clara Oshiomhole, wife of the State Governor passed away.
Omokhodion said Chief Enahoro would forever be remembered for his nationalist activities and contributions to the political development and well-being of Nigeria. While praying God to grant the soul of Chief Enahoro eternal rest, the Speaker called on Nigerians to emulate the shining examples and legacies of the great elder statesman.