MARK OPENS N'ASSEMBLY GATE FOR MELAYE, OTHER RETURNEES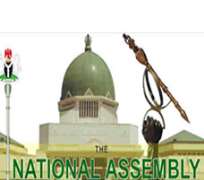 The gate of the National Assembly that was hitherto closed against suspended members of the House of Representatives who got a court ruling that quashed their suspension from the lower chamber of the NASS was ordered open by the Senate President, David Mark, yesterday.
The prompt intervention of Mark prevented an open brawl  when the staff of Sergeant at Arms of the Assembly shut the gate against Mr Dino Melaye and others who wanted to enter the National Assembly through the back entrance, but denied entry.
Mark's motorcade arrived durng the confusion that ensued at the back entrance when the gate was shut against Mr. Melaye, Bitrus Kaze, Solomon Awhinahwi, Independence Ogunewe and Anas Adamu.
Ignoring the court order which declared the suspension of 11 members of the House illegal, null and void, the Sergeant at Arms, Colonel Emeka Okere (rtd) said he was instructed to lock the gate against them and instructed his men to secure the gate firmly.
Miffed by the flagrant disregard of the court ruling, Mark immediately ordered the gate opened. His words: 'I'm the Chairman of the National Assembly, open the gate now, we will find a solution to put an end to this matter.'
When the information got to the leadership of the House that the Senate President had cleared the gate for Melaye and his fellow mem,bers, the Sergeant at Arms was ordered to close the chamber against them.
The closure of the chamber delayed the commencement of the plenary as journalists and visitors were barred from the gallery.
When the chamber was eventually thrown open at about 11.15am, Melaye and others walked into the chamber,  signed the register and took their seats. However, they were denied the opportunity to contribute to the day's debate by the presiding officer and Deputy Speaker, Bayero Nafada.
Melaye described as unforunate, the attitude of the Speaker, Dimeji Bankole to the court order, saying it was bad that it took the intervention of the Senate President to open the gate and the chamber for them.
Mrs Doris Uboh (PDP Delta), who won her case separately described her return to the chamber as a good tidings, promising his constituents better representation .
The returnees later moved to the office of the Clerk of the House for administrative procedures to claim their entitlements, including offices that had been reallocated.