CBN GETS 50 PER CENT OF GOVT OVERHEAD –MARK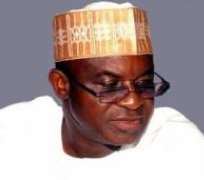 Senate President David Mark
Senate President David Mark yesterday said the Central Bank of Nigeria (CBN)  takes the largest share the Federal Government's overhead cost.
According to him, the CBN consumes N300 billion, which is 50 per cent of the total Federal Government overhead budget annually. Mark said the CBN Governor Sanusi Lamidao Sanusi was wrong when he claimed that 25 per cent of the total overhead was being used to maintain the National Assembly every year. Mark spoke with newsmen at the Benin Airport after a condolence visit to Edo State Governor Comrade Adams Oshiomhole over the death of his wife.
He expressed displeasure with the twisting of facts and figures by the CBN governor which he said misinformed Nigerians about the take home pay of National Assembly members.
He said, 'It is not correct, Nigerians should get their facts right because the CBN governor said our overhead which is N150 billion equates to 25 per cent.
The Central Bank itself has got an overhead of N300 billion, what does that equate to by simple arithmetic, that is 50 per cent. So people are not discussing on facts, they must discuss on facts.'
On whether the Senate would tow the line of the House of Representatives in making national lawmakers members of executives of their various political parties, Mark said, 'The two houses gave their own draft bills and will look at it individually and if there are differences then they will harmonize and there is no way I can tell you what will come out of the harmonization.'