Party NEC: Governors, Atiku, Speakers Kick Against NASS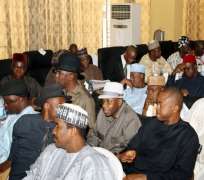 ABUJA, Dec 13, (THEWILL) - Governors and Chieftains of Peoples Democratic Party (PDP), including Speakers are unhappy with the manner the National Assembly (NASS) is carrying on with the amendment of the Electoral Act, as they have discovered such amendments would play out to the detriment of players at the coming primaries and indeed the general elections. The move by the legislators to make themselves automatic members of party National Executive Committees (NEC) is regarded by the Governors, the leadership of most political parties and the Atiku Campaign as a ploy to give undue advantage to President Goodluck Jonathan. They have all expressed their desire to fight the clause in the electoral amendment. Governors in a meeting at Kwara Lodge in Abuja weekend said the move by the PDP to hold the presidential primaries and the National Assembly's inclusion of legislators, as NEC members were twin plots to undo their influence. The aggrieved party leaders who expressed dismay at the mode and order of primaries by the PDP said the amended electoral Act was the determinant factor and wants PDP to wade into the matter.
Photo L-R: Governor Godswill Akpabio (Akwa Ibom); Mohammed Danjuma Goje (Gombe State); Sule Lamido (Jigawa) and Ikedi Ohakim (Imo) during a press briefing at the end of the last Council of State meeting in Abuja. Last week, the House of Representatives secretly passed the Bill, which would unduly favour federal lawmakers as NEC members with less than one-third of the House. As the time of going to press, THEWILL learnt that the Atiku Campaign organization plans to hold a media parley Monday to protest the move, just as it was speculated that Atiku may pull out of the PDP primaries if the legislators do not rescind their decision to include themselves as NEC members. Meanwhile, the Newspaper Proprietors Association of Nigeria (NPAN) Chairman, Ajibola Ogunsola, weekend said the plans by lawmakers were "a legislative coup d'etat." Ogunsola said the clause is a breach of Section of 223 of the Constitution which states that, "The Constitution and rules of a political party shall provide for periodic election on a democratic basis of the principal officers and the executive committee or other governing body of the political party."
He also said the proposal violates Section 40 of the Constitution which guarantees freedom of association "because freedom of association implies the freedom of members of an association to choose who shall direct the affairs of their association.
"The clause is imposition on the parties ... the first and immediate beneficiaries being those who are passing the law."