Negative Campaigns By Politicians: Electronic Media Risk Closure - NBC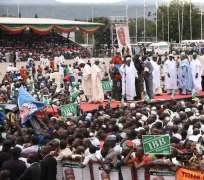 ABUJA, Dec 13, (THEWILL) - Broadcast media operating in Nigeria risk the revocation of their licenses including outright closure if they permit campaigns of calumny amongst political parties and their candidates or confer disadvantage on opposition parties and their candidates by denying them access to their media.
Director General of the National Broadcasting Commission (NBC), Mr. Yomi Bolarinwa in a chat with newsmen insisted that broadcasting must be an instrument for the promotion of national unity and not for the exploitation of the vulnerable. "Negative campaigning has absolutely no place in our electoral system. It is what it is: NEGATIVE. It is contrary to the objectives of politics in Nigeria and Nigerian broadcasting. For the 2011 general elections, negative campaigning is NOT acceptable. The commission will not tolerate it, and will not hesitate to deal firmly and decisively with any station that goes contrary to the provisions of the laws of the land," Bolarinwa said.
He expressed displeasure at rampant breaches of the broadcast code by broadcast stations, stressing that "in the last one month, all jingles running on our broadcast stations are in contravention of the Nigeria Broadcasting Code, because they all carry the logos of their parties, and yet they are individuals contesting for positions within parties and not yet the party's candidate. These jingles must therefore be re-edited to reflect this reality. "In their desperation to get attention, some politicians are willing to do virtually anything. This situation places a great temptation before broadcasters in the course of performing their duties. That is why the commission deems it necessary for broadcasters to re-boot and synchronize, in order to perform at optimum. "We must appreciate the power of our media and the vulnerability of our people, mostly due to widespread illiteracy and the ever increasing activities of mischief makers who exploit the many differences in our country to cause disharmony and chaos, from which in some cynical way, they hope to achieve their selfish objectives. We broadcasters must shine our eyes so that we are not turned into weapons of destruction instead of tools of development" he explained.