IT'S SHAMEFUL THAT JONATHAN VISITED ABIA AND THERE WAS NO PROJECT TO COMMISSION – EX-DEPUTY GOV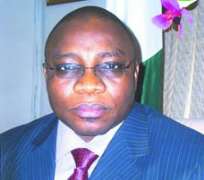 Comrade Chris Akomas
Former deputy governor of Abia State, Comrade Chris Akomas, has sensationally replied his former boss, Governor Theodore Orji, who recently levelled accusations against him.
He said that part of the problem he has with Governor Orji is his interest in contesting for Abia State governor's seat. He said the governor is ignorant about certain things, which account for his failure to do something for the people.
Speaking in Lagos with a group of journalists, Akomas said he wept when President Jonathan visited Abia State and the state government could not provide even one project for him to commission.
While unfolding his plan for Abia, he promised to reverse the trend of non-performance if he is elected governor next year on the platform of Progressive Peoples Party (PPA).
Recently, your former boss, Governor Theodore Orji, granted an interview, where he accused you of wrongdoing. How would you react to that?
I am aware of the interview. After reading that, I felt I have to speak. I granted interviews initially, when I left office and I said I did not want to talk much because I made myself a promise to speak only when it is necessary and it has become necessary now to speak once again and also to clarify certain issues. This is important because based on that interview, the governor has written a petition to the Inspector General of Police alleging that I was sponsoring kidnapping. Of course, that has been investigated and I believe the police have found out the truth. He also accused me of gun running. This, again, is another fabrication because the case in question has gone to court. All my life, I have never been caught with a gun. I was never declared wanted, but some people mischievously fabricated things and brought a charge sheet, where they listed names, including Chris Akomas.
How do you feel about this?
It is unfortunate that the governor could say all that. I have made a good name for myself even before becoming deputy governor. Chris Akomas was commissioner for lands. During the campaign, T.A Orji was in detention; so I was the one who received the flag from the party. After the collection of certificate of returns, T.A Orji only came back to be sworn in. I did not have any immunity till May 29, 2007 when we were sworn in. How can anybody come up now to accuse me of being involved in something I was not part of? They are just trying to smear my name. It is pathetic and pitiable.
Governor Orji said something about the oil well given back to Abia, especially on the role you played…
We got back 68 oil wells. The truth is that he does not even understand anything about the oil wells. When I was commissioner for lands and survey, under Dr. Orji Uzor Kalu, there was a verification exercise, where a joint team from the presidency came. It involved people from the office of the surveyor general of the federation, revenue mobilisation, office of the SSG and from various arms concerned with that, including security agencies, like the army, police and all that. As commissioner for lands, we produced the documents. The state boundary officer, Sir, Chris Nwaneri, is alive. The permanent secretary then, Pastor Onyeoziri is still alive, though retired. The director for administration at that time, though retired, is still alive, Chris Anyanwu. The director of lands is still alive and working there. The surveyor general of the state is still on seat, Elder Nicholas. We produced the documents because we were talking of oil wells and you can't be talking of wells belonging to you without first establishing that the land belongs to you.
We only collaborated with my counterparts in the petroleum ministry and we even asked them to fund what we were doing, to be part of it and they did not. We did everything, from the ministry of land. It was taken to the then deputy governor, because it was under boundary and as the chairman of the boundary committee in the state, he had to be involved. We prepared and gave it to him to sign and it was that document that we presented to the Federal Government. The former president, Chief Olusegun Obasanjo, approved 46 oil wells to be returned to Abia State, but the letter for that only came as we assumed duty, in the current dispensation.
As deputy governor, I was chairman of the boundary committee and having been commissioner for lands and survey and knowing the story, I knew we still had some more oil wells unreturned. I followed it up with meetings in Abuja. We were following up, first, for the accreditation of the 46. It is one thing to say it belongs to you and another thing to accredit it to you. Right there in Abuja, I wrote the second letter. The signature is mine, based on which the remaining 22 oil wells were returned to us, making a total of 68. Now this is the real issue.
In that interview Governor Orji said, my job was boundary. He said that I left boundary and went into oil. How can you claim oil wells without knowing your boundary? How can you claim anything on the land or in any land or portion of land without confirming, first, that that the land belongs to you? It was under boundary, within the schedule of my duty that I did all these jobs. And at that time, we had not even appointed commissioners when I started this job. It is pathetic that he went further to say that I diverted oil money and converted it to personal use. How? Does it mean that the Federal Government now gives the mandate to individual? Let them show the mandate that government funds are released to individual. Let them bring out the mandate where the money was released to Chris Akomas or any cheque or voucher where Chris Akomas signed and collected money from Abuja and pocketed it. I felt ashamed that a man of that age and level can lie, saying such blatant lies. Cheap lies.
Let's go back to the petition you said the governor wrote to the inspector general…
He sat down, wrote a petition and signed it himself. From the beginning to the end of that petition, there lies and he signed. And this tells you the quality of what is in Abia. The level of myopia and that is why we are suffering. He went further and made insinuations that every Ngwa man is a kidnapper, in his petition. I felt too insulted that a people that did much for this man, he could say that much about them. They have continued to use government's resources and fund lies about me and I've kept quiet. Now they think, it's a good thing to continue to do that, but the painful aspect of this whole thing is the display of ignorance. It is either he decided to display that level of ignorance or pretend to display that level of ignorance in order to deceive people who otherwise and ordinarily are not aware of the workings of government.
I will not speak ill of my elders or my superior and that was why I kept quiet all along. I kept quiet because that decision is based on biblical principle. It is based on a spiritual principle, but I thank God that I have the freedom to think and talk about the character of a man.
You worked with the governor for more than three years. What type of person is he?
I want to tell you that the reason for all this rigmarole is that of the character of a man who refuses to take responsibility for his actions, a man who is unable to harness the resources that God has placed at his disposal; a man who will say one thing and do another; a man who is unable to carry through agreement and commitment. I'm talking of the character of a man whose only stable thing about him is inconsistency. He is as inconsistent as inconsistence. So, if you describe this man as consistently inconsistent, you cannot be wrong. He is a man who would send his subordinate to do something and deny ever sending him even when it's the right thing. He's a man who will never stand up and say, yes I took this decision notwithstanding that it went wrong.
In life, God has placed before us good and bad. Sometimes, things are good; we accept and rejoice sometimes. When they are bad, you learn from it and move on and not to deny people. I said something and I want to repeat it. He is a man who will give you a job and would never back you with the resources to do the job.
Can you imagine him accusing me of being involved in kidnapping because I said that if I became governor I have a solution to that? When I read it, I was ashamed that he could reason like that. He stated that because I said I have solution to the insecurity problem in Abia I must be the cause. He means that a man who says he has a medicine for any sickness must be the cause of that sickness. I said, Jesus of Nazareth, how on earth could this man say this? You know you are talking of a man, who has a degree in English Language, single honours from UI. The thing is paining me; you know I'm also of UI and it is paining me, because how can he say that? It means that if you have headache and you take Panadol, the manufacturers of Panadol are the ones responsible for your headache. If you have constipation and you take a drug, those pharmaceutical companies are responsible. He is saying that all the researchers and all the good people that have been working hard to make life better for us are responsible for the sickness. They caused the sickness.
Why do you think you have solution to the problem of security in Abia?
With the benefit of hindsight, I was in the security council. I was the deputy governor. I wasn't the kind of man that will see problems and relax. I will come up with solutions. I will make suggestions. I know the kind of suggestions that we made. I know the decisions that we took but which were not followed through and funded and I said so because I know if I'm governor, I will harness those ideas and expertise and turn them into something good. He refused to provide the necessary logistics and funding as agreed. He sends people on assignment and gives no money. I challenge him and I challenge any commissioner, any special adviser, special assistant, anybody, permanent secretaries that has` worked under T.A Orji from 2007, as governor till now, that is not being owed, to come out and tell us.
Why would he not fund projects? Is it that there is no money for a state that got back 68 oil wells?
I don't want to go into that. I am not the accountant. What I am saying here is that wealth has to be managed. It is not the quantum of wealth that propels what you do; it is not also how long you have got that wealth that shapes what your future would be; it is how you prioritise and how you are able to manage what comes your way. It is also based on your willingness and readiness to plough what you have got into something meaningful and something that can generate more. It also has to do with your willingness to sacrifice and serve, not just be greedy. It also has to do with knowledge and idea.
I love this passage, Hosea 4:6: My people perish for lack of knowledge. Abia is suffering for lack of knowledge, because the knowledge of the leader is little and he has refused to accommodate ideas. He doesn't say no to anything. Everything is yes, but he won't do it. And that is the problem. What I have said, I stand by it. If I am the governor, God has given us the people, to help solve the problems in the state. We have the Army, which are working within that terrain; we have the police who are working tirelessly for 24 hours; we have the state security and for us in Abia, we are also blessed with the presence of the Navy. Yes, you may have done some things, but did you carry it through to the letter? When you draw up a programme and you start it and when that programme takes off, you now withdraw. It is like a stillbirth. You bring something on and you don't nurture it to fruition. So, that is the issue.
I will say this authoritatively; he was in the previous administration as chief of staff and I was there as commissioner; we were not receiving as much as we receive today. I am sure if we check our records well on the funding we have received, add the excess crude, add the refunds we have got from the Federal Government, you will see what I mean. Somebody will account for these things very soon.
Given the quantum of commercial bank loans, what do we have to show? If we put all these things together, you would see that what we have got since 2007 till now is more than what we got in eight years of the previous administration. Even when we got less, we were having things funded. I worked as special assistant on education. At that time, you would bring up your proposal; if it is good and approved, it would be funded. As commissioner, if you were travelling, you have your money paid before you travel or as soon as you come back from your trip. But what is happening today is the reverse. Nothing is funded.
Maybe that is why they are holding an economic summit, as we are talking?
Five months to the end of the administration? You know what had gone on before this economic summit? I don't want to talk about that because of the erudite scholars, my friends, who are there. This is being done as campaign theme now. It is not what it should be. Do you do your work plan after the work? You prepare your work plan before you set out for work. Do you call the architect after building the house? The architect gets you the drawing before you begin to build. We have what we call growth centres. In 1991, there was an economic blueprint that was produced by the then military administration, where some very respectable and knowledgeable Abians gathered; so the effort that is being made today is a review of that. If it is not, that has to be captured too, but I want to say that we have growth centres in Abia. These growth centres have been neglected and we have concentrated on what had been developed already, Aba and Umuahia, but as it is, that has not even been properly harnessed and we are losing out.
When I come in, I will make sure these growth centres come alive because we invest in order to generate more profit. Two, we have to grow our economy by harnessing our God-given resources, tapping into them. In Abia, we are strong in agriculture. You know the former premier, the late Michael Opara, established a number of plantations. We have neglected most of those plantations. Beyond that, within the areas we have in Abia State, we have 184 electoral wards; we would have a plan to put industries in partnership, as PPP. We are not going to do this as government, but we are going to drive it, provide the enabling environment, make sure that we kickstart it in such a way and manner that both the companies that would run it and the communities will be doing it as their own. When we provide all that, we don't have to put in so much money in any of them. There are areas where we are strong. Some in cashew, some in cassava, some in palm plantations, some in rubber, cocoyam, cocoa and we harness that apart from the normal cultivations and growing that go on.
We enjoy trading; we love that but what and what do you trade on? What has Aba been and what has been the strength of Aba? Along the line of artisanship where they are able to fabricate all kinds of thing, what has government done to encourage them? We will come up with those policies, actions and support; you know Aba was called as Japan of Africa. The target is to make Aba truly the Japan of Africa, but we won't stop there.
You were deputy governor for three years and two months. Why didn't you make these suggestions?
I told you earlier that suggestions were made but not taken. That is why I believe that the office of deputy governor is neglected. I went round and campaigned, while the governor was in detention. I listed out all the promises and hoped that it would be done. What I see is disappointment on the faces of Abians. I have told you that part of the problems why insecurity got to that level was a situation of one not harnessing the resources and expertise available. When I say expertise, that includes ideas, proposals and advice. In Abia State, they will tell you that we awarded 404 roads. How many have been commissioned, since four years ago? The fourth year is fast going, we are still talking of awarding. Mr. President came to Abia, when he was vice president, and laid the foundation stone of a housing estate.
Why wasn't it ready for him to commission when he came back as president? He came then as vice president. He came back this year; at least some buildings should be ready for him to commission. Have you ever seen any state in the federation where president, vice president, ministers, and party chieftains went and they could not commission one project? It happened in Abia. In this country, have you ever seen that ? I wept that day. They could not even present a kilometre road.
The governor was chief of staff in the last administration…
He wasn't just chief of staff, but the defector governor. I know what I'm talking about. If there were good things done then, he was aware of it. What happened then was that he was taking orders. Now this is a man that has lived on, 'I am directed,' who found himself in a position to direct others. When you have a teacher, lecturer, it is up to you to decide whether to learn well in order to do as well as your teacher or better than your teacher. Or you prefer to learn to do worse than your teacher. It is all a matter of interest. I told people that probably the little luck we had was that he was chief of staff for eight years. If he wasn't, Abia would have probably closed completely today because I marvel at what he does. I keep saying I don't want to talk about the man. I am talking about a character of a man.
You were said to have been impeached. Doesn't this constitute an impediment to your ambition?
I went to court before I resigned. I went to court to say that since members of the House of Assembly left PPA, they had no locus standi to start any proceedings against me. I asked the court to order that my outstanding entitlements of N425million be paid to me. I went further to say that it was not necessary for me to follow anybody to jump from one party to the other and as such I should have my fundamental human rights to associate with any political association or group I wanted, in order to pursue my political ambition. Now on November 30, the ruling came. I think we better publish that. A lot of people don't know the true picture because they are giving another aspect of it. The court granted that I am free to pursue my political aspiration.
I was never impeached. However, even if I were, it is not a problem. In 2008, in the case of Hon Udeh, the Court of Appeal ruled that impeachment is not a criteria for disqualification. Enyinnaya Abaribe was also claimed to have been impeached and the gap was one hour. The time he resigned and the time he was impeached was one hour. My own was days before and I had moved out of Government House. Enyinnaya Abaribe contested for the office of governor that year and the next time as senator. He is in the Senate today. My friend, Femi Pedro, also experienced such a thing. He contested as governor that year. He was not disqualified. Omisore did not even go to court. After his impeachment, he was taken to prison.
He remained there and won. Today, he is in the Senate, and there are several others. The constitution is clear on that. Impeachment is not a criteria for disqualification, because it is not a criminal offence. Whatever the House of Assembly calls misconduct is misconduct. In fact, if your friend there says you did not greet him in the morning that it is misconduct, that is misconduct. If you normally go out with him in the evening, maybe you go take two plates of pepper soup each and that day you are not buoyant enough to make it two plates, he goes back and raise it that it is misconduct, it is misconduct. You are going. If you see him and normally you hug him, but that day you just shake his hands and he gets angry, goes back to the House and says it's misconduct, it is misconduct,. You are impeached. Impeachment is a political process that has turned out to be a process of persecution. It is just a process to remove from office, either the governor or the deputy governor, but because of the weakness of the office of the deputy governor in the constitution, they just use it to mess up a deputy governor.
How can a deputy governor really commit an impeachable offence? You are not in control of the money; you are not party to it; you don't sign anything. In my own state, I could not travel without approval. There was no money with me, as to say I signed and approve this money. The governor must approve.. So, what are you impeaching me for? That I did not greet you well?
The PPA seems to be in disarray. How do you intend to win election on the party's platform?
I want to tell you that the PPA is not having any problem. The PPA is one family and we are not having any problem. The only thing that happened was that there was an arrangement for a merger. A committee was even set up, but it did not work out. You know all that followed, politics. PPA is intact. I am running on that platform and we are going to win. We must tell ourselves the whole truth. Abia State is the ancestral home of PPA. We have the grassroots. I just came back from Aba. There was no radio announcement about my coming. I only said I was coming to talk to my party people and the government was frightened by the crowd. I only gave two days notice. I was also in Ohafia. I was in Umuahia. And the reception was great.
Let me tell you, if Chris Akomas steps out anywhere in Abia and raise his PPA hand, you would know that Abia is PPA. When you are talking of power of incumbency, you have got to show something. What is there to show? There is nothing to show. Nothing. And why did the governor leave PPA? It's just because the party said he was not doing what he should do. The party asked him to do something and they gave ultimatum. Wasn't that why he left?
I am not afraid of any incumbency. Why? Power belongs to God and it is only God that gives power. I am convinced He is going to give this power back to Abians, through me. So, we will do what is right. Don't forget when this man was in detention, I did everything, not one kobo from him. I campaigned throughout the whole state, I won the election. There was not one kobo from him. When he came out, he never asked how I managed. Later, some party elders went to him and asked if he won't call me and thank me. He did nothing. He said I was part of government. Which government? Did he ever sit down with me and say we were appointing people and asked my opinion? Did they ever get my list and use it? Did he ever discuss anything?
I am not afraid of any power of incumbency because I believe and truly and strongly too that Mr. President is serious about credible and fair election. I also believe that INEC is serious about 'one man, one vote' and if that is the case, then go out in the streets of Abia, they will tell you the person they want.
Talking about one man, one vote, you may not know that part of the security in Abia is because somebody somewhere wants to disenfranchise an area because he is the only one that can benefit from those areas being unsafe. He does not want the area to use its population and strength to displace him.
What is you advice to Abians, as we are going to 2011?
My advice to them would be one: make sure you register and have your voter's card. Two, make sure, irrespective of intimidation and whatsoever that you are available to vote and ensure that your vote is counted.