The relationship I had with Olu Maintain - Laide Bakare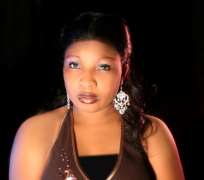 The beautiful mother of one, Laide Bakare is not a new face in Nollywood. In this interaction with SEGUN ADEBAYO, she opens up on how she got into the industry, the problems facing it and her family. Excerpts:
WHAT prompted your joining the movie industry and did you ever think you could become what you are today, considering the number of films you have featured in and produced?
My coming into the industry was just by God's grace. I have always loved acting since I was young; my dad had a hotel where many movie producers normally lodge their artistes when they come for production. So, it was during one of those productions that I met some of the producers in the industry. We had a very cordial relationship; they love me so much because of my stature and my beauty. I was friendly and helpful to them and we became friends. In fact, our friendship became so cordial enviable that when I got into the industry, people started saying all sort of things because of the cordiality but I never allowed all that to affect my passion for the job. In 1996, I was about to start my diploma course in the University of Ibadan but a year later, I started acting. I played the lead role in my first acting job. I joined the industry when I was very young, but I had to leave because I had to go to the university. I went back to school to study Theatre Arts at the University of Ibadan where I graduated excellently. I am glad today because I didn't allow the fame and fortune I was enjoying then to stop me from going to school, I have produced over 15 movies and have featured in 400.
You said that you have featured in 400 films and produced only 15, why the wide disparity?
It is easier to feature in a film than to produce, particularly for me, I can't produce a substandard film. It would be demeaning to do films without considering the effect it would have on me as the producer and on the viewers at home. So, I always take my time to produce my movies, I am a kind of person who does things with ease and one after the other. I don't rush my movies because I want to make money or make quick sales; I usually sit back and put in the necessary elements that would give me a lasting joy when the final copy is released into the market.
Why do you think artistes, especially the female ones, allow marketers and producers to call the shots for them, some of you are even said to beg them to finance your movie, don't you think this does not augur well for the industry?
I have said this before and I will repeat it again that my case is totally exceptional. My case was special because I never went to anybody to lobby for roles when I started, they called me.
How did they call you?
As I said earlier that they used to come to my father's hotel during movie productions; there were periods they requested the role of my daddy's vehicle to drive through the hotel premises and I offered them the little assistance. So, one day, they asked me to join them, they said I have a beautiful face that would befit their cameras and all that. This was something. I enjoyed doing because my father used to travel a lot and he used to buy cameras and video equipments. So, after some time I started producing my own movies, in fact I was the first lady in the Yoruba movie industry to produce a movie without soliciting for funds from any producer or marketer. I produced my first movie when I was in my year one and I think I was 17 years old then. Actually, it was supposed to be a stage play but because I have been involved in film production and I had the capital and the personnel to use then, I decided to make it a home video and it was successful.
How have you been able to balance home chores and profession?
I have been doing this for a long time, so I am used to the system very well. More so that I have my baby, she is growing very fast and I believe the joy of every lady is to have her own baby. God has been so merciful that if I start to count the blessings and favour of God, we won't leave here today.
Is it true that you have decided to stop child birth because you do not want to wear out?
I don't believe that, it is quite strange to me. Why would I have a problem in the industry because I don't want to baby-sit? The truth of the matter is that some people have left the industry when I came in and some will come when I leave. Come to think of it, I have a girl whom I cherish so much and she's still very young. I started working when my baby was just 6 months because I can always take her along and after a year and some months, she started school. I wish you could see how big and beautiful she is. So, for me I think it is natural to have a baby but I don't believe that having babies can affect my profession in any way, whether I like it or not, I will leave the industry one day and face some other businesses, so you can't run away forever. I have a very soft and gentle mien that you can barely know that I have a baby.
With what you have said so far, would it be wrong to say that your dad influenced your joining the movie industry?
Yes, perhaps, if not because of my dad I wouldn't have been the Laide Bakare everybody is happy to watch and associate with today. He built the hotel that became the avenue for my rise to stardom. I think I owe my dad gratitude for all these beautiful things that I am witnessing today. In fact, if not for him, I don't think I would have been able to do any other thing successfully like what I am doing today. My dad's influence on my life is so overwhelming that I can't start to explain. I love and owe him a lot.
How have you been able to cope with the absence of your husband, considering the number of men that would be coming under the pretext of being your fans?
Those who know me before I got married know me to be a very principled person. I am not a kid; I know when a friendship is going beyond the normal. For crying out loud, I visit my husband quite often with my baby girl. You know that men are no fools; they read countenance and understand what is available for them and what is not, so it's simply putting them in check. I know how to handle them because I have always been myself and I think that has really paid off. I can say it categorically that I have never dated anybody in the industry or outside wedlock. In fact, I don't believe in dating somebody in the industry because it has a lot of negative effects. The implication is that when you date or marry someone in the industry, it tends to attract unnecessary publicity to and people may begin to read meanings to something you think you are keeping away from public eye. One thing that I love about my husband is that he understands the job I do and doesn't complain, he knows I don't flirt around and won't do anything stupid outside wedlock. The truth of the matter is that even before I got married, I didn't go out with anybody whether in the industry or elsewhere except the father of my child, who is my husband today.
You were said to have had a romantic tie with Olu Maintain sometime ago and you have just said that you have never dated anybody before you got married and after?
That insinuation of a romantic tie with Olu Maintain is not true. I produced a movie then and I invited him to come and feature in it, so why would anybody think I dated him because he featured in my movie. It would be very stupid of anybody to have said I had anything to do with him that time, except the fact that we did a film together and parted.
But we learnt that he asked you out?
Olu mentain did not ask me out and we were not even close to that extent.
If he had asked you out, would you have given him any green light, given the fact that you were not married then?
He wouldn't have done that then because he knew I was in a serious relationship and I knew he was equally having an affair with someone then. What existed between us had no strings attached to it. It is very impossible for him to have done so, I have known him since he was in the Polytechnic Ibadan, so I think I have answered your question to some extent.
Any plan for life after acting or do you want to remain in the industry for life?
I have other businesses that I am doing; acting is just one thing that I love doing most. I deal in automobiles and also run a very big boutique, so I have already started planning towards that, I am not going to wait till that time when I wouldn't be able to move around before I start thinking of what to do.
What do you think the movie industry needs to improve on?
The distribution channel is one major problem we are having presently; it has become a pain in the neck for actors and actresses for a long time. Most of the so-called distributors at Idumota are just there to make money; they are not looking beyond today. They are not concerned if the industry goes down. That is one major thing the leaders of this association have failed to recognise for a long time. The leaders have failed to live up to their responsibilities and it has taken its toll on the members immensely. The marketers are so terrible to the extent that they promote any film that comes to their stable because maybe the producer is a marketer's friend or they are having an illicit affair, they don't give serious consideration to the final production.
That brings me to the question of whether there is any truth in the insinuation that you once dated a particular producer because you wanted your movie to make wave like others.
Where did you hear that one from? I have never dated any producer or marketer in the industry. When I was coming into the industry, I had a very serious relationship that I was not ready to jeopardise because of one useless marketer who wants to market my film. I am too big for any marketer to rubbish with one stupid offer. I have the capital and the resources to do my movie, I don't have to rush to anybody to ask for money to produce my film, it has never happened and it would never happen.
Are you aware of the seniority saga that that appears to be tearing the industry apart?
I am hearing this for the first time but the fact is that we respect our culture a lot. I have some actors and actresses that I respect so much, but they don't have the gut to tell me that I should respect them or approach them in any special manner.
I have never told anybody to address me specially, respect is reciprocal. People will address you based the way you talk to them. These people are neither my brothers nor sisters; we are colleagues and that should not be a problem that would tear the industry apart. You can choose to relate with me anyhow, provided you don't disrespect me.
It was in the news sometime ago that you engaged a colleague of yours in a physical combat at a location, what actually went wrong?
It was not true; the only one I can remember was not a fight but an argument.
Some of your colleagues said you beat her up….
I don't want to raise a dead issue. I have forgotten about that and as a matter of fact, it was not a serious fight that would be celebrated on the pages of national dailies. I wouldn't want to start another issue
How do you relax?
I am not the type that loves going out, I am an indoor person, maybe because I grew up among ladies. It has been very easy for me to sit back at home and play with my baby girl.
You seem to have a good command of English but you feature frequently in Yoruba movies than English, why?
That is because the Yoruba producers patronise me more, they appreciate and respect me a lot. They know my worth and respect me so much. When you are faced with other challenges and you know the producers harbour tribal sentiments and only want to give roles to people of their tribe, it doesn't bother me. Even when it clashes, I still honour the Yoruba producers because they always want me on their set at all cost. I have been treated well by producers that know my worth and want me to be in their movies where they pay better money, I won't be bothered.
Why do you think the English genre production is usually better than yours?
You can't argue that, because they get more sponsors than the Yoruba actors. Their governors are always ready to support them to any level but in our own case, it is not so. We don't enjoy the kind of support they enjoy.