SLICK-J'S MA LUV SONG TOP DJS' PLAYLIST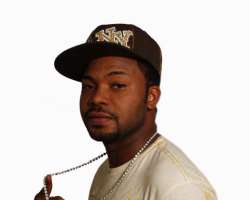 From Q Club, Allen, Club O, Awolowo Way, Page Bar & Lounge, The Place, La Cashette, Intro Bar, Goddies, Options Nightclub, Sandra's Bar, Metro Park, Do-It-All, one song that all the girls and gals are so elated to hear is Ma Luv single album of the sensational artiste called Slick-J. Leaving the Mainland now for the Island, places like, Villa Medici, La Casa, K's Place, Club P?p?, Reloaded, Black Pearl, Churasco, Knight, MaccaPollo, Swoop De Pitch, Saipan, Legato, Club1404 etc, Slick Ma Luv is highly on demand on the lips of every night crawler and the Djs too are giving it to them as they want it.
Who is this Slick-J? My curiosity led us to peep into the dossier of the handsome singer and it was discovered that Iyere Emmanuel Steven is his name; he dabbled professionally into music in year 2000. This self-inspired artist who loves to write songs is taking his kind of music to the horizon as his producer, Ignition Entertainment & Service, whose wherewithal to launch him into the international market is visible and realistic, has thrown his weight behind him. We understood.
However this Covenant University graduate of Psychology who has since taking to R&B and Pop hails from Edo State and has been a friend of log-standing to Ayo Ola Steven of Ignition Entertainment & Services Worldwide.
According to the CEO of Ignition Entertainment, Ayo Ola Steven a.k.a. Kash, a PR and Advertising personnel, "It's hard these days to see someone like Slick-J, you know, I discovered the unmatched quality in him during our university days and I wont lie to you, what we want to do on him is to position him and take him to the enviable heights. A lot of Nigeria's artists lack what we call branding, as an international PR person, that we be our area of concentration and primary object, as the image of our artiste is important to us as his talents. He boasted.
Ignition Label is cooking the 18 –track album and before the beginning of next quarter, the album entitled 'My World' would have been out for public consumption.
Right now, the two domineering single which a lot of clubbers have been crazy about are Ma Luv & Ole Gan n. watch out for Slick-J as he waits to explode with a bang!