Threat to life: I am not intimidated-Tinubu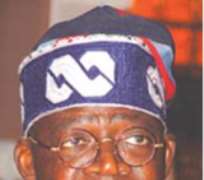 Former governor of Lagos State, Asiwaju Bola Tinubu has said that the Economic and Financial Crimes Commission (EFCC) cannot be used by anybody to intimidate or stop him from fighting a just course in which he believes. He said this yesterday while fielding questions from the Lagos State House of Assembly correspondents at the Assembly Complex in Alausa, Ikeja, after inspecting the newly constructed Chamber. Tinubu who was reacting to a recent claim by the Action Congress of Nigeria (ACN) that there is a plan to use the EFCC to intimidate him, pointed out that the commission cannot manufacture a case where there is none.
 
 
According to him, 'I don't believe the EFCC is an institution meant to harass, intimidate and embarrass opponent. Till date I am not worried about the shenanigans of these people, I don't believe the releases of the EFCC and whoever is making them.'They might be under political pressure to do what is untold, but they ought to be careful. And if the President is true to his commitment to this country about the rule of law, definitely EFCC is not even the final court if you ask them to manufacture a case, which I believe not.'But a threat to my life as was published; I am not worried about that. This is not the first time I am facing such a threat. I have been on it since 1991, 1993 and 1994 during the military dictatorship and our crusade to bring democracy to the country was worst', he added. He also explained that the threat level then was worse than as it is now noting that if the fear is eliminated now, 'you cannot achieve a progressive democracy that will last longer in our country.
 
 
'Therefore, if our institution building, the right to justice, the crusade for our right is dictated by the amount of weapon and intimidation in possession of anybody, that one cannot determine myself and colleagues from pursuing the crusade for a just society in this country.'So God Almighty is the security for every one of us, I will never be afraid; I will continue my struggle in pursuit for liberty; a right to life; right to justice; right to what is the right of all of us in a democratic dispensation. 'If those so-called opponents are becoming a danger and we all become afraid to lead the crusade for full democratization; for true federalism; for justice in our society, then we are finished as a nation. I am not afraid about that, let that be clear to all of you and whoever is contemplating whether it is a rumour or real, I don't even pay attention to it,' Tinubu said.
 
 
The former governor also denied the claim that he has anointed who is to be the next governor of the state. He said 'I am not into that, I am not a pastor. I don't have the anointing oil or the spiritual power. I am just a party leader and leadership is about collective decision process.'We will take our time and you will know through the democratic process. You have the right for endorsement; you have the right to be in position of influence, I am just one of the people who will look at all aspects of governance and if you want to provoke a hint, you can't get that one from me,' he said.