MIMIKO, FAYEMI, AREGBESOLA FORM SYNERGY FOR RAPID DEVELOPMENT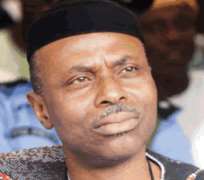 Mimiko
Three states in the South-west including Ondo, Ekiti and Osun are forming synergy to revive the moribund rail network.
Governors of the states, Dr. Olusegun Mimiko, Dr. Kayode Fayemi and Alhaji Rauf Aregbesola, at the Government House, Alagbaka, Akure, yesterday unanimously agreed to bring rapid transformation akin to the one witnessed during the era of the late Obafemi Awolowo to the region.
Governors Fayemi and Aregbesola, who were in Akure, the Ondo State Capital on a courtesy visit to their counterpart in Ondo, Dr. Mimiko said the interstate rail network would boost economic activities in their respective states.
Fayemi said: 'We have agreed to form a synergy that will revive the infrastructural facilities in the states that were hitherto in mess.
'The progressive minded people are ready to work together to bring dividends of democracy closer to the grassroots. We cannot afford to fail our people.
'For the people at the grassroots to benefit from dividends of democracy, government at all levels must be more proactive in providing basic infrastructural facilities to the people.
Governor Aregbesola on his part said the three states were ready to fund an interstate rail network that would ease transportation system
'We are ready to work together for the development of our states by ensuring that we provide the best for our people in all the sectors.
'As progressive minded people, we will ensure that our infrastructural facilities are given a facelift. We want a kind of development that was witnessed during the days of the late sage, Obafemi Awolowo,', he added.
Governor Mimiko said the present development in the South-west states would give room for rapid development among the progressive states.
He added that the three states were already in alliance for economic development, adding that the interstate rail network would boost economic activities of the three states.