DANGOTE GROUP PAYS SHAREHOLDERS N60.21 DIVIDEND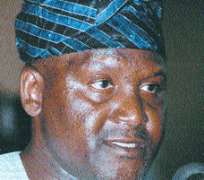 Dangote
Investors in the four companies under the Dangote Group listed on the Nigerian Stock Exchange (NSE) have received a total of N60.21 billion as dividend this year.
Dangote Group, the biggest business conglomerate in sub-Saharan Africa, has Dangote Flour Mills Plc, Dangote Sugar Refinery Plc, Dangote Cement Plc and National Salt Company of Nigeria Plc (NASCON) as its subsidiaries.
While many companies have not been able to declare dividends due to their poor financial performance as a result of the difficult operating environment, companies under the Dangote stable have enhanced the liquidity position of shareholders with a dividend of N60.21 billion in the past financial year.
Dangote Cement last week paid an interim dividend of N30.98 billion for the period ended September 30, 2010. The interim dividend is part of the group's strategies of enhancing and growing shareholders' value through consistent dividend payment. The interim dividend also fulfills the promise by the directors of the company to shareholders.
Dangote Cement resulted from the merger between Dangote Cement Plc and Benue Cement Company Plc (BCC). The merger created the biggest company listed on the NSE. According to the annual reports and accounts of the listed companies, Dangote Sugar Refinery paid a dividend of N12 billion, which translates to N1 per share, legacy BCC paid N3.9 billion, which also translates into a dividend of N1 per share. NASCON paid a dividend of N1.325 billion amounting to N0.50 per share, while Dangote Flour Mills paid N4 billion translating into N0.80 per share.
Excited by the dividends, shareholders are showering praises on the management of the companies under the Dangote Group for rewarding them in the face of the recent downturn in the capital market.
Speaking on behalf of his colleagues at the Annual General Meeting of one of the companies recently, Chairman, Ibadan Zone Shareholders Association of Nigeria, Chief Aderemi Oyepeju, said shareholders are very pleased with the performance of member companies of the Dangote Group on the NSE. According to him, the performance of the companies is a delight to shareholders proving that with good management, any company can excel.
On his part, Chairman of Shareholders Trustees Association, Alhaji Muktar Muktar, attributed the continued improved performance of the companies to 'dedication to investment and competent management team.'
The prominent shareholders' rights activist conveyed the appreciation of shareholders whom he said are happy with the dividend stream of the four companies under the Dangote Group that are listed on the exchange.