SEX FOR ROLES IS FOR THOSE WHO DON'T KNOW THEIR ONIONS – MARY OGBONNA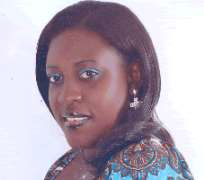 Mary Ogbonna
Mary Ogbonna popularly known as Biliki Sisiraju in Clinic Matters, a sitcom that has gained popularity is an English language undergraduate of the Lagos State University. She has featured in series of movies both Yoruba and English films such as Yanky Girls and Breaking News, just to mention but few.
In an interview recently with Daily Sun, she revealed that girls who opt for sex so as to get roles in movies are those who do not know their onions. She spoke on her journey into the movie world and other issues
Here are excerpts.
Limelight
I would say that Dry Scorpion did because I played the role of a mad woman in the film. When the movie came out, too many people called to commend me for the role because it was so challenging playing that role. And to tell you the truth, I prayed and fasted for two days before I went on location for that role.
Acting career
I would not say it was my dream as a matter of fact. It is good to exhibit what you discover about yourself. I discovered that I have the gift of acting. Even where I worked, whatever I did, people would laugh so one or two people kept telling me to go into acting. I also remember vividly that when I was in Secondary School, I was acting in churches and schools. I started by registering with a skills club, an association that was established in Ibadan then, the coordinator taught me how to act, even in the dance drama film and all that. That was exactly where I got the inspiration. It is not something that I just started because the opportunity came.
Is it rewarding?
It is very much rewarding at least, I use that to train myself in school and I pay my bills. I am studying English Language at LASU and by the time I get to 300 levels, I would focus on Theatre Arts.
Sex for role
Sex for role is only for those who do not know what they are doing. It is for those who do not believe in themselves. It is for those who do not have it but want to get there. I am not an advocate of that.
Fame
It has been on the positive side. I wouldn't say that people have not been calling even from London and America. They commend me very well. I can't imagine myself going to sleep with a man because he saw me on television. It is stupid running down to places to sleep with men because you appear on screen or because you are famous.
Role Model
My mother is my role model even till tomorrow. She taught me so many things, how to become a woman, how to be self discipline and how to relate with people in the public. The second role model I have is Joke Sylva because she has the look of my mother.
Aspiration
I don't aspire to be like anyone rather I aspire to be like me. The gift that God has given me, I want to bring it out so that people can take from me and desire to be like me. I want people to take me as their role model. I just want to be who I am.
Growing up
My growing with my parents was too tough. My daddy is a very strict person so it was not easy been with them. I cannot stand with a man here and my dad is coming from there. It is either you disappear or you pray that the earth would open up and swallow you.
Challenges
I didn't really have challenges apart from what producers and directors do at times. Sometimes they will tell you that audition is at Ikoyi, maybe you have like #500 on you, you manage it to get there to do one or two things hoping that you could be picked. They would sometimes tell you that it is not that you are not good but that is not the stature they want or complexion they want. And you see yourself trekking from one bus stop to the other until you get to your destination.
The most annoying part of it is that you sometimes see those that are not good and they will be taken because they have interior motive. They would sometimes tell you that they have good legs. Like I could talk about a particular producer but I would not mention names. Anytime he is doing audition, he can do it like three or four times because he wants to get some hot, smooth and spotless legs and those of us that have spots on our legs won't be picked.
Are you married?
No, I am still single but I know that I would definitely marry this year. Though, I am not in any relationship except the one I have with God.
First experience on set
My first experience on set was on the movie entitled 'Breaking News'. It was so exciting but I was a little nervous meeting, sitting and charting with the popular artists I have been seeing on air. It was just funny because now they are smiling and the next minute, they are frowning and you find it difficult to cope with. It was so scary and I kept to my shell to avoid been embarrassed. My first experience was awesome.
There are some you meet on location and they would look down on you like Omotala Jalade Ekinde did to us on location. When she saw us, she looked as if we were chickens or that she was disappointed to see new faces as the people she was going to work with. She really looked down on us but within me I concluded that she was telling God to make us because I know that where a runner gets to, definitely a walker will equally get there too.
Role in clinic matters
I played the role of Biliki Sisiraju, a local lady in her thirties who came from Ibadan to Lagos in search of a job. She is so inquisitive to know things. She asks too many questions in a bid to find out everything and blend with Lagos life. Despite that, she has respect for the doctor and the nurses because she ended up getting a job in the hospital as a cleaner. Clinic matters has really done me well because people tend to recognize me anywhere I go as the cleaner and my admirers too have increased.
Taking romantic roles
It all depends on what the story is all about and how much they are willing to pay for that. If the pay is attractive, I can take any romantic roles without blinking eyes. After all, that is my job. I earn a living from that. Although I may not act nude but remember that all these things are fiction. It is never real. That is why people wonder if some things are real. They are make belief and I will act it and make people believe it.
Quitting
The only thing that would make me quit is my husband but he would have to give me reasons.