Jubilation In Lagos As Appeal Court Declares Aregbesola Osun Governor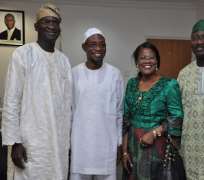 LAGOS, Nov 26, (THEWILL) - A good number of the Action Congress of Nigeria (ACN) chieftains and supporters flooded Lagos State Governor's Office in Alausa today in jubilation, following the declaration of the party's candidate, Engr. Rauf Aregbesola as the duly elected Osun State Governor by a Court of Appeal in Ibadan, Oyo State.
Aregbesola dressed simply in white traditional kaftan came visiting Lagos State Governor, Mr. Babatunde Raji Fashola (SAN) at the state seat of power, where hundreds of ACN supporters had gathered singing songs of victory.
Shortly after the judgement, the governor-elect alongside his running mate, Otunba (Mrs.) Titilayo Laoye-Tomori had having at a close-door meeting with Governor Fashola for about an hour before the arrival of Governor Fayemi of Ekiti State.
Thereafter, Aregbesola, Fashola, Fayemi and Laoye-Tomori stepped out to the ram of Lagos State Governor's Office flanked by a number of the state commissioners, local government chairmen, ACN chieftains and their security aides.
Speaking with journalists, Governor Fashola simply described the verdict as another prevalence of justice and the rule of law.
Fashola said justice had prevailed at last, noting that truth "has prevailed over a mountain of lies. The camp of falsehood is being dismantled one by one. Justice has been done. It is a good development for democracy.
"Justice has been done. For this, we thank God. We are happy and grateful to the Nigerian Judiciary for standing firm to assert their independent and commitment to the part of truth, justice and the rule of law," the governor said.
Photo: Osun State Governor Elect Rauf Aregbesola during a chat with State House Correspondents today, November 26, 2010.
Also speaking, Aregbesola commended God Almighty for his victory at the appellate court, which he said was due to God's intervention even though it took three and half years to get justice.
Aregbesola, who will be sworn-in on Saturday at 12.00pm in Oshogbo, also commended former Lagos State Governor, Asiwaju Bola Tinubu and ACN for standing with him throughout as he fought the electoral fraud committed against him in the court of law.
"To God Almighty be the glory. I thank God. I thank Asiwaju Bola Ahmed Tinubu. I thank Action Congress of Nigeria (CAN), the Nigerian judiciary and the entire people of Nigeria for standing for justice and truth," the new Governor said.