I WAS FRUSTRATED OUT OF SUPER EAGLES – EKONG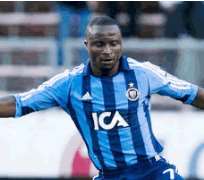 Ikpe Ekong
Out-of-favour Super Eagles' midfielder, Prince Ikpe Ekong, has sensationally revealed that he quit the national team out of frustration after the 2004 Nations Cup in Tunisia.
The born again Christian footballer, who currently plies his trade with Djurgarden FC in the Swedish League, told Saturday Sunsports that he was serially dropped from tournament squads despite proving himself while in camp just because he had no 'godfather' to front for him in the national team.
According to him, he had to hold on to God's assurance that he would put on the green and white national team's jersey during the Nations Cup in Tunisia in 2004, a promise that actually came to pass irrespective of the stumbling blocks.
'Actually, I personally called it quits with the Super Eagles. The last time I played for the team at the Nations Cup in Tunisia (2004), I played with a lot of pain and frustration, trying to prove myself over and over again,' the Akwa Ibom State-born player began. 'I went on trying to watch my left and right to know what was going on, but it shouldn't be so. I had to go through all that because I had nobody behind me. However, I was able to make the Nations Cup in 2004 and I was very glad.
'Even at that Nations Cup, I was supposed to be a regular player, but I was not given the opportunity until the third place match against Malawi, which we won and brought the bronze back home. After that match, people protested why I was kept on the bench in the previous matches. They argued that I was good enough to make the first team. It was after that Nations Cup that I decided to focus on my club career and forget about the national team.
'I was off and on in the national team. From 1997, when Coach Monday Sinclair was in charge of the team, I proved my ability to be part of the team. I went abroad at a very tender age and was given the opportunity to train with the national team despite the fact that I was not among the invited players. There was a time we went to Zambia, where we played two games and I was adjudged the best player. I was extraordinary and the coach said 'that boy must go to France '98 World Cup finals'. But what happened later? I never got a call up letter again. That has been my case.
'In 2002, I came back to the team and Coach Shaibu Amodu said that I was the revelation of the team when we were at the Otta Camp in Ogun State. But I was dropped again from the Nations Cup squad to Mali that year. They took me to Abidjan in Ivory Coast and dropped me there to ensure that fans back home would not make trouble over my exclusion from the Nations Cup squad.
'In 2004, I almost gave up, but God promised me that I would make the Eagles' squad to the Nations Cup that year. He told me not to give up. So, when I put on that green and white jersey in 2004, I felt that the dream has come true and I said to myself, 'it's all over for me'.
Ekong, who has not ruled out a possible return to the national team if only he would be accorded the respect he deserves, said the current Super Eagles lacked tactical discipline. He also commented on Samson Siasia's appointment as Eagles' new coach, the quality of players in the team and what the coach must do to actualise the full potentials of the players, among other issues.
Return to Super Eagles
I might come back to the Super Eagles, but I'm not ready to go through the hell I past through before. If I'm called up and I'm sure that I would be well respected, I will honour the invitation.
Siasia's new appointment
Anyone given a job should always be able to do it perfectly. The ability to do the right thing at the right time is what makes an individual perfect in what he or she does. So, my advice to Siasia is that he must take total charge of the team. If it requires signing an agreement with the football Federation, he should do that.
Taking charge means that he should enforce discipline in the team. The bible says if the foundation is destroyed, what can the righteous do? It's all about the foundation. If he can deal with the foundation by doing what is right, every other thing will fall into place.
Would Keshi have been better?
When I played in the Super Eagles at the Nations Cup in 2002 under Coach Amodu, Stephen Keshi was his assistant and he has been a good coach. He was also a professional footballer. Siasia is good too. He was a professional footballer also. But like I said earlier, it's what you do that makes the difference in you.
Rating current Eagles
At the moment, the Super Eagles team is tactically undisciplined. It baffles me because all the players in the team at the moment are professionals. So, I wonder why they are not tactically disciplined.
Take for instance, when a corner kick is about to be taken, teams are expected to map out which player that marks who. It's called 'man marking'. But I wonder why we cannot implement that tactics in the Super Eagles. Is it that the players were not taught or that they were taught but they failed to carry out the instruction? This is what I cannot comprehend because we have the potentials and everything one can think of, but what we lack in the team is tactical discipline.
No reason to fail
Nigeria has exceptional players. With a population of about 150 million people, the country has players that are playing in the best teams in the world. Mikel Obi plays for Chelsea in England, and Chelsea is an exceptional team with exceptional players. Yakubu Aiyegbeni, Joseph Yobo, Obafemi Martins, Obinna Nsofor and Osaze Odemwingie are all exceptional players doing well in Europe.
Being an exceptional player, goes with certain qualities. The tag you carry in your club, as a professional, is the same tag you carry when you come to the national team. So, I wonder where the problem is coming from. May be the coaches are not stamping their feet to get the best from those players or perhaps, the players are not motivated well enough to exhibit professionalism.
If player are well motivated, you will see it on the pitch. Motivation in this sense may not be financial; it could be psychological. Football has a lot to do with psychology. You can psyche up players. You can make them to understand why they must not disappoint. Probably, we need an expert in that area.