GERMAN MINISTER SAYS FULL EMPLOYMENT 'POSSIBLE SOON'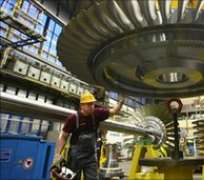 Germany is helping to drive the economic recovery in Europe
Germany's economy minister Rainer Bruederle has given an upbeat assessment of his country's recovery, including the assertion that "full employment will soon be possible".
He said that Germans were "doing well and spending again", and that domestic consumption was strong.
Data released this week showed German business confidence at a 20-year high.
German optimism is in marked contrast with the gloom engulfing some European economies struggling with high debts.
The euro has fallen by more than three cents against the dollar this week on fears that the Irish debt crisis may spread to other European countries with high budget deficits, such as Portugal and Spain.
The Irish Republic is negotiating with the European Union and the International Monetary Fund over a rescue package expected to be worth about 85bn euros ($113bn; £72bn).
Domestic growth
But despite the fact that many Germans are unhappy they will be contributing the bulk of the bail-out, Mr Bruederle said confidence had returned following the global recession.
"Germans are in an expansionary mood. We're investing again, we're consuming again, people are doing well and people are spending again," he said.
He added that domestic demand was now contributing more than half of the country's economic growth, while "the council of economic experts say next year 90% of growth will come from the domestic economy".
This is significant given that Germany is the world's second-largest exporter.
Mr Bruederle also said the German job market was in good health.
"There are fewer than three million unemployed now, down from five million. Even the number of long-term unemployed is now decreasing, which has never happened in the past," he said.
"I'm convinced that full employment will soon be possible."
The German economy grew by 0.7% between July and September compared with the eurozone average of 0.4%.
This followed record growth of 2.3% in the previous three months.