CHINUA ACHEBE: EIGHTY DANCESTEPS FOR THE MASQUERADE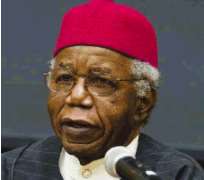 Achebe
In 2008, when Ndigbo invited him to deliver the keynote address during the famous Ahiajoku lecture in Owerri, Prof. Chinua Achebe c hose to speak in parables. He had chosen to shock his listeners with a rather short speech which centred on the need for Ndigbo and indeed Nigerians, to redefine their mission as a people.
As a great writer whose works usually take a prophetic view of society, Achebe easily referred thousands of his admirers and guests at the ceremony to his classic novel- Things Fall Apart. He reminded them of how in the novel, the tragic flaw of an individual (Okonkwo) leads to the tragedy of the entire community (Ndigbo).
He therefore charged his kinsmen to be wary of their actions and ambitions in order to avoid communal tragedy. He urged them to love one another, accept one another as they are and above all, look inwards by transforming their potentials into concrete developmental goals.
Fondly called father of modern African writing, Achebe has succeeded in dedicating most part of his life to creative writing and scholarship. He has, in the same process, demonstrated these qualities so well in his career that he continues to win many laureates to his credit.
As he turned 80 on October 16, 2010 the master story teller was honoured with yet another laurel – the Dorothy and Lilian Gush Prize for Literature, which attracted a whopping sum of $300,000. This was to boost his literary achievement as an octogenarian whose works are being read and studied in virtually all parts of the globe.
Achebe who was once described by Nobel Laureate Nadine Gordimer as a writer who has found 'a new utterance for the capture of life's complexity' has many laurels in his kitty. One of them was the Mann Broker International Prize (2007) which had one of the judges describing Achebe as having illuminated the path for other writers around the world. The Nigerian writer was said to have opened the way for all writers seeking new words and forms for new realities and societies.
Meanwhile, the latest laurel for Achebe underscored the crucial and critical role which literature plays in the life of a people. Coming exactly two years after Achebe celebrated 50 years of his novel, Things Fall Apart, the Dorothy and Lilian Gush Prize also coincided with the 50th anniversary of Nigeria's independence, and at a time when the country is again rooting for its new set of leaders.
With Achebe's achievement, Literature seemed to have triumphed where governance has failed the Nigerian people. The writer in Achebe continues to win laurels while the country that produced him continues to seek messiahs who can rescue it from the shackles of corruption and poverty.
As far back as 1982, shortly after Achebe retired from the University of Nigeria, Nsukka(UNN), he started editing the famous literary journal which he co-founded – Okike. At the same time he flirted with politics, having joined the People's Redemption Party (PRP) which had a great leaning with the masses. In 1983, Achebe became the party's Deputy National Vice President. He thereafter published a book entitled The Trouble With Nigeria to serve as a warning to electorates who were then preparing for the 1983 general elections. In this book, Achebe had berated Nigerian rulers, saying 'The Nigerian problem is the unwillingness or inability of its leaders to rise to the responsibility and to the challenge of personal example which are the hallmarks of true leadership'.
Nevertheless, the elections that followed this publication were marked by violence and charges of fraud. Ever since then, the subsequent elections held to select new leaders in Nigeria were marred by fraud, corruption and violence. And as the nation is again preparing for the 2011 elections, there is palpable fear in the land, suggesting that history may once again repeat itself. Achebe left politics in 1984, and retired to his literary activities. He spent most of the 1980s delivery speeches, attending conferences and working on his novels. In 1987, he released his fifth novel, Anthills of the Savannah, a satire which tells the story of a military coup in a fictional West African Country.
However, on March 22, 1990, a few months to his 60th birthday, Achebe was involved in an automobile accident that almost claimed his life. He was riding in a car to Lagos when an axle collapsed and the car flipped. His son Ikechukwu and the driver suffered minor injuries; but the weight of the car fell on Achebe and his spine was severely damaged. He was immediately flown to Paddock Hospital in Buckinghamshire, England and was promptly treated. But by July of the same year, Achebe's physicians announced that although he was recuperating well, he was paralysed from the waist down to his legs, and that he would require the use of a wheel chair for the rest of his life.
Over the years, Achebe has remained in a wheelchair, but his spirit was never dampened. He has also continued to be productive, aside winning awards from across the globe. After the accident, Achebe became the Charles P. Stevenson Professor of Languages and Literature at Bard College in Annandale – on – Hudson, New York. In 2009, he joined the Brown University as the David and Marianna Fisher University Professor of Africana Studies.
A native of Ogidi, now Anambra State of Nigeria, Chinua Achebe was born in 1930 to a teacher in a missionary school. His parents, who were devout evangelical protestants named him after Prince Albert, husband of Queen Victoria. They nevertheless taught him many values of their Igbo traditional culture. In 1944, Achebe attended Government College, Umuahia. He was later admitted into the then University College Ibadan ( now University of Ibadan ) where he studied English, History and Theology. At Ibadan, Achebe met and studied with other Nigerian writers like Nobel Laureate Wole Soyinka, Elechi Amadi, Christopher Okigbo, John Pepper Clark, Mabel Segun and Kole Omotosho.
Achebe rejected his British name, Albert while at Ibadan, and retained his Indigenous name, Chinua. He graduated in 1953 with a B.A after which he joined the Nigerian Broadcasting Company in Lagos. He also travelled widely to other African countries and America, aside serving as Director of External Services in Charge of the Voice of Nigeria.
During the Nigerian civil war (1967 – 1970), Achebe served in the Biafran Government and taught at both U.S. and Nigerian universities. Achebe's writings from this period reflect his deep and personal disappointment with what Nigeria has become since independence.