PAPA EDWIN CLARK (GOLIATH) VS. PIKIN EMMANUEL UDUAGHAN (DAVID)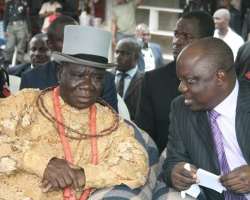 PHOTO L-R: CHIEF EDWIN KIAGBODO CLARK AND DELTA STATE FORMER GOVERNOR, DR EMMANUEL UDUAGHAN.
In as much as we all know the biblical story of David and Goliath it would be unnecessary repeating it here, however in that story David divinely, with "ordinary catapult/sling and okute (a piece of rock) " brought the giant Goliath down kissing the ground. This biblical scenario is about to take place in my Delta State. Remember the saying...."Whom the gods want to lay waste, they first turn them into lunatics."

Are Edwin Clark both public and private utterances, press releases, and destructive campaign against his "son" Emmanuel Uduaghan from a sane mind? Keep your answer private. Where are our Nigerian Neuro-psychiatrists, Clinical Psychologists, Mental Health Practitioners and Counselors, where are they?

If none is available in Naija (apology to Dora) I would be more than willing to "google search" for one who would be ready to help our Niger Delta Papa. Clinically, it is not uncommon to find people in the age bracket of Pa Edwin Clark displaying these clinical depressive and psychiatric symptoms. While I would not claim to be an expert in Clinical Psychiatry or Psychology however I have performed clinical roles as one of the members of a Clinical Trial Team who worked on a couple of antipsychotic drugs that are currently in US market. I have also carried out few "literature search" from Cochran library, Medline, Lancet etc. on this disease condition and rational management. I am writing this not as a mere "academic exercise" as some would label this write-up, but to point out that I am not putting out this as a lay person but an informed clinician who is willing to help our Pa Clark get proper diagnosis and treatment for his disease condition before it gets worse. My candid advice to Deltans especially Uduaghan and his Organization is to reach out to Pa Clark and "help" him before things get out of hand. There is no other Naija "elder statesman" living today that goes on the pages of our Newspapers "wearing gloves" to go on the ring for boxing tournaments as our Papa. Can he learn from the likes of Chief Anthony Enahoro, The Ibrus, Chief Mbazulike Amechi (The Boy is good) Chief (Col.) Mike Okwechime (Olikieze Ibusa), Chief Sonny Odogwu (Ide Ahaba), OBJ, members of Yoruba Council of Elders (YCE), Chief Raph Uwechue (Ohaneze President-General), Gen. Domkat Bali (rtd), Gen. Yakubu Gowon (rtd) etc. If any one finds any financial improprieties against Uduaghan it is better to channel it the appropriate body EFCC, rather than on pages of Newspaper because that would be hitting below the belt. Using his blood relationship with Ibori is absolutely a non starter and irresponsible. Let each individual carry his own "CROSS." I am still pondering how "little boy" Ibori could "plant" his cousin Uduaghan as Delta State governor when the Almighty Pa Edwin Clark is on the ground, what really happened to the almightiness in our Niger Delta Czar? I'm still researching and researching. Uduaghan as an imperfect human like all of us may have some NEGATIVES but have we cared to look as his POSITIVES at all. Should we throw the dirty bath water away with the child in it? DO UNTO OTHERS AS YOU WOULD WANT OTHERS TO DO UNTO YOU. GO YE TO THE ANTS AND LEARN WISDOM. Finally: My Dear Pa Edwin Clark, I am appealing with due respect, not advising you, as a Deltan from Anioma Nation to GIVE PEACE A CHANCE and let the people of Delta State decide who would be their governor in the Re-run election.

Let us come to you when we have problems as our "diokpa" but if you become a keen player in the "problem" then we can only put it into prayers. Which I think Deltans would have to start doing from now. Long Live Delta State, Long Live Nigeria. Dr Anam O. O, President, CISA.
Disclaimer:

"The views expressed on this site are those of the contributors or columnists, and do not necessarily reflect TheNigerianVoice's position. TheNigerianVoice will not be responsible or liable for any inaccurate or incorrect statements in the contributions or columns here."
Articles by thewillnigeria.com