Akpabio spends N4 billion on Free Textbooks …Urges support for Jonathan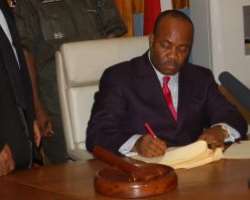 Godswill Akpabio
The administration of Governor Godswill Akpabio of Akwa Ibom state has spent a whooping N3.6 Billion on free textbooks for the state's free education programme. Education in the state's primary and secondary schools are free and compulsory .
According to Akpabio" we invest heavily in the child development , for those who will take over the mantle of leadership tommorrow we have to introduce free education. The books cover subjects like chemistry, biology, physics and mathematics.
The state has ensured a conducive lerning environment in public schools through massive rehabilitation and reconstruction of school blocks; provision of science equipment and laboratories, construction of hostels and supply of school desks.
Reward and compensation, he said, has also been stepped up in state public schools to motivate workers for higher productivity.
It is against this backdrop that the state pays management of every primary school N100 for each pupil per annum and N300 per student at secondary level.
The state has so far spent N50 Billion on free education in the state . According to Akpabion, over N35 Billion has been spent on infrastructure, with N15 Billion on subvention to schools and textbooks.
A breakdown shows that some of the areas that benefited include renovation and building of new classroom blocks , provision of desks and books , purchase of science equipment, and employment of new teachers.
 
The state has also abolished structures such as the parent teachers association, used in the past to fetter access to education for many children. Said He " we are doing that to ensure education is totally free"
Meanwhile, Akpabio, has called on Nigerians to back President Goodluck Jonathan in the 2011 general elections to ensure continue in sundry laudable programmes introduced by his administration, including the post amnesty programme.
Akpabio who spoke in Uyo said " Dont allow anybody to confuse you to support any other aspirant ...we want the unity of this country, i will be happy if we remain one united country. This will engender a sense of love and belonging among us"

 


Readers' Comments