I TURNED 19 THE DAY I WAS CROWNED – MISS NIGERIA 2010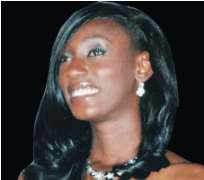 Agbajor
The emergence of 19-year-old Oluwadamilola Agbajor as the 36th Miss Nigeria reads like a Cinderella story. Damilola, the University of Lagos undergraduate, who comes across like the girl next door, got into the Miss Nigeria pageant just by chance and her life was transformed as in the fairy tale.
The only child of her parents, Damilola is very passionate about youth development and is determined to use her reign as Miss Nigeria to campaign for youth empowerment. In this interview, she throws more light on this and other related issues. Excerpts…
How did you get into the beauty pageant?
My friends told me about it; they sent me text messages and encouraged me to give it a shot. They told me about the website for the pageant. And when I visited the website, I kind liked what I read and decided to participate in the pageant, and then filled the form online.
While filling the form online, did you also see the profiles of the other girls you would compete with and how did that make you feel?
Yes, of course, I saw their profiles, and I knew I would be competing against very beautiful ladies, but this didn't discourage me at all; I was still very willing to try.
Have you ever featured in a beauty pageant before?
No, this was my first time.
People believe that participating in a beauty contest of the level of Miss Nigeria is an expensive for the contestants. So was the experience expensive for you?
Well it wasn't exactly so because the organizers of the pageant provided everything from the accommodation, feeding, clothes, shoes, make up and everything else we needed for the pageant.
Though you said that your friends urged you to participate, but why did you actually go into the pageant?
I know that some people have reservations about beauty pageants, but I found the Miss Nigeria pageant to be different from all the other such events we have all been used too.
This version of Miss Nigeria pageant was a reality show. What was your experience like?
It was interesting and quite challenging because we were 36 girls. We all came together from different states and different backgrounds. But every one of us put up our best behaviour. It was just fun mixing up with beautiful people. And it was a great learning experience too.
Looking back now, did you at any time think of pulling out of the competition?
There was no time I felt like pulling out; honestly none of us wanted to leave the show because we were enjoying it. The only thing we didn't like was the scheduled eviction of contestants because we didn't want to leave.
What would you say was your wining technique?
There was no wining technique. I just believed that what would be would be no matter how hard you try.
I read somewhere that a particular girl should have been the winner and not you. What's your reaction to that?
I think the judges made their decision based on the criteria specified for who should be crowned as Miss Nigeria. I believe they saw this in me and that's why they chose me as Miss Nigeria 2010.
So what stood you out?
I wouldn't know really because all the other girls were equally beautiful and very smart. I just think it was meant to be.
What was your parents' reaction when you told them you were going in for the Miss Nigeria beauty pageant?
In the first place, I was on holiday and featuring in the pageant did not disrupt my studies. Besides, I just wanted to have fun. As they didn't see anything wrong with it, they gave me their wholehearted approval.
Are you saying that your parents did not object to your participation?
No, when my friends encouraged me to go into it. I told my parents about it and they said okay; that I should give it a trial if I wanted and I guess they gave me their consent because Miss Nigeria pageant is complete different set up from other pageants we know about.
Would it be okay to say that your parents gave their approval because you were not going to parade in a bikini?
I guess that was part of it. Yes, everyone had their doubts but I made them understand that there wouldn't be swimsuit sessions; my parents found that very impressive.
But do you think you would be able compete with other beauty queens outside Nigeria given that the requirements are sort of different?
Well, I don't have to bother about that because I won't go for any international pageants.
So does that mean that you are not going to interact with other beauty queens?
Of course, I would interact with other beauty queens, but I won't have to go for any competition outside the country.
What is the focus of your pet project?
My pet project will focus on Nigerian youths. We are going to have youth centers all over Nigeria. And in the youth centers there would be lots of activities for youths and children. We are going to have activities like dancing, singing, swimming, cooking and all other sports activities. If you have talents you can just come in and you can also come to learn. The youth centres would serve as places for development of the talents of young people with the help of instructors.
Your reign would be just for one year. So how would you get the money to sustain this project?
I don't really have any fears about that; I have just started. I still have more than 11 months to go. I am getting a lot of support from the Miss Nigeria Pageant organization. I believe too that public-spirited individuals who share this passion would also support this laudable project.
So, who really is Damilola?
I'm only child of my parents. I was born and bred in Lagos. I attended primary school here in Lagos before going to Federal Government College, Odogbolu. At present, I am an undergraduate of University of Lagos. I am a 200 Level student of Mass Communication.
In which aspect of mass communication do you intend to major in?
Advertising and public relations
Why the particular interest in advertising and public relations?
In a way they are all interwoven.
Did you at any time in the past ever fantasize about becoming a beauty queen?
No, but I have always seen myself as very special; and I think every woman should also see herself as such.
Certain achievements tend to change people. What is the difference between the old Damilola and the current Miss Nigeria?
Well, as Damilola I was just the girl next door. But now things have changed and there are certain things I cannot just do again on my own. Now I have to always be with my chaperon.
So what does your chaperone do?
Sometimes she talks to people on my behalf. In a way she protects me like a mother.
So she is like the 'queen mother who makes sure that men don't get too close. Has she been able to do that successfully?
Yes, she has been able to do that.
Before becoming Miss Nigeria, did Damilola have a boyfriend?
Before the reign there was none, and all through the reign there will be no boyfriend.
If you are to close your eyes and think of your knight in shining armour, what would he look like?
I have not thought about that.
So, how old are you?
I turned 19 the day I was crowned.
We know that all teenage girls at one point in time always have this fantasy about what their dream man should look like. What does your dream man look like?
He should be God fearing.
Yes, that is very important and the best foundation. But what physical looks - are you not into the 'tall, dark and handsome' bit?
(Laughter)
During your time in camp for the pageant, what would you say were your most memorable moments?
The most memorable moments were the day we visited Chief Abiola Dosunmu, the Erelu of Lagos and the day Omotola Jalade-Ekeinde came to see us. I have always loved her and I was so happy at being able to meet her in real life. Also, meeting Agbani Darego was like a dream true.
What is your advice to young girls?
My advice to young girls is that they should be themselves and pray to God for directions. They should know what they what in life because not everyone can be a beauty queen, lawyer, or doctor. But they should know what they want to do before they set out to do it.
Are you going to stop school while you are Miss Nigeria and go back later?
I will be going to school while in the office.
Are you going to stay on campus?
No, I would be going from home.
Have you gone back to school since you got the crown?
No, I haven't because school hasn't resumed yet.