BIRMINGHAM, CHELSEA SET FOR SHOWDOWN @ ST ANDREWS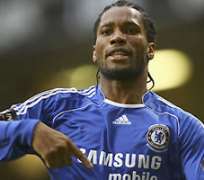 Drogba
It looks difficult to predict Chelsea's fate when it squares up against Birmingham City today in what could be dubbed 'The Battle of Blues' at St Andrews.
The London Blues were totally out of sort in their outing at the Stanford Bridge and it showed as Sunderland took them to the cleaners.
Still licking their wounds, they would be attempting to halt the string of embarrassing defeats now becoming part of the team. With Michael Essien, Frank Lampard and John Terry still out, followers of the Premiership's defending champions will be eagerly looking to see how the team will fare this time around. Failure to pick a point in the game at St Andrews means the team will momentarily surrender its leadership position, apparently to Arsenal.
Full knowledge of this fact will fire Carlo Ancelotti to dig deeper into his bag of expertise for a winning formula, as Chelsea steps onto the firing line. The task before the manager right now is to find true replacement for the key players, who are ruled out of the encounter at Birmingham, as the London Blues look forward to their fourth away victory of the season.
Chelsea's lead striker, Didier Drogba, needs to tuck behind him the nightmare of last weekend's disgrace by Sunderland to reproduce many of those stunts that made him the toast of the Premiership. A couple of them might be enough to give his team the cutting edge to ride above their hosts.
Birmingham's manager, Alex McLiesh, will surely be boosted by Chelsea's last weekend's fall. He might not be wrong judging by the unexpected results returned by the game in recent times. As the team eyes its third home win of the season, it is expected that it will fight Chelsea with the entire gust it can muster.
Despite placing 18th on the table, its away scoreless draw at Manchester City is a clear indication that it has something to offer, and killing the game today might just be one of them. So far, it has played five games without a win. It remains to be seen how this performance will motivate Birmingham as it goes into battle today.
Indeed, this will provide another opportunity for Cameron Jerome, Craig Garder and Liam Rigjewell to raise their goals' tally and give St Andrews' faithful a good evening.