PLANTASHUN BOIZ STILL LIVES – FAZE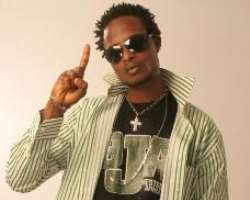 Faze
Amember of the defunct Plantashun Boiz and crooner of Kolomental fame, Chibuzor Orji Richard better known as Faze is still waxing strong in the entertainment terrain. The Delta State-born artiste has continued to carve a niche for himself having produced three albums since going solo.
He emerged in 1994 following his alliance with 2face and Blackface of the defunct Plantashun Boiz. Sometime in 2004 when the group went solo, Faze was so shocked that he expressed his feeling in his album: Faze Alone. In a recent chat with Daily Sun , the rising artiste gave a full insight of his relationship with his former colleagues. He also spoke about his role models and other burning issues in the industry Excerpts:
The fall of Plantashun Boiz
I don't like talking about it. It's an old story. We have gone solo and we are doing fine. We are still together. We did a song together in my album that shows that we are still together.
Reuniting Plantashun Boiz
The group is not broken. We just went solo. We can always come together to do one or two things. We only decided to go solo. We did one album and we are going to do more by God's grace.
Relationship with Tuface and Blackface
We could meet anywhere, be it in the club, in an event or whenever we want to perform in the same show.
The journey so far
It started since 1992. It was like a child's play and I did not take it serious until 1995 when I started playing professionally.
Coping with female admirers
They always come around. Some people may want to have one or two things to do with you, while some would just want to be friends. You have to come close to them to know what they want. Most of them want intimacy. Some watch your performances and go to the websites to browse and see when your show would take place.
My kind of music
It is called Universal flavour and I like universal town, R&B, Rap, Soul and Hip hop. It is like a mixture of everything. So, it is called Universal flavour.
Piracy
I can't tackle piracy. Nobody can tackle it because it is something that happens to everybody. You can only reduce it, but you can't stop it.
What inspires me
I get inspiration from the environment, anyone you can just tell me a story about what happened to you and I would analyse it or sing about it. Whenever I have memorable experiences, I write about them too.
Albums
This is my fourth album. It is called Relate. The first one is Faze Alone', the second one was, Independent and the third one is called Originality. I featured some musicians in my fourth album because people have been complaining that I don't feature people. Djzeez, Plantashun Boiz and lots more were part of it.
Role models
I have a great respect and love for Fela Anikulapo-Kuti because he used to speak the truth through his music. I've always liked reality songs. You can see that there is an atom of reggae in me when I do my thing. I listen to Usher and Boyz II.
My kind of woman
Though I'm still single, I like somebody, who is loving, someone that has respect for people around her and has respect for herself. A woman that is humble basically.
Immediate challenges
Having new albums overtime and writing songs, it's not easy to satisfy the fans. It takes the grace of God to do that effectively.
My fans
I appreciate my fans, I want to thank them for their support and I will not disappoint them.
Background
My name is Orji Chibuzor Richard. But fans call me Faze. After my nursery and primary education, I attended Festac Grammar School and Federal Polytechnic, Ilaro . After this, I went to Ekpoma University and IMT (Institute of Management and Technology) Enugu, where I studied International Relations and Diplomatic studies.
I am a very simple person, understanding, straight forward and someone, who is open to people.