2ND TERM: AKALA 'LL BREAK OYO JINX — KINSMAN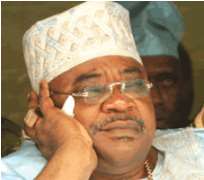 Gov. Akala
Dr. Oladejo Akanni is an Ogbomoso-based entrepreneur and kinsman of Oyo State Governor Adebayo Alao-Akala. He heads OAASIS, a group campaigning for the reelection of the governor. In this interview, Akanni declared that Akala would defeat his opponents, no matter how many times the poll was conducted. EXCERPTS:
What is your organization about?
Not being a politician I have to form a forum to assist his re-election. The name is OAASIS. The full meaning of the name is Otunba Adebayo Alao Akala Integrated Supporters. Our targets are people of the state especially traders and those in rural areas. We have presence in all the 33 local governments of the state. And we are happy because of the positive responses we are getting.
What's in it for you?
I am not looking for his money, I'm not looking for contract. You can go to the ministries at the state secretariat in Ibadan to see if they can trace my name or any of my companies' names. He's just my brother and I'm happy he's performing very well as governor of the state.
Some people will not agree with you on that
Akala has performed greatly. You go to the 33 local governments in the state and you'll see evidence of provision of infrastructure. There is development all over the state and above all the state is peaceful.
Do you think he'll have his way in 2011, with the opposition even at his home base?
By the grace of God, Akala will have his way. Buhari Fatai, Ayo Alalade, Ayo Adeseun and others were with him before. To my knowledge, Akala brought Buhari into politics through Baba Adedibu. I think what caused the rift is political rivalry.
Adeseun is in the House of Representatives, he wants to be a senator. Buhari has been there once, he was with Ladoja and immediately Ladoja was impeached he had no option than to follow him.
What I heard happened in the case of Adeseun is that he said he wants to be a senator. The governor said how is that possible for you to be senator and me to be governor when we're in the same senatorial district and the same party? But, they didn't resolve it. Some prominent Ogbomoso indigenes even intervened.
These people vowed to wrest Ogbomoso from Akala's hold in 2011.
Nobody can be 100 per cent sure in politics. As you have friends, so you would have enemies. Everybody has his followers. In the end, what Akala has done would speak for him. They can ever match Akala. Let them gang up, six, seven times, they cannot upstage Akala. That's where we in OAASIS, come in. We are going from door to door to see what people's grievances are, or what they want the governor to do for them. We have been getting results. These people will wake up one day to realize there have no followers anymore.
Akala breaking the jinx of one term for governor?
He'll break the jinx.
What gives you that optimism?
He has already broken the jinx. He had ruled for 11 months before. He has got experience. When you get to Ibadan, you'll see the urban renewal programme of Akala. Ibadan is looking better than it had ever been in terms of roads, sanitation, etc. Look at the brand new taxi cabs on the streets. Why won't the people vote for Akala with what is on the ground?
INEC and fresh state PDP congress as obstacles to Akala
This INEC's position is the handiwork of these political opponents. Before Nwodo, they've tried to get Ogbulafor to dissolve the Exco. After he was convinced there was no basis for it, he dropped the idea. When Nwodo was appointed, they did the same thing, but when the governor convinced him, he dropped it. These people in Ibadan ganged up again and went to INEC to pressurize the commission.
I see no reason why INEC should dictate to parties. The position of INEC is to watch in any election. The election of the executive, INEC was there. Now, because Jega, a new man is there, they try to instigate him against Oyo State. Even if they conduct the congress six or seven times, Akala will win again and again. The people that'll vote will come from the wards, the local governments. Who controls the PDP machinery? It is the governor, I'm confident he will come top again.
The governor's many battles
A leader needs to know he would face many battles. What Alaafin wants the governor to do, the governor may not do it. Maybe because it will create greater problem in the state. As for the teachers, he has agreed to pay them what they demanded. He will get the teachers' votes. In any case, the teachers' union leaders will not call our own brothers, friends and relations who are teachers not to vote for Akala. If they think he will not get the teachers' votes they're chasing the shadow.
NURTW crisis
A responsible governor cannot fold his arms and watch the state degenerate into anarchy. If they were not banned, Oyo State would have turned into another thing. These Ibadan politicians have their own interests there. That Akala is governor is not agreeable to them. But, it's only God that puts somebody in a position. If there is ever to be a third, fourth or sixth term, Akala will still be their governor.
Arisekola's sour grape
He was a very good friend of Akala. I think it's the case of Babangida's aspiration to be president again that caused their fight. I heard that Arisekola wants Akala to support Babangida. But Akala is rooting for President Goodluck Jonathan. To me, Arisekola's attitude of fight-to-finish leaves much to be desired.