42 STATES GOOD FOR NIGERIA – SENATOR UDE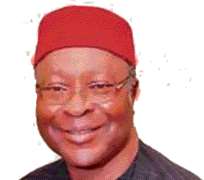 •Anyim Ude
Creation of states
First of all, I want to believe that Nigerians should be fair to this present National Assembly; that we have done what others have done. There was a time people thought it was impossible to review Nigeria's constitution. And you know that all those who tried failed. But because we regarded this as something of a priority for Nigeria, we have gone through the hog and now the constitution has been reviewed.
That is a remarkable achievement. If we can do that, that is evidence that we can also create states through the constitutional procedure. And since my boss the Senate President has said it, he was speaking on behalf of us, and by God's grace we will see it through.
Perceived marginalization of Igbo
For us in the South-East, I was in the National Political Reform Conference in 2005. That's where we started the fight. All the people from South-East that were there, got to a point where everybody over 200 people or 400 believed that Igbos indeed, have been marginalized. And everybody agreed that at least Igbos should have one state, at that point, at least one more. All others should submerge their own desires. And it was so recommended. I have the document that additional state should be created in Igbo land. But you know what happened? When the report went to the National Assembly, third term took over everything and the result was what they normally say; you don't throw away the baby with the bath water. So every other recommendation, and they were about 175 of them were thrown out because of third term.
How the states should be created
At that time I was an advocate, and I still advocate, 42-state structure in Nigeria. How did I come by my mathematics? We tried to look at the six geo-political zones and agreed that every geo-political zone should have seven states because that is the highest that the North-West has now. North-East, North-Central, South-South, South-West, all of them have six, South-East has five. If we now look at it at that zonal level, every zone should have seven, since one already has seven, to equalize. That is my own prescription, and I know that so many people also think along this line. Put the geo-political zones into account and allocate seven each and that will give you 42. That's my own prescription. And if that happens, our cries will disappear, we in the South-East.
Salaries of NASS members
I don't agree with you that there is a jumbo pay. There are so many figures being bandied about in the papers. I don't know how much you are paid in your place of work. If you want to know how much we are paid, it is public property; you go to the account section of the National Assembly and find out. There are too many mischievous people. For their own reasons they dish out figures that are completely strange to some of us. There is an organization called Revenue Mobilization Fiscal Commission that fixes the salaries of the President down to anybody who is a public servant. Why don't you do your own home work, find out what they fix for senators, what they fix for House of Representative members . Are we being paid more than that? If there are other monies made available, as a journalist go and dig it up. If there are other allowances as is usually paid in public service, they are attached to one thing or another, find out. We regard it as mischief making, some of those figures they are floating. And it's a challenge. When we talk of investigative journalism why don't you investigate; find out the truth. What are the facts? I'm not sure anybody had gone there and the peopIe in the finance department refused to give them the figures.
On kidnapping in the South-East
Kidnapping is evil. I never knew that in this life we can descend to a level in this country and in Igboland when human beings can grab fellow human beings and lock up somewhere and start demanding money. We used to hear this fairy tales in Northern America in particular in those days. But in our own 'korokoro' eyes we are seeing it happening. It is terrible. It started in the Niger Delta initially; only the white people who were there, the oil diggers were involved. And we were shouting ah! These white men will go oh, and there will be nobody anymore to help us exploit these resources. But you now see the phase, how it moved on from the white men on to big men in Niger Delta, and now there is what they call Amnesty.
The tempo there has gone down and the thing we thought had died, have been transferred to the neighbouring states of Abia, Imo, Anambra and gradually moving up. It also has gone up to the North. But it will appear the main haven for now is in Igbo land. Well, my dear, my belief in this life is that there is a terminal date for everything.
Something starts and you think it will not end; God at his own time will terminate it. The Igbos are known for their industry, trading potentials, buying and selling for those who didn't want to go to the ivory tower. And they have now given the kidnapping thing a commercial connotation. But I said also, it's rooted on the issue of joblessness. So many graduates without jobs who are criminally minded, because there are many graduates who don't have jobs that cannot do that kind of thing. For those who are criminally minded they think this is the quickest way to wealth. But only God will terminate it for us. For those who are ruling believe they are doing the much they can. Here in Ebonyi State, hasn't the Ebonyi State House of Assembly passed a law on that? That is an action by government. They are also assisting the police in their effort to curb this. Everybody condemns it.
Aviation Industry
That's a very wide one. Let me begin by reminding you of what I think you know; that in the National Assembly these committees are to the Senate or House of Representatives what ministries are to the executives. And when we arrived in 2007, I did not know how to choose people to head the committee; I only knew tha1 there were committees in the Senate. And the day the Senate President was reading out the names of the 54 committees, I was surprised that my name was number 10 heading Aviation, and I knew that before that date my only contact with Aviation was to purchase an air ticket, board a flight, arrive at the other end. So I started asking questions, reading up to know what responsibilities are attached thereto. I also have Senate Rules which lists all these committees and their responsibilities, all zeroed in to oversight functions.
When I got into it, I found out that, that alone is enough to keep anybody in that position busy, and yet the main thrust of membership of the Senate; the bills at the chambers in terms of law-making. All other things are ancillary; it is your contributions at the floor, the number of bills you can introduce and what you do to executive bills, appropriation and all that, that will constitute 60 to 70 per cent of your time. And so, I found that in Aviation they have so many parastatals; NCAA, Nigeria Civil Aviation Authority FAAN, Federal Airport Authority of Nigeria, NAMA – Nigeria Airspace Management Agency, NCAT-Nigeria College of Aviation Technology, Zaria, and the Nigeria Metrology (NIMET).
Each of these is as big as a ministry and we appropriate funds for running these establishments under National Budget or IGR, Internally Generated Revenue; which is entirely handled by the committee. If there are areas you are ovr-sighting and they have the capacity to generate funds, it is the committees that appropriate.
And so having done the appropriation, you now have to establish through these oversight functions, that those funds are properly utilized. You visit and look at the laws and regulation setting up these establishments, their problems, how they are being addressed. And so by the time we took a tour of nearly 21 airports plus one Aerodrome and a number of airspaces; by the time you tour all those things you find out that they have enough business. It was in the process of touring those places that we bumped on a number of problems, one of which we disposed of in 2008, i.e. trying to find out why, in 2005/2006 Nigeria had air crashes that took the lives of Nigerians, over 400 people and the government of the day under President Obasanjo released N19.5b to put certian things right in some of the airports. In asking questions, we were dissatified with the state of the infrastructure, the decay in the equipment, evidence at that time of mismanagement but not neccesarily misappropriation of funds. And we decided to look into it. I believe the rest is history. All of you are aware that, that has been published over and over again.
Our findings were such that two former ministers were grabbed by the EFCC, they are still in court as we speak, trying to defend themselves on how the funds were managed. For instance, one aspect of it we saw that what was said to have donewith N6.5b was actually what should have been done with N1.5m and we st ated so. And that's why they are asking question. That's oversight.