NORTHERN GOVS'LL DUMP JONATHAN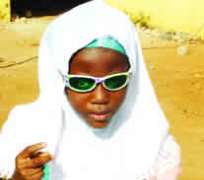 Miss Barakat Aremu during the Eid-el-Kabir prayers in Lagos, yesterday. PHOTO: WALE OLUFADE
Aminu Maigari, ex-Chairman of the Nigerian Bar Association (NBA) in Katsina State and erstwhile National Deputy Legal Adviser of the All Nigeria Peoples Party (ANPP), has criticised President Goodluck Jonathan for appointing state governors as campaign co-ordinators.
Maigari, a key figure in the Second Republic government of the defunct Peoples Redemption Party (PRP) in former Kaduna State as Legal Adviser to then Governor Balarabe Musa, warned that Nigeria's condition is too grave for Jonathan to bank on retaining his seat at the Presidency through flawed polls rather than popular mandate freely given by Nigerians.
He dismissed the effort applied by the governors in promoting the candidature of Jonathan at a time the President is being portrayed as an 'enemy of the North.
'Let me tell you, they (opposition parties) are doing house to house campaign against Jonathan, but Jonathan's people are doing nothing except putting his pictures around town. Who cares about that,' he asked rhetorically.
Maigari said that following the tide against the political career of most of the governors as religion, ethnicity and sectional cards were being played; no governor would hesitate to shun Jonathan's aspiration in order to save himself.
'So, that is why I said Jonathan is a political problem to Nigeria - whether he wins or loses is a problem,' Maigari said.
He spoke to Daily Sun on sundry issues, including the state of the nation and his vision of 2011 polls. Excerpts:
Where do you think we are heading as a country at 50?
It had been 50 years of struggle as far as I am concerned. There had never been stability right from 1960 to date. I mean the economy has not been stable, so it had been struggle for the common man since independence.
There was never anything to celebrate. Nothing, what do you celebrate? Using our money to create millionaires and billionaires, using our money to destroy our universities and schools, using our money to make people hungry and sick, and using our money to turn our youth into armed robbers?
What is it that we have achieved? Nothing, if we want to achieve anything, maybe we will start it after we are 50, may be when we are mature, this is my opinion. Maybe, now that they are talking about credible elections, we have reached maturity to think and do what is right for our people. So, this is Nigeria at 50.
Would you predict free and fair polls in 2011?
I don't see credible elections. If Jonathan is not contesting, then I would be convinced that there would be free and fair elections but with Jonathan contesting as incumbent, whatever Prof. Jega would do, the government will manouvre it. This is my view. It is not going to be free and fair elections unless we fight it now.
We will continue to fight for free and fair elections, may be these people will see reason. I know Jega is all out to fight but it is not easy - one man cannot do it. He has to have lieutenants. Presently, these lieutenants were not recruited by Jega, he met them there - some were brought to him, he did not know them until their appointment.
If you want us to have free and fair elections in Nigeria, the electoral commission chairman should be given a free hand to pick people that will work with him and be given a free hand to conduct the elections, but that is not the case now.
Does Jega have enough time for that?
That is what I am saying - he can't come over-night and retire all the people and bring in new ones to achieve his goal.
What is your opinion on zoning arrangement in PDP?
This is just a party affair - it is PDP that has this zoning, although I know other parties have some iota of zoning because the constitution says that in sharing posts, quota system should be used so that minorities would not be dominated.
Without zoning, there are areas in the country that cannot produce the President – The race for the presidency would have become the affairs of the three major tribes: Hausa, Yoruba and Igbo.
However, the zoning arrangement was not made with good intention in PDP and that is why they are having problem. If they made it with good intention, it won't cause any problem. It is unfortunate that people want to lead not because they want to act in the best interest of the country but to lead so that they can control the national cake. That is all; that is why they are fighting.
If a leader is going to be honest and ready to render services to the people not to himself and his family and close associates, there would be no quarrel about who leads the nation, or a state or local council. In fact, it would even have reached a stage that at times there would be elections and you would have to beg somebody to stand for election.
Are you afraid that we may not elect a President of our dream with 'intent form' going for N10 million in the ruling party?
I will not even consider any party doing that (selling nomination form for N10 million) a serious party. Is the party looking for money or votes from people? Constitutionally, it is wrong because the (Nigerian constutition) has given everyone the right to vote and be voted for.
I f your party imposes a fee that you cannot pay, the party is preventing you from being voted for or voting for the person of your choice. Let somebody go to court on this issue - I am sure he will succeed.
What is your take on the attempt to have consensus northern presidential candidate?
If they really want it, the people behind the ideal should be serious; there are so many ways they can do it. They should not choose someone from their class, or the one they think is their consensus candidate without a chance for the common man to have a say in the choice of a consensus candidate from the North.
As far as I am concerned, those behind it are making a mistake without a policy, or a precedent that could be followed whenever there is the need for a consensus candidate that would be the people's choice, not Mafia's choice or business choice.
Who among the presidential aspirants would you trust to steer the Nigerian ship a right?
There are emerging young dedicated nationalists like Dr. Usman Bugaje, although he has not declared his interest in the presidency, but I would prefer him to all those who have declared their political aspirations, including Gen. Muhammadu Buhari.
Dr. Bugaje is different from all the contenders as someone who had been fighting in different spheres to better the lot of Nigerians.
If you are referring to the struggle for PDP ticket, Jonathan - whether he in or out of the race is a political problem to Nigeria because people are attacking him and, as far I am concerned, his campaign coordinators are doing little or nothing about it. To date, we have not received anything that will show that Jonathan is fit for the position.
Nuhu Ribadu is not a politician; he is just coming in - I wonder why some Nigerians are like that. If he is going into politics, he should let the people decide where he should serve them. As far as I am concerned, I am not taking Ribadu as a serious candidate.
Gen. Ibrahim Babangida has been there. We saw his effort - whether it was good or bad, we know. I think we need a younger Nigerian that can take this nation to a greater height.
Jonathan is young but my fear is he and the people who are campaigning for him have failed to convince Nigerians that he can be on the seat without compounding the nation's problems. His campaign team should let the public see him as a good candidate but nobody is presenting him to us as such.
His problem is North and some states in the South -West. Jonathan is supposed to campaign and let people understand him and conduct a free and fair elections and if he wins nobody would challenge him.
Most people are not his enemies but they are turning to be his enemies because religion is being used, regionalism is being used, even maturity, sectionalism and other things are being used.
People are going down (to the grassroots) against him. Let me tell you, they are doing house to house campaign against Jonathan but Jonathan people are doing nothing except putting his pictures around town. Who cares about that?
Jonathan should have a team that will present who he is to the public not just sit down and think that a governor that is struggling to return to his office will work for him.
Any governor that knows that if he goes with Jonathan in his state he may fail because of Jonathan; he will throw away the candidature of Jonathan and concentrate on his own candidature.
But Jonathan appointed six governors as zonal campaign co-coordinators. How do you see this move?
Jonathan should have governors' support whether they come out openly or not, but there should be people, politicians or professionals who are close to the electorate, to drive his  campaign. It is quite wrong for governors who are working to retain their seats to be asked to pilot Jonathan's campaign.
Jonathan should get politicians with a vision, a politician with a plan, a politician who can convince people not just a leader who cannot do much with the money at his disposal. All we see here in Katsina is Jonathan's posters – even the posters are few in Katsina town.
I challenge Governor Ibrahim Shema to come out and campaign for Jonathan, he cannot do it but there are people who can do it effectively - that is what Jonathan is lacking.