Nkem Owoh aka Ukwa and the Nollywood Revolution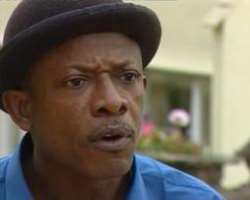 It is rated as the third largest industry movie industry in the world after Hollywood in the USA and Bollywood in India. Nollywood as the Nigerian film industry is called, is a revolution that enables the production of African films with rather minimal resources. In just over a decade, the industry has grown from basically nothing to an industry worth circa $250 a year with so many people looking up to it for sustenance. Nollywood.com believes that some three hundred producers churn out between 500 and 1000 movies a year. The simplicity of the plots depicting the realities of every day life, corruption from high and low, prostitution, occultic deals, love, and romance amongst others as well as the affordable nature of the prices makes for huge consumption of Nollywood products. Products of Nollywood have transcended Nigerian and African borders and are today found all over the world.
Popularly known as Ukwa because of his character in the hilarious comic movie of the same name, Nollywood.His is one of the most prominent faces of Nollywood whose notoriety has gone beyond the confines of Nigeria and Africa.Nkem Owoh also known by Osuofia by some, a character in one of his numerous movies, is one of the gifted actors in the Nigerian home video sector. He is most popular for his interpretation of roles; a talent which has endeared him to the hearts of many people both locally and abroad. The talent of Nkem Owoh has gone beyond the confines of acting as he has proved himself to be a successful singer as well with the production of an album which got controversial reviews especially the song "titled I go chop your dollar" which many thought went a little too far in abetting the dubious 419 activities that are the stock in trade of some unorthodox Nigerians.

While tracing his career to his primary and secondary school days as well as the university and youth service year, he recalled how he eventually got a job at WACO Engineering Co, where he was sacked and left stranded for quite sometime. But he soon rose from this depth to become a force to reckon with in the Nigerian home video sector.

Background
I was born in Udi, Enugu State. I had my primary and secondary school in Nsukka. For my tertiary education, I had a stint with the University of Ilorin and later IMT Enugu, where I graduated as an Electrical Engineer after which I proceeded on my national youth service in Ogun State. However, I had a stint with television shortly before joining IMT. I was at both the NTA and Channel 8 in Enugu.

Acting career
I know I have always had this acting talent in me, but it was the television that really inspired me. I was so popular in my primary school days for my performances during what we call The Anniversary. I am not sure it is still being done today because some of those things stopped after the civil war. During the period of the anniversary, I always took part in almost all the entertaining activities holding during the festivities.
In fact, in my secondary school days, I was invited to the University of Nigeria Theatre Group. One of the performances was Vengeance of Haba by Chiko Ozuo. It was produced in the early 1970s and since that time, I have never looked back.

Why acting and not engineering
My dad wanted me to study Medicine, because he himself was into Pharmacy, but I preferred engineering. But somehow, something kept bothering me and I felt I should give it some attention. The lure went on and on such that even while studying Engineering, I was still very active in the acting circuit, particularly for the television and radio.
I am an engineer by certificate, but an artiste by practice. I never can tell, events may force me to dust my certificate one day and soon something big can come up; not necessarily in form of employment, but may be through political appointment that requires the candidate to have knowledge of the issues in that sector. So I cannot rule out the possibility of my returning to practice Electrical Engineering in future.

WACO
I worked for WACO Engineering immediately after my youth service and after working for just about one year during the era of belt-tightening policy by the Federal Government, WACO, just like other business outfits in the country then, needed to lay off some of her work-force and naturally without any parameter decided to lay off those of us that were new in the company. After losing my job, I tried to get a teaching job in an institution of higher learning or even a secondary school, but this did not work out. Later I started getting calls from a particular group luring me to come and be part of a particular television production. Unfortunately, I stopped fraternising with drama as soon as I joined WACO.
They sacked me because they were trying to protect themselves and they were putting me in a fix. But that was the way God wanted the whole thing to go in order for me to reach His desired goal for my life. I cannot be grateful to those that sacked me; afterall the fact that Judas was instrumental to the death of Jesus Christ doesn't make him (Judas) a good man although the Bible had already said that somebody must betray Christ. I thank God that today I have so many people under my employ and a legion of trainees under my tutelage.

From Enugu to Lagos
I was still acting as a stringer on television when NTA Enugu came up and I was invited to do something for the station and along the line, The New Masquerade was relaunched and I joined the crew. At a time, I was the sole-script writer for the series and once in a while I created a character for myself within the play, this is the reason for some of the brief appearances I made in the now rested TV comedy.
Within that same period, the late Ken Saro-Wiwa came up with Bassey and Company. He made me the production manager. This particular offer was very engaging, because I was given an official car, a house, an office and all other required conveniences that aided my job. This was in Enugu although we had our main office in Port Harcourt. At a stage, I was the script editor of Bassey and Company. People did not take note of these. It was when I came to limelight that some went back down the memory lane to discover that I have been around for sometime.
After leaving the East in 1990 when Bassey and Company was rested, I moved over to Lagos. In Lagos, I was also very active in the scripting of Memorial Hospital, I did a lot of writing and acting but most of the time, I operated behind the camera. It was this period also that the serene town of Badagry spurred my creative instinct to write one of my earliest gifts to the Nigerian home-video industry; Taboo.
Later, I was instrumental to the creation and scripting of a number of programmes on NTA Lagos, then. Although I am not a trained writer, but because I had this strong passion for anything creative, I was able to write well enough to become one of NTA's approved script writers.
How I became a comedian
I have always been known for serious roles in most plays that I take part in and those that know me very well see me more as a business minded actor and practitioner that may never have anything to do with comedy .

In 1987, I was given my own programme slot called Star Comedian Corner by the Anambra State Television (ATV). I accepted the challenge, and went deeper into my person to explore the hidden comical aspects of me. So I went on from one comedy to the other until I was in total control of the goal or let's say the challenges I have initially set out for myself.
Whenever I see some of my early plays where I played serious roles. I always doubt if anyone can say that I wasn't good enough playing those roles as I am known to play the comic roles today.

Business
Apart from my acting career, I am also very much involved in the business aspect of showbiz. I have my own production outfit which I must say has been developing in the last seven years. My editing studio too was installed three years ago. I have cameras that I hire out both for high-tech movie productions and coverage of social functions. I also have a school film where I train writers, actors and other talents in the profession. I have a branch office in Enugu where I sell accessories for film productions.
I am thoroughly a show-businessman because I also anchor occasions as the MC in addition to organising shows and what I am trying to do in the long run is to be in tandem with some of my colleagues that have broken into the international market.

Ban by the marketers
I think it was a kind of misunderstanding, since people in the sector usually misunderstand certain positions. I give the marketers kudos (marketers, with reservation). Marketing is a different ball game from what they are doing. But if they choose to be called by that name it is fine by me, but mere distributorship cannot encompass the true meaning of marketing. In fact, the issue of distributors sitting down in the market and waiting for the buyer to come and pick up the movies they require is not a good way of distribution. Despite all this short comings, I still give them kudos because they were the first to take the risk of plunging their funds into the movie video sector even when uncertainty was prevalent.
But I can say that this unnecessary show of power has not helped anybody at the end of the day. Let us check how much sales they have made since the ban, no doubt their action has affected the industry quite negatively, they are losing and the affected too artistes are losing. But I can assure you that for some of us in this business; it is going to end on a very positive note in terms of us breaking into the international arena as world class artistes that we really are. So at the end of the day, if I now decide to charge my clients only in dollars based on the reality of the time, it is then that the marketers would realize that the Nigeria artiste is still very poorly paid.

Why I was banned
As much as I hate to use the word banned, it becomes quite imperative to state that the arrogance that I was accused of is based on my insistence that no matter the circumstances, I will not shoot on any set that will not shoot for at least two weeks with eight working hours expended each day. I insist that there must be a mini discussion of a production before we embark on any shooting and some producers and directors see the above as arrogance.
We must learn to follow universal standards if the international market is ever to take us seriously. I am not the type of artist that will be running from one location to the other and so I demanded for some level of sanity because I was coming from the old NTA style where things were planned and artistes were camped for a while before recording commenced. I know one or two producers in the past who allowed some suggestions from the artistes and at the end of the day, they were the better for it.
The way some of the producers see the actor is very strange. For most of them, we are making our money, but of what use is money if after you have made the money you suddenly drop dead or fall so ill that most of what you have is plunged back into medical bills? Those people at the International Labour Organization (ILO) who insisted that a working person should put in a total of eight hours a day must have a tangible reason for doing so. Personally, my physician has warned me to take things easy and it is important I obey such medical advice.

New challenges
We are no longer crazy about the local market because we have seen the potentials of the international market and what it holds for us is unbelievable. It is the world that christened us Hollywood and now that the world beckons, we cannot afford to play the sleeping giant any longer.

Nollywood
Right now in this sector, we don't have a policy, neither do we have the necessary structures to protect what we produce. For me, these are more important issues than the unnecessary bickering here and there. If the Federal Government is sincere, it should quicken the process of putting into legislation some kind of policy to guide and protect the profession.
If we have the right policy, we may not need to be fighting over the little things that we as an industry make for now because by then, the true potentials of the industry will emerge. It would also checkmate some greedy artistes and directors that are so brazenly absurd; many of who actually collect three scripts at the same time and thereby create problems for the producers.

Osuofia in London
Being part of the production was very fulfilling for me. It was an interesting experience because it was a cross-cultural production in which we explored the culture of the white man to see where we have agreements and where we disagree. It was such a production that is far from demeaning to the African sensibility; those who say they have become so European in their own ways that it becomes extremely difficult for them to even appreciate the fact that in Osuofia's home land, to capture a pigeon and prepare it in a pot of soup is the rule and so, if he finds himself in a land where such a rule becomes an exception, he deserves our sympathy and not condemnation. So despite all his clowning, Osuofia in the midst of murky dangerous waters ferried back his late brother's money into Nigeria. The movie showed once again, like in Wole Soyinka's Lion and the Jewel, that most often, native intelligence has a way of surpassing book-knowledge. With this in mind, I want to advise people to see the movie again and they will be very proud that Osuofia went to London.

Reaction of Europeans
When I was playing with them, I was Like a god in their midst. People rushed to get me seat wherever I went. Even the European artistes on set exclaimed aloud that 'Oh! my God, this is a very big actor from Africa, when am I going to be like him?' The people on the streets too were so thrilled to see us and all that has shown that it is only when you go outside Nigeria that you get to know the kind of mileage Nollywood has brought in for this country.

Political functions
Because of the level of insincerity on the part of government officials to themselves and the very terrible way they choose to deal with the Nigerian people, I have had to turn down many invitations to come and entertain during government functions right from the Presidency to the local government. I have refused to do anything for them. I am a personal friend to some people in government but I won't entertain them. It is a way of showing my displeasure to those in power that I am not impressed by the high level of misrule in the land. The government is not doing what they should be doing for Nollywood. Look, we are not begging them for money, all we want are relevant policies to help protect our profession and investments. We have a government, yet people come here and steal our sweats by way of copyright infringements. Until such a time when I am sure that our government can safe guard this industry, I won't be happy with them and until such a time when they become socially responsible and responsive, I will not touch their contract and this is my own social responsibility and contract with the Nigeria people.

Impact today and the future
I see myself as an instrument of progress, because if I simply align myself to the side of the government or even my co-travelers in this industry, there will be absolute peace and movie producers would taunt me as the best available, but because I have my eyes not only on the gains of the moment, that is why I am totally dedicated to the development of this industry. If God wills it that I am going to succeed in making a positive impact, especially on the next generation of movie practitioners, then no man can take that away.

Most embarrassing moments
Where do I start from? Because it has not been once or twice but many times over. A lot of embarrassing things happen in this industry, it happens during production, when I to get my money or during post productions. Embarrassment crop up at any of these stages probably because I lack some knowledge or some other person lacks some knowledge. It is even embarrassing for someone to come and tell me that Osuofia in London demeans Africa but I take it with maturity, because that is where their own level of interpretation ends.

* Additional Information Culled From NigeriaMovies.net
Story by C.K.Chantale