FOUR FRIENDS WHO STEAL AND SELL INNOCENT KIDS FOR A LIVING MEET THEIR WATERLOO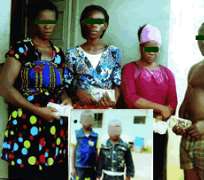 It was the end of the road for some suspected child kidnappers recently. The four - three women and one man, all members of a four-man gang that specialized in child stealing and selling – were recently arrested by men of the Special Anti-Robbery Squad (SARS) in Owa Imezi, Enugu State after they had reportedly stolen two children. The names of the children were given as Chidera Okeke, male and Amarachukwu Orji, a female.
The four suspects were also identified as Chinenye Ochor, 27; Nkechinyere Omoke, 30; Ngozi Onovo, 38 and Franklin Isu, 38.
The story started when the prime suspect, Ochor, allegedly went to a market and picked up the two children. She was said to have lured them into a vehicle somewhere around Holy Ghost area of Owa Imezi, Enugu State. She later took the children into her friend, Omoke's shop after which they allegedly commenced the search for a buyer.
Okeke was reportedly sold for N250, 000 while the female, Orji, was sold for N350, 000. Luck ran against the suspected criminals, however, and they were later apprehended by men of Enugu SARS. Soon after, they reportedly confessed to the act.
In a chat with our reporter, leader of the gang, Chinenye Ochor, said she had been into the ignominious business for more than ten years, noting that circumstances beyond her control forced her into the act.
'It was frustration that prompted me into carrying out this act. I was staying with my husband in Kogi State with our six children before my husband impregnated another woman and he forced me out of the matrimonial home with the children,' she said.
She further said that after stealing the two children, she had to keep them in her friend's shop while the search for buyers lasted. According to her, she and her accomplices made a N600, 000 gain on the children. The male was sold for N250, 000 while the girl was sold for N350, 000.
She said the money was shared by the four members, asserting that she got N150, 000 as her own share.
Ochor said she used the money to pay the hospital bill of one of her children who had been in the hospital before she was arrested by the police.
'It was poverty that prompted me to go back to my dirty business. I got married 11 years ago and unfortunately my husband put me into this mess. I gave my mother five of my children to help me look at while I struggled with the remaining one,' she explained. She further said that they sold the two children to different families who were looking for children
Another suspect, Nkechinyere Omoke who hails from Okposi Okwu in Ohaozara, Ebonyi State, explained that she was in the shop when Chinenye Ochor brought the two stolen children and told her that she must look for a buyer.
'I then contacted my other gang members who got us buyers. I have known Ochor for some time now and we have been into child stealing and selling since early 1990. I was given N100, 000 as my own share of the business,' she said.
She explained that she couldn't stop stealing and selling kids because her late husband left her with four children to look after. She said the stolen children were brought into her shop by Ochor.
Another suspect, Ngozi Onovo, who hails from Enugu State, said Omoke contacted her and urged her to get a buyer for the stolen children.
'We searched for customers and we got two. Thereafter, we sold the children to them and I was given N16, 000 as my own share and I have handed over the money to the police after our arrest.
'We have been into this business for many years and we have been using the proceeds from the business to survive,' she explained.
Franklin Isu, the only male member of the gang, hails from Ebonyi State. The man, who claimed he was a graduate of the Enugu State University of Technology (ESUT), said since he finished his national service in Akure, Ondo State, he has been searching for job without success. He said he joined the gang in order to survive.
In his words, after Nkehinyere had informed him that there were two stolen children to be sold, he quickly arranged for a buyer and sold them to the families who were in dire need of children. He said his own share was N125, 000.
'I have handed over the money to the police when I was arrested and I have confessed to the police. We have been into child stealing and selling for many years now and it is our own source of living,' he said.
A relation to one of the victims, Mr. Okeke attributed the successful recovery of the stolen kids to God. He said every family member had been praying after reporting the case to the police. He also commended the police for helping them to recover their children after three days.
Speaking on the matter, Enugu State Commissioner of Police, Mr. Danazumi Doma told Daily Sun that parents should pay attention to their children. He said they should monitor the children everywhere, including in the church and at home.
Doma said the four suspects were arrested by eagle-eyed policemen, adding that the police also recovered money from the child robbers.
Affirming that the children have since been returned to their biological parents, the police boss said the suspects would soon be charged to court.