2011: OHANEZE ENDORSEMENT OF JONATHAN A CHARADE – VP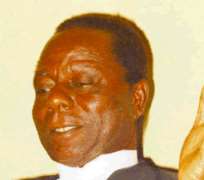 Barely one month after Ohaneze Ndigbo started to drum support for Dr Goodluck Jonathan's presidential ambition in 2011, the Vice President General of the Igbo apex socio-cultural organization,, Chief Enechi Onyia (SAN), has described the Imeobi (inner caucus) meeting where the purported endorsement took place as a charade.
Since last month, the Ohaneze has openly stated that it is supporting President Jonathan in the 2011 election, hoping that he would hand over to an Igbo president in 2015.
But Onyia, a lawyer of 49 years practice, and the Chancellor of Enugu North Anglican Diocese, told a select group of journalists in his chambers in Enugu that the Imeobi meeting in which the endorsement of President Jonathan took place, was not properly constituted.
He said that the decision taken through a voice vote was stage-managed and hasty as Jonathan is still an aspirant who is yet to emerge as candidate of the Peoples Democratic Party (PDP).
He also took a swipe at the elongation of tenure of Ambassador Raph Uwechue-led executive which he is a member, saying that the tenure extension was politically-motivated just as he spoke about the ASUU strike in the South-east. Excerpts:
Ohanaeze Ndigbo endorsing President Jonathan in 2011
I do not want to play politics with Jonathan. His endorsement is a political action and therefore based on so many criteria. As a member of Ohaneze Ndigbo, we discussed these things. Some of us believed that the timing is more important than going to the Press. We are all politicians, before you endorse him, he must have been a candidate, not an aspirant. There is a difference between a candidate and an aspirant. So, unless it is in your political party, you don't start adopting aspirants when you are not in their political party. So, I think there was an error somewhere, maybe, over enthusiasm. An Igbo man should not be disgraced. I don't see any wisdom on the part of Ohaneze Ndigbo at this juncture to endorse anybody, even if he were an Igbo man. They should wait. They are at the moment, aspirants in their political parties. When a man becomes a candidate, you look at other candidates and decide who to choose. That is what I call wise decision.
But if you want to play politics to the crowd, you can adopt anybody at anytime. It means you are playing to the crowd. You are not being serious about it. Ohaneze Ndigbo cannot do anything now to make him a candidate, unless they go behind and work through the PDP. The people of Ohaneze and people outside us, non-Igbo people will have to help him. You don't play politics to destroy your candidate. If he were to be the candidate of Ohaneze or Ndigbo, I don't think any reasonable man will come out to endorse him now. It is when he becomes a candidate that we will go back and look at the other candidates. How will it benefit Nigeria first? How will it benefit Hausa, Yoruba, benefit Igbo? This is because the President of Nigeria is the father of the nation. We are all children of the president, irrespective of your tribe or your religion. So, that is why I think that decision was not properly done and I am sure, even those who made the decision knew it was just a political decision.
The Jonathan endorsement and Ohaneze
I will not tell you what happened in the executive meetings, but I can assure you that the Imeobi meeting was a charade. It was not properly constituted and we have made it known. It was a time that many politicians were not around. They were in their meetings, they didn't attend. Many Igwes didn't attend, that is, those who are qualified. If you look at the list, you see what I am saying. And the meeting was not called in accordance with the constitution of Ohaneze. I am not against Jonathan, I support Jonathan. But because I support him, I cannot go to say that all the Igbo support somebody who has not become a candidate in an election. You are not being fair to Goodluck himself. Every action has a reaction. Before you take action, before you do anything, you have to think of the consequences. If it were true that the Igbos say that now they are supporting Candidate A, if the Hausas say that they want to support this, would you blame them. If Yorubas say they want to support the man, would you blame them? That is why I said that it was only mere politics.
Igbo president in 2015 and the North completing its term
Those who are talking about Igbo agenda want to rule, they are not leaders, they just want to rule. The president of Nigeria is father of all Nigerians and where he comes from does not matter. The president of Nigeria, if he is a Berom, an Ikwo man, a Fulani man, a Hausa man, it is immaterial. What is material to me is that he performs, that every Nigerian should have three square meals a day. That should be his policy. Two, that there should be full employment in Nigeria. Three, that Nigerians should have free and fair education, primary and secondary education at least. Four, people should not have only paper university, university that has no quality and five, the government that will see an international policy, showing positive approach to the black man's satisfaction. In this country, I have looked through their papers; we have no guided foreign policy. We have no economic secrets.
If you steal economic secrets of America, you go to jail. A country that says that industry which is based on capital should be provided by individuals has no purpose. You cannot build industries without capital. So, how can you talk about that, no state industries and you are working like America that was built so many years ago. How do you get money to build those industries? And we speak as if we are thinking for our people. Nobody is thinking for us. We have steel industry. After 50 years, we have not started production. How long will it take us to build one? How do you raise capital to build industry? The white man when he was here, had government parastatals and they were very efficient. If you are going to do anything in those days, you deal with government. They were honest, government institutions were very honest institutions and excellent in approach.
Ohaneze and tenure elongation of executive
I was the Vice Chairman, Ohanaeze transition committee under His Excellency, Ndubuisi Kanu. He was Chairman, I was the vice and we fought extension and destroyed it. The bishops in Igboland, the attorney-generals wrote and it was agreed that there will be no extension. What bothers me is that anytime there is going to be an election, I mean a Nigerian election; people at the helm of Ohaneze will want to extend their tenure. Why is it so? At the other time, it was Irukwu (Prof Joe) wanting to extend his tenure when Olusegun Obasanjo was going for Third Term. Today, they themselves want to see the election, it is not because of Ohaneze, but they want to see the election through. Whatever gain they make from election is their own and not the Igbo own. So, you don't expect me to support extension. If you are going to amend the constitution, there are many things you amend in the constitution. We sit down, draw up an agenda, amend the constitution and see how we are going to elect a person who will not be a missing link and those who will serve with him. Of course, we have served Igbo cause.
We have served for nearly two years now. Tell me what we have done for Igbo cause. Is it the culture of the Igbo man that has been developed? Is that the sagacity of the Igbo man? Is that the intellectual approach of the Igbo man. What have we achieved? Have we enhanced any aspect of Igbo culture? I have said this all the time. If you want to be a politician, don't join Ohaneze because you will always protect interest of your party. And that is what constitution says. And Ohanaeze must be financially independent to be able to be effective. Once it is not financially independent, the governors will play football with them. They are those who supply them money.
Ohaneze vice president indifference on tenure extension
I don't know about any extension.
Imeobi and General Assembly meetings communiqué on elongation
First, you have to know those who attended the meeting and whether the meeting was properly called. Why should soldiers be in meeting by Ohaneze, and the police? As far as I am concerned, there is no extension and when time reaches, I will take my decision, but if they continue with this, it is their business.
Closure of universities in the South-East
You know we have five states in Igboland. The priority of one state may not be the priority of another. What bothers me is that there is a joint agreement when the priorities are different. If you go to Anambra State today, there is no village you will not see a tarred road. I can understand that, that Peter Obi will say, I have spent virtually all my money in doing this, give me some time. I can't see how other governors can say such a thing. Secondly, the Anambra man has enough money to send his child to America, to India, to Ghana; the Enugu man, has he even the money to send his child to Lagos? That is priority, different priorities. Therefore, I should have thought that the government in Enugu State should have thought twice about our own priorities before they take decisions at general meetings. We are all states, but we are at different levels of development. What goes for Anambra State may not go for Enugu or Ebonyi states. There are industries in Anambra now, how many industries are in Enugu? And the industries in Enugu are owned by Anambra. And you say, government is not building industries.
When will a farmer at Obioma in Udi have money to build industries? This becomes impossible. So, we urge the governments to think because our problem is that we don't think. God blessed us like he blessed every other person, but the only difference is that we refused to think. And when you start thinking, your family will become a problem. They will ask whether you are the only person who can talk. The Yoruba have overgrown it. Today, the Yoruba control the economy of Nigeria, the education of Nigeria, the culture of Nigeria. We are traders, we are buying and selling, but which area do we control in Nigeria, outside trading? I am talking about the Igbo man. One issue we have lost sight of is that the Igbo man is related to every tribe in Nigeria. But we have lost the diplomacy to unite with our brothers and sisters and we have to regain it.