COMMUNAL CLASH: HOW MY MUM ESCAPED DEATH IN CROSS RIVER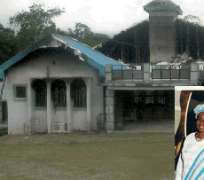 One of the vandalized buildings. Inset: Mrs Cele Tawo
These are certainly not happy times for society gal and mother of Festus Keyamo's daughter, Lavonne Cele Tawo. Her entire family is devastated following the recent bloody fracas between Ndasop and Boki villages in Cross River State. But for God's intervention, her mother, Mrs Cele Tawo, would have lost her life in the communal crisis.
Her mother had visited the village on that fateful day and was caught in the crossfire but luckily, she escaped death by the whiskers
While she ran into the bush for safety during the mayhem, her brothers and cousins were not that lucky. They were killed with machetes while others were simply set ablaze.
Lavonne who spoke to Daily Sun on the incident said that apart from the brutal killing of her relatives, her family also lost properties worth millions of naira in the communal feud.
Here are excerpts
What cause the fracas ?
Over the years, there have been a land dispute which originally belong to the Nsadop community and the Boje community had always and often trespassed to destroy farmlands that belong to Nsadop. Much peace effort by both communities had previously been brokered which yielded no good result. Prior to the attack of Saturday, October 23, 2010, seven people from Nsadop were abducted, macheted, shot by the Boje people.
These seven people had despite their condition were left in Boje captivity without access to any medical care and after much plea by Nsadop people for the captives to be released.However this action aggravated the Nsadop people who also abducted three people from Boje on Thursday and at about 11 am on Saturday some persons suspected to be from Boje came in through another Boki village called Bansan Osokom with petrol, riffles, explosives, matchetes to burn down the village.
It took about six hours to burn down about 1, 000 houses. There was so much looting before setting the houses ablaze. The damage and arson of this magnitude only goes to show that it was a carefully planned and premeditated attack which caught the Nsadop community unawares.
Before this attack on October 23rd, 2010, the relevant authorities in Cross River state were notified but they did not take it serious. Perhaps, the destruction would have been on a minimal scale.
We are told the neighbouring villages to Nsadop has vowed to extinct nsadop from Boki map. These actions can only breed long time or generational enemity between both communities. Boki local government is meant to be brothers as they all speak one unified language. This is quiet sad and unfortunate as only the innocent people suffer more in situations of this nature.
Can you give an account of how directly affected you are?
How do I answer a question like this? Nsadop is my ancestral village. I have suffered much loss. Every single house in the three villages that make up Nsadop community was all destroyed. We have been rendered homeless in our own God given land. I lost loved ones who are my blood relatives.
My father's elder brother who is the clan head of Nsadop lost his son in the fracas. My father's late elder sister lost her son. He was killed in his room and set ablaze with fuel. Many people were strangled to death. My mum's cousin was also killed. It is too much to us.
Where do I start and where do I end this sad incident that has befallen my people
In terms of property, my father's house was destroyed. My sister's house was destroyed. My mother's house was among those destroyed. My brother in-law's house was also blown up with explosives. In fact, I can't possibly quantify what my immediate family lost. We are talking of several millions of naira worth of properties, aside from lives of innocent people who had nothing to do with the trouble.
Can you also tell me what happened to your mother on the night of the crisis
My mum happened to be in the village on that fateful day and was caught in the crossfire. When news broke out that there was war in Boki, we were left in a very difficult situation as no one had any information of her whereabout. All mobile phones were switched off. We were left in the dark.
The next day, which was on Sunday, my younger sister had to go to Nsadop in search of her but nobody was allowed to enter the village. So, she had to travel to the various neighbouring communities that had war victims to search for her and after a few hours of looking around, she was told that my uncle had been killed while trying to shield my mum.
At that point, we were left to guess what might have happened to her. However, news soon spread that some corpses have been moved to the mortuary at Okundi, another Boki town. When my sister got there to identify the bodies, she only saw my late cousin's corpse but my mum was not there. She was told more bodies were littered on the streets and houses.
My mum and her cousins were later found. She was taken into the forest for safety and we thank God for this miracle.
What was the degree of houses and looting that took place?
The damage was unimaginable. The looting was enormous and looking at those pictures you can't but have a mental picture of what the entire community has been reduced to. People have been displaced with no place to call their homes. No clothes or food. They are sleeping in the open further endangering their lives to more perils.
What do you intend to do?
How much can I really do without help from the state, federal government and benevolent Nigerians? We are calling on kind hearted Nigerians to come to our aid so that the Nsadop people can rebuild their lives and homes since we are now homeless in our native land.
We are also reaching out to relevant agencies like NEMA and others to come to our aid
How do you start rebuilding now?
It won't be easy rebuilding a community with over 300 years old of history. But we must start from somewhere. I understand that good-spirited people have started coming to their aid. As we are talking now, relief materials have started pouring in.
The neighbouring communities accommodating some displaced persons have been contributing towards the feeding of the war victims too.
I would try to get around to my friends whom I have known over the years both in and out of government to come to our aid. We are calling on NGOs, manufacturers of cement and building materials to help us rebuild our community. We are also approaching multinational companies to help send aids to the affected communities.