CONFESSIONS OF BIG-SIZED LADIES: WE PREFER TALL, SLIM MEN 'COS THEY'RE SEXY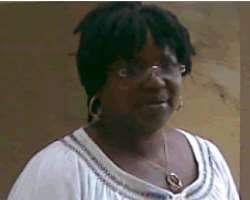 Usim-Wilson
Dr Olubunmi Usim-Wilson is not only big in size, she is beautiful and bold too. Every year, she gathers big-in-size ladies of her type for a beauty pageant, mentoring them to accept their size and be elegant and bold about it. Proud as they are about their size, the big girls for this year's pageant did not hide their preference for slim, tall guys who they said are sexually more attractive to them.
Usim-Wilson is the president of the Miss Big World, Nigeria Beauty Pageant. Through the organization, she aims 'to promote size acceptance and for all to know that we are beautiful, sexy and also smart, confident women, whatever size we are.'
It was an idea she conceived in 2000 when Nigeria's Agbani Darego won the Miss World beauty context, the first by a Nigerian: 'I think I was in New York, Dallas, USA, and every Nigerian was just shocked that first time in history that they were seeing a Nigerian lady win the award. She was so slim. Then I was big. I said how come we cannot have something for Miss Big world?'
By December 2006, Usim-Wilson came out with the debut edition of Miss Big, and some people had thought she was in for a big joke: 'Up till now, some people still see it as a clownish or comedy thing, but it is not. It's a serious business.' The girls are camped for seven days for the competition. She said this was necessary because 'most of the time when they come into camp, most of them are so sluggish and can't walk. We have dancers, cat-walkers, and choreographers. They teach them moral education, things that they just need to know as an elegant big-figured woman.
'Miss Big is putting together big ladies, who normally are not pageant materials as per, nobody does pageant for them. The only pageants we really have all over the world are pageants for the slim-fitted ladies, but this is a special unique pageant and this is for big ladies. We are not like encouraging bigness or fatness. We are just saying, even those who are big are human beings and they need to experience social development just like the slim-fitted people do.
'The scriptures even said 'I shall make the righteous fat.' We're endowed, most of us, it is not really about the food, it's hereditary, it's the medicine you take, so you cannot shy away from it. If you don't like it try something else but as far as this is what you have, flaunt it. Be happy with your body, be happy with it because if you are not happy with your body, there is no how anybody can be happy for you. The body is nothing without a flesh.'
'Let the slim people see and say oh this person is very big and she can still walk and feel elegant. There are some people when they see you they will start saying look, look, look, they get belly, just like I see some slim people, if a slim person sees me and say you're big, I say, you need some flesh.' According to her, seeing fat people as being sick just started recently because in those days when a woman wanted to get married in Cross River and Akwa Ibom states, they were put in fattening room for them to add more flesh to their bodies:
'That is how it was. Now, modern western culture has invaded our clime. There are still a lot of people, especially Lagosians, who like them big. I don't know, I just think it's the western culture, the celebrities that they show us, how we should look, in Nigeria. In Abuja, it's difficult to find big people because everybody wants to be like the Joneses. Everybody wants to slim down and be in shape because if not nobody will look at you.'
Like her big girls, Usim-Wilson said she too loves slim men, adding that a lot of fat men today also prefer slim ladies. However she said the heart, not the size, should be given due consideration as one might be this big and have a good heart and another slim-sized with a devil's heart. On the just concluded Miss Big World Beauty Pageant, Usim-Wilson stating that fat people are often shy to come out to participate for fear of stigmatization. For instance, despite that she produced about 10,000 flyers, including other forms of advertisements specifying that single girls between 18 and 29 years could participate in the pageant, fewer than 10 girls competed for the crown.
Here are the confessions of the girls to Daily Sun
Chika Ruth Madu, Imo State: 'I like the way I am, I like my size. I'll like to marry a slim person because I'm fat so that our kids would be normal.' Jenifer Okolie, Delta State: 'I'll like to marry a tall slim handsome man because I'll like my children to look lovely.'
Omolara Akinola Oluwakemi, Osun State: 'I'll like to marry a very dark, slim and tall man because they appear very sexy to me. I'll prefer my kids to take their father's stature because if they come out and they are not confident it will affect them.'
Sandra Makachi, Anambra State: 'I love my size. Some people are bigger than me but I'm okay, I like the way I am. I'll like to marry an average man but chocolate in colour and should be a little slimmer than me.'
Ocheyi Martha Adoga, Benue State: 'I don't like slim guys. I like heavy guys but not too big. He should not be too slim or too fat but taller than me.'
Victoria Agwu, Benue State: 'I'll like to marry a fair guy, slim and tall.'
Shelley Ogbise, Bayelsa State: 'I'm very, very comfortable with my size. I'll like to marry a slim, tall dark guy.'
Linda Ocheje, Benue State: 'I love my size. I'll love this tall hunky man. He should be slim but not too slim. He should have a little flesh.'
Claudia Linda Akonye, Imo State: 'I love my size so much. I like a normal average guy not too fat, not too slim but very tall, taller than me.'