I CAN ASSURE YOU THAT CIROMA, JONATHAN WILL RECONCILE — TUKUR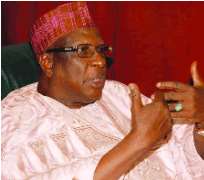 Tukur
Alhaji Bamanga Tukur is a leading member of the Peoples Democratic Party (PDP). He was the chairman of the declaration committee of the Goodluck/Sambo Campaign Organisation. He presented President Goodluck Jonathan to Nigerians at the Eagle Square on the day he declared his intention to contest the 2011 presidential election.
In this interview, Tukur, said the Northern Leaders Political Forum (NPLF) is merely playing to the gallery with the intention of impressing Nigerians with their tough talks on zoning. He posited that the reality of today is that President Jonathan is wearing the presidential gown, adding that his concern is that the gown should not be torn apart.
'If those opposed to him can take off the gown democratically, it will still be a PDP president in control of the presidency,' he said.
Tukur advised Nigerians not to take the comments of political leaders seriously, as they will soon settle and become the best of friends. Specifically, he said that Mallam Adamu Ciroma, who is spearheading the retention zoning in the PDP and President Jonathan would soon become the best of friends. He said that journalist who get themselves involved, to the extent of coming between Jonathan and Ciroma, are the ones who would suffer in the end.
Tukur gave reasons he is supporting Jonathan, with emphasis on the fact that zoning is not sacrosanct. He would want Nigerians to look at the zoning argument from the point of reality.
He also spoke on the politics of the first and second republics and concluded that politicians of today are only interested in positions and money.
As a leading member of the Peoples Democratic Party (PDP), what exactly do you understand by zoning in the party?
Zoning, in PDP, was meant to bring that philosophy of inclusiveness, because in democratic parlance the majority always have their way, in electing the president, members of the National Assembly and other elective offices. This is because it is by majority vote. But if your philosophy is not winner-takes-all, you fashion something into it to add value or colour or sense of belonging. In Nigeria, if you say you are only going by figures, the North is more populated. There is the tendency that people will support their region, religion or their ethnicity. Politics does not rest on that alone. Otherwise, you find that there cannot be that integration, which we are looking for. We need that sense of belonging that will make people to take Nigeria as theirs and you bring something into the arrangement. So, the PDP said let us have zoning, in order to make sure the North and South can have it in turn.
The position of the National Executive Committee (NEC) of PDP that Jonathan can contest, because he had joint ticket with the late Umar Yar'Adua and that others is free to contest is confusing. Could you explain it?
People refuse to understand. You can make your own laws. They are not sacrosanct. Sometimes you have to go by your wisdom and your understanding of the reality of the situation. Jonathan has never contested or campaign for any elective post. It is by providence or circumstance that he is today the sitting president of Nigeria. Even if Yar'Adua was alive, he could still have been the vice president of Nigeria. The deputy and the president are like the tyre of the same vehicle. You need a spare, in case you have a puncture. So, it is normal that Jonathan should continue that ticket without any hindrance. What I expected from the PDP and all Nigerians, when providence took Umar and we were left with Jonathan, was to say that Jonathan should continue. It should be a kind of endorsement without election. I was thinking that when Jonathan presented himself, I expected that after all of us at the Eagle Square presented Jonathan to Nigeria and the whole world, with all serving governors in Nigeria in attendance, Nigerians would say: Jonathan, continue for the next four years. Everybody would have clapped and we won't have any problem. We should have said let elections hold for only governors and other posts. That is what I expected.
This would have ensured that we all have a sense of belonging. Nigeria is our country and we abide by the will of God. He gave and he takes. But he left us with somebody. After all, we did not oppose Jonathan becoming the vice president of the country. The vice president means the vice president. Immediately there is no president, the vice president takes over.
Why don't people avoid unnecessary controversy? We should look at the future. If you know the past and you know the reality of the present, why don't you factor for your future? The reality of today will now fashion the future. We need peace here. We need understanding and unity. We are talking about integration that can unite us into one Africa. The reality is that it is better to allow Jonathan to continue without any rancour and finish the four years. So, when he finishes the four years, we talk of other things.
Was there any time northern political leaders met in 1998 and agreed that power should shift to the South?
I am not a witness to that. But I know we agreed in PDP, because of the episode of June 12. We felt that there was some misunderstanding. It was as if we, in the North, did not want a southerner as president. It was as if we did not particularly want a Yoruba as president. In our philosophy, that is not the case. Every Nigerian has the right to aspire to be president of Nigeria. That is what it should be. We decided that this time, it must be a Yoruba man. So, everybody supported Olusegun Obasanjo without any reservation. The people of the West did not elect Obasanjo. Go and find out. So, our party is not based on ethnicity. It is on understanding of inclusiveness.
In 1998, you put up a very plausible argument that the Yoruba people are only interested in good governance and gave the example of how the people of Lagos appreciated Buba Marwa, who is a northerner while deriding Olagunsoye Oyinlola, who hails from Yoruba land. People are now surprised at your present position.
In my philosophy, it is not the person, but the nation. Nations exist when there is peace and tranquility. So, the reality today is that you need to continue in order to maintain unity, security and peace.
Is your present position based on principle?
Yes. It is on principle. I always work on principle because it is only on principle that you can… I have a principle, in the sense that you allow justice and fair play to be your guide and not your emotions. You may like something, but it can be selfish. If what is not in your favour can bring justice and unity and even though personally you are offending your personal desire, please take it.
You supported Peter Odili in 2007 and he is from the Niger Delta. Many people were surprised.
Peter Odili came out and the zone from which he came always works with the North. The South South always works with the North right from the beginning of our independence. It was either South South or South East. That was why we tried to persuade the South West, by all means, to come into the mainstream of Nigerian politics. It is not good for the country. There should be unity in the way they do things. The majority of the components that make up Nigeria should be ready to work together. No one should work with one leg. It is better to work with two legs.
Do you expect all Nigerians to be in one political party?
No. I don't mean that everybody should be in one party. If you bake a cake, there will be flour, salt, sugar and there will be pepper. It doesn't mean that all must be in different places. No. You mix it together, so that you will enjoy it. If you make tea, you have teapot and you put sugar and milk in it. But at the beginning, you bring them separately. When you put them together, they can't separate again and you will have a beautiful cup of tea.
Why did Peter Odili, who seemed to have upper hand at the time, suddenly step down? You should be in a position to know.
This is politics. It is what they call hard politics. That is the reason sometimes they tell you that politics is hard ball game. Everybody thought that if Peter would not be president, he must be vice president. It was so obvious, isn't it? He is also from the South South. But he was not given that position.
What happened?
I don't know. I wish I knew. But here again, it must be hard politics. If I were part of the decision, I would have asked.
As one of his strongest supporters, people expect he would explain to you that he was withdrawing and give reasons for doing so.
He didn't. The fact is that I love Odili as a person, like my children. Anybody at the age of bearing is my son or my daughter. Believe me. I always pray for them to do better than I, in whatever good thing I have ever done, not the bad one. It is not in everything they ask my advice. But if they ask my advice, I will give them.
What was your position during the third term debate?
We did not want a sitting president after his term. It negates our constitution. Eight years is good enough for a president and a governor. After that, they should step aside and allow others to continue. The fact is that I never considered it to be a serious affair. I knew it wouldn't fly. Nigerians would not allow such a thing. Nigerians are too politically sophisticated and too constitutionally conscious than to allow any element of manipulation to hold sway.
You did not take any stand at the time?
I knew it wouldn't work. Nobody ever asked me.
Would you say former President Obasanjo is your friend?
Yes. He is my friend. I worked with Obasanjo, since he was the Federal Commissioner for Works. I worked at the Nigerian Port Authority at that time. He really assisted me to get Yakubu Gowon, as head of state, to allow me to build more capacity for port authority.
He is my friend up till today. The first time he wanted to take this job, he was in my house in Kaduna, six o' clock in the morning to tell me he wanted to be president of Nigeria.
Did you assist him?
Oh yes, I did. I was one of those who went round all our emirs and to all our leaders, both chiefs and the clerics to pray for him to make sure that he succeeds in becoming the president of Nigeria.
Did you see anything he did wrong when he was in power?
Yes. You cannot be there for eight years and do everything right. Yes, he made a lot of mistakes. He is pragmatic. Somebody asked me why I did not support former vice president, Alex Ekweme and I said no, the situation required an Obasanjo. It is just like having a driver and a truck driver in a rugged terrain. You don't use your driver in a rugged terrain. You use your truck driver. So, we used Obasanjo because at that time, Nigeria was very rugged.
Did you ever point out his mistakes to him when he was in power?
No. I don't need to tell you that. But I discussed with him. We discussed together. We agreed and we disagreed. I respect his view and I believe that he also respects my views. But that is not for the public because he is a friend of mine.
Are you satisfied with the performance of President Jonathan since he mounted the saddle?
How many months has he mounted that saddle?
May this year.
He has not been there for a year yet. You see, that is the problem of our people. We are too fast. Even if God wants to bring a baby, the baby would be conceived and remain for nine months in the womb. He won't do it immediately. I tell you what I see now, when I go out, I don't have to queue to buy fuel in the petrol station. Is it not good for me? I see them commissioning things. This is what I pray they should do, to be that commander-in-chief and get his own team to do what they need to do. Let his ministers work.
But many complain about the way he handles some issues. First, after the World Cup, he said Nigeria would not take part in football competition for two years. When FIFA threatened him and gave him 48-hour ultimatum, he quickly reversed his decision. France that was threatened at the same time ignored FIFA. Secondly, people complain about the way he handled the October 1 bomb blasts in Abuja.
Listen, you have come here to ask me about politics. If you say you want to talk about the good and the bad for Nigeria, I cannot give you that interview in one hour. For God's sake, we are talking about politics and zoning. Don't confuse me. Don't confuse your readers .I have nothing to do with Jonathan and football. That is not my issue. That is not what you have come for.
Do you believe that President Jonathan is the best for the job today?
God gives power to whoever he wishes. Today, Jonathan is the president of Nigeria. That is the reality. Thank you.
Can you compare the politics of the first and second republics with the politics of today?
The politics of the First Republic was well centred according to what we inherited from Britain. It was mature politics. It was politics of issues and not politics of positions and money. It was politics of patriotism, as opposed to politics of division. So, at that time, people were patriotic. People didn't talk about their tribes and regions. They talked about issues and development. They thought of what to take to their constituencies.
How do you see your political associates from the North insisting that zoning must be respected in 2011?
It is wrong. They are over-heating the polity. Why zoning? Zoning is only thinking of fairness to the generality of the people. But you also understand the reality of the day. What is the reality today? If, for example, you now say you want to push out Jonathan and you want somebody else, you want to create problem. Because Jonathan is supposed to be representing an area, as you are representing an area. He is sitting on the chair now.
Did you discuss this issue with them?
Well, they did not ask me. If they ask me, I will say what I think. I travelled and came back only to find out that they call them G15 or G20. If they called me I would have told them. Before they can take that kind of position, I expected that in politics today in Northern Nigeria, at least, if they can call 10 people, they could make Bamanga Tukur 11th of them.
You, Atku Abubakar and Jibril Aminu are the renowned politicians from your state. Why is it that you don't agree among yourselves? Why are you not all backing Atiku who is contesting for president?
There is no question of disagreement. Yes. We disagree on principle. Even in my own home, we can disagree, if I find that the principle governing the home is not just. At the moment, Atiku and Jonathan are in the same PDP. It is a contest. If Atiku wins, I will support Atiku.
But you are supporting Jonathan?
Yes. You must understand PDP is one party. It is a party affair. They are contesting. To me, the reality at the moment is that Jonathan should be supported. Jonathan is wearing the gown now. Constitutionally, he is the right person to succeed Umar and he did so. Now, he said he wishes to continue and others also said they want to contest. Fine. They can contest. But as a member of that party, I am supporting Jonathan because he is now wearing the gown and the gown should not be allowed to be turn apart. If the people want to take the gown from Jonathan, I say it is all right.
What do you say to the approach of Northern leaders insisting on zoning?
Do you know what they call politics? Politics is blowing hot air. They can talk about this and that, don't mind that. They abuse one another and tomorrow morning, they are the best of friends. When you see politicians trading words with one another, don't join them. I can assure you that Adamu Ciroma and Jonathan would soon be on good terms. I am telling you. So, newspapers that come between them are the ones to suffer. Just laugh and see it as words politicians use in order to get a clap from the crowd.