SIASIA WARNS MIKEL, NSOFOR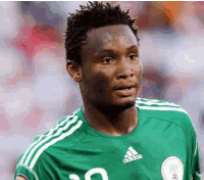 Mikel
New Super Eagles coach, Samson Siasia, has warned his army of Holland 2005 U-20 World Cup and Beijing 2008 Olympic stars that they can only lace boots for the senior national team on merit.
Top on the list of stars who Siasia used to dazzle the world in Holland and Beijing were the likes of Obinna Nsofor, Chinedu Obasi Ogbuke, Mikel Obi, Taye Taiwo and Osaze Odemwingie, who have since graduated to the Super Eagles.
The coach who spoke early this week in Abuja on his plans after being named Eagles manager, said he will disappoint any player who feels he can ride on the back of being a Siasia boy to wear the country's green- white- green colours.
The 43- year old tactician said he has always chosen his team on merit and would keep that tradition now that he has landed the ultimate job. In his words: 'No body can ride on the back of being my boy to wear Eagles shirt.
When I was given the Flying Eagles job, I picked the best legs available in the country. That was the same thing I did when I took charge of the U-23 team. I go for the best legs, so whoever wants to make the Super Eagles under me, was work hard and earn a place purely on merit. The issue of getting a place because the person is my boy is totally out of it.'
Siasia said Nigerians would see the Super Eagles of their dream in three years, even as he pointing out that he won't build a new team over night. 'I will begin the process of building a new team immediately. For me, there is nothing like home and foreign-based player. Every good player will be given the opportunity to prove his mettle irrespective of where he is based. I am confident that in three years we will get there and have the kind of team that Nigerians would be proud of.'
It would be noted that the NFF last week gave Siasia a four year contract that would, however be reviewed after the first two years. Siasia's immediate challenge is to qualify Nigeria for the Equatorial Guinea/ Gabon 2012 Nations Cup. The Super Eagles are at present second behind group leaders, Guinea in the race to the African soccer show piece.
…His pay worries NFF
While Nigerians are celebrating the appointment of Samson Siasia as Super Eagles manager, his employers , the Nigeria Football Federation (NFF) are at a loss over how to source the funds they need to settle his monthly wage bill and other allowances.
A top federation official who pleaded anonymity told Daily Sunsports yesterday that conservatively, the NFF will need about N200m annually to bankroll Siasia's salaries and that of his assistants. 'For us , the challenge right now is how to get this money. There are no sponsors and we can't be going cap in hand to beg the National Sports Commission (NSC) to bail us out. We can't afford to owe the coaches.
As we speak, the Sanni Lulu board is still owing Amodu and Christian Chukwu was owed salaries. We don't want that trend to continue. It is going to be a big problem with no PTF around to pick the bills as was the case when Lagerback was here,' he said.
Siasia is to earn a monthly salary of N5million, while his assistants would pocket about N2.5 million. The NFF will equally take care of the accommodation and vehicle of the Eagles manager. The federation official hinted that the NFF board would have to approach some corporate bodies to help out as that would be the only way to ensure Siasia gets his pay regularly.