AFTER THREE STILLBIRTHS THROUGH CS, WOMAN NOW HAS REASON TO CELEBRATE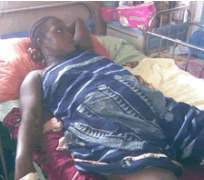 Tawa on her hospital bed
Taofik and Tawa Balogun, who reside at Ikare-Akoko, headquarters of Akoko North East local government in Ondo State, now have a cause to smile.
For years, both husband and wife have struggled to have a child of their own. When Tawa, 31, a native of Igboho in Oke-Ogun area of Oyo State, got married to Taofeek, an auto-dealer in Ikare-Akoko 10 years ago, they had thought that the union would soon be blessed with kids. But since their wedding, they haven't been to have their own kids.
Tawa has been pregnant, only that the babies, delivered through caesarian section at a public hospital, have never survived. This has continued to bring anguish to the couple particularly the woman who suffered the pain of having three separate deliveries through operation, and yet lost all the kids.
Well, that was then. Right now, Tawa and Taofeek are very happy. They now have a reason to celebrate, thanks to the Ondo State Government's sound health policy.
The woman delivered safely through a caesarian operation performed on her at the Mother and Child Hospital, a state government-owned facility sited at Oke-Aro in Akure, the state capital. It was designed by Governor Olusegun Mimiko shortly after taking over the mantle of leadership in the state on February 24, 2009. And since the commissioning of the hospital, it has been a life-saving centre for thousands of mothers and children within and outside the state.
Speaking with Daily Sun, Mrs. Balogun, who delivered a new bouncing baby boy at the Mother and Child Hospital on October 21st, was full of praises to the Almighty God.
Hear her: 'After passing through the agony of being operated on three consecutive times during deliveries, I and my husband went to the University College Hospital [UCH] Ibadan, to seek medical advice. We were told point-blank by medical experts that the idea of having a safe delivery after three caesarian operations was very remote and that there was only one chance again which invariably would also be through operation.
'When we got this shocking news, we decided to contact a prayer centre in Akure, where a woman in charge advised us to patronize the Mother and Child Hospital. Already, I had conceived but the woman assured us of my safe delivery. She encouraged us to try the hospital because of the professionalism of its medical personnel and the available facilities.'
Mrs. Balogun said she visited the hospital and registered to enable her receive pre-natal treatment. On a Wednesday when she was feeling uncomfortable, her husband led her to the hospital. She was on admission and after few hours of rigorous labour, she delivered safely courtesy of pro-active medical attention.
'For my successful delivery, I thank Mimiko's government that initiated the idea of this special hospital to sustain the lives of mothers and children even at no cost,' she said. 'After I had given birth to my new baby safely, I thought our bills would be heavy. I was surprised when no amount was charged. Even all the medication was free. This gesture is unbelievable. If it was in a private hospital, we would have coughed out between N150, 000 and N200, 000.'
The highly elated husband, 34-year-old Taofik said: 'We appreciate God and Governor Mimiko. We have suffered a lot in the past. We had visited several hospitals, including the UCH in Ibadan. My wife had three deliveries through operations and none survived. That is why we will remain grateful for having this new bouncing baby without any complications.
'We will continue to proclaim this message of goodwill to everybody, particularly those who have similar problem. Even what surprised me most was that pregnant women from places as far as Kaduna, Kano, Kogi and others from the South West and the North come here and leave with their new babies. And they don't pay any money.'
Chief Medical Director (CMD) of the hospital, Dr. Lawal Oyeneyin said Balogun's case was one of the many being witnessed at the Mother and Child Hospital on a daily basis.
According to him, 'though, Mrs. Balogun had a difficult operation, but God took absolute control. After the baby came out, it didn't cry immediately and the woman felt bad, but we assured her that all was well. A few minutes after, the woman got the baby alive and she started shedding tears of joy.'
Dr. Oyeneyin said even though the job at the hospital is hectic, the fact that the medical personnel are able to save several lives every day is far better than making millions of Naira.
He said in the medical world, a woman that is operated on once is at risk during a subsequent delivery, not to talk of somebody with three caesarian operations. He said the case was a high-risk case but asserted that 'the know-how of the medical personnel in place here always brings success to all efforts.'