THE BEST ADVERTISEMENT YOU CAN DO IS BY WORD OF MOUTH – POLO BOSS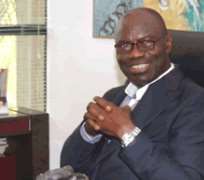 Obayuwana
John Obayuwana is a merchant of world established status symbols. But he will humbly describe his articles of business as pieces of personal adornment. Dark complexioned and barely of an average height, Obayuwana's physique is in contrast with his kind of high profile trade and crème of up market patrons.
For 20 years, the Polo boss has continued to mingle with the tall and mighty, distinguishing them from the general lot with sophisticated labels of luxury collections that leaves one with a tip of their worth.
On the left wrists of these clients are Polo portfolio of famous global valuable watches that range from familiar names like Rolex, Vacheron Constantin, Piaget, Hublot, Cartier, Chopard, Longines, to Ebel, Baume & Mercier, Roger Dubuis and Franck Muller.
The latest on the Polo Towers is the Rolex exclusive distributorship the company just won for the West African market. With this development comes Rolex's support for world class after sales services and other backups to meet customers' needs.
This is besides the fact that Polo Nigeria had been the sole representative of major luxury brands like Hublot and Vacheron Constantin. Neta Nwosu speaks with Polo Nigeria Chief Executive on its new catch, Rolex, and other contemporary issues. Excerpts:
It seems you could sell anything, why wrist watches?
They are pieces of adornment, personal adornment and they are a mark of achievement and distinction of a man. By the way, we all cannot sell rice or petroleum products.
You have been selling watches for a very long time. Could you please state how your business has evolved over the years?
It's been good. We started small and we have grown. We have been growing steadily over the years. There have been challenges along the way but overall, it's been good.
What do you see as the essential qualities of Rolex? What are the core values of this brand of wristwatches?
Essentially, rolex connotes prestige, luxury, durability and store of value. Rolex is the most renowned watch brand in the world. It is truly a special piece.
Could you describe Rolex as a brand.
Isn't that what I have just done?
Please, describe Rolex as a brand compared to other watches.
When you talk of watches generally, there are watches and there are watches. If you are talking of watches at the highest level of performance, at the highest level of technical excellence, that is one level. There is another level that has to do with watches in the mid-range. Then you have watches that just barely tell you the time which you pick up in any street corner for peanuts. But they are also watches. So, it's difficult to group watches generally.
But when you speak about Rolex, you speak of watches at the highest peak of excellence, highest peak of perfection and performance. And you think of watches that are made with details. Watches that are made with high tech that modern technology can provide; a product of the ingenuity of human technical know-how. That is what we mean when we talk of Rolex.
What is the exact ranking of Rolex in the family of watches?
In the world it's number one. Within its category of watches, it's number one. It is number one in terms of being the most recognized, the most sought-after and the brand everybody wants to own. First, you buy a Rolex, then you can go and buy other brands. It is truly the largest watch in the world.
I understand Polo just won the franchise to sell Rolex watch in this country and other specific parts of Africa.
Not franchise. Franchise is a different thing.
So what did you win?
Distribution and retail. Solely and exclusive distribution and retail of Rolex watches.
In Nigeria and which other parts of Africa?
In West Africa. Franchise is a typical market. I will give you an instance. You have a global Radisson Hotel and you own Radisson Hotel in Nigeria. All you need to do is pay them a fee for using that name. With a similar arrangement, you can also have Hoss Electronics. The parent Hoss organisation will do the interior, they will furnish it, they will train your people and they will give you every other support. You can write your invoice with Hoss logo. But you own it and every year you pay royalty to Hoss. Now that is franchise.
We are retailers and that is already more than prestigious alone. The relationship also entitles us to all the necessary back-up support.
How did it all happen? How did the exclusive distribution come about?
I would say through our commitment to the highest value of watch making. Through our commitment to the best brands which we believe are the most trusted watches. Through our commitment to the core values of excellent services. They came and investigated our business, they looked at our structures, they have seen our capability, sufficiently enough for them to say okay, we trust you to represent us in Nigeria.
What is the exact value of winning this exclusive distribution in relation to your balance sheet?
How do you mean?
I mean in terms of profit. How is this exclusive distribution of Rolex in West Africa going to impact on your company's profit? Is it going to enhance your profit margin? Is it going to translate to more money for your company?
It should enhance our brand's visibility. It should enhance the overall value of our business.
Every business has a weakness. For example, it could be image, awareness, design, distribution or after- sales service. What are some of the areas that you think Rolex can improve upon?
None that I know of. There is none that I know; otherwise, they will not be the greatest. There is none that I know. If anything, is that all other watch companies and brands would like to emulate Rolex and be in its position.
This is an assumption. Within three months, Rolex can churn out various models. So what informs your selective focus on sales of some specific models?
Well like you stated, it is an assumption. Rolex does not churn out models in such quick succession. It is not a fashion brand that churns out new pieces in new seasons. Some of the models today still very strong in the collection are over sixty years old in design. The whole ideal is that when you put your money on Rolex, you are assured of value and you know that you are not going to loose the value. Instead you retain value because you know what you are getting. There are no surprises and therefore it is not what you churn out. It is not mass produced.
How many models of Rolex do we have?
Well, one can say that there are two large families, the Oyster family and Cellini family. These are the two large families but within these two large families, there are many variations of same model. You change the dial, you change the colour, you change other things too. The Cellini line is Rolex's line of 'dressy' watches. You also have the Rolex Professional line.
Who are your closest competitors in Nigeria?
I don't know. I really don't know. Truly, there is direct competition and there is indirect competition. We have been here for 20 years and we have been lucky.
The competition comes more from London, Paris, Dubai. Of course, there are many vendors out there who are also trying to take a piece of the action. They must be quite a lot but I don't know of any who has the set up that we have, who has the organization that we have, who has the family of brands that we have. I don't really know.
How many sales outlets do you have in Nigeria?
Four for now. We want to do more. We are doing one here. We have one outlet each in Abuja, Ikeja, and at Palms. We want to do more, but I can't tell you where.
Who is the typical customer of Rolex?
He is cultured, educated, aware, he demands excellence, he is an achiever and of course, he also has the means to chase after his possession. They are male and female worldwide.
Are they affluent?
You ought to have some means. You absolutely definitely ought to have some means. But there are others who like I earlier said are educated, who are aspirational and who say, hey! I want the finest that life can bring. So, me too I'm going to save to own a Rolex'. If you buy a Rolex today, your grandson will enjoy the same watch. So, you have actually invested on a quality product. It is not a cheap flash that you discard.
Do you have plans to acquire exclusive distribution for other brands on your shelves?
We already do. We presently have exclusive distributorship for Vacheron Constantin, Hublot, other bests in the world. Only the very best we chase after and we leave the rest for others. And we are not just buying and selling these watches. We are representing these brands and their manufacturers here. That means we have their technical and marketing support, we have advisory techniques between us. So when you come to us you are rest assured that you are getting what is real from the real family.
In marketing we say big brand, big marketing. Now that you have won Rolex exclusive distributorship, how do you intend to drive the sales and marketing of this brand?
Like we have always done, all we need to do is consistently provide and sustain our traditional top appropriate services. Don't forget that the best advertisement you can do is by 'word of mouth'. One satisfied customer is going to talk to another prospective customer. So you have a situation where your customers become your ambassadors and your best sales people.
What is your vision for Polo and how do you see the future of the watch market
vis-a-vis fake and substandard wristwatches coupled with the poverty level?
Every society has its poor people. I think we are fortunate in Nigeria. Poverty is reducing daily, more and more people are moving into the middle class, more people are becoming business-inclined and investors are coming into the country. We are already witnessing new cars on the roads. Look at what the telecoms companies are doing. See what the entertainment industry is doing.
Some people who could not afford some basic items are today able to afford and avail themselves very fine objects of their desire. So I think we are changing and very quickly too. But you see we don't realize these changes because we are here in this country. Look at Lagos, it is changing, who is doing all the work? Nigerians. So I'm very confident of the future.
How do you intend to cope with the challenge of fake and substandard watches?
We will always have them. But those who are discerning, those who are knowledgeable will always seek the true genuine article. And this is why they should come to an outlet like Polo to ensure that they are getting the right deal, that what they are paying for is not a gimmick or a fake. You go to the professional outlet. People bring wrist watches for us to repair, we open them up and find that they are fake. So you can imagine that they have spent such a large sum of money for such a product rather than a quality one.
Don't be hoodwinked by how nice they look or how attractive the prices are. When you are offered the watch which is below the actual price or actual cost, you should be on your guard.
How long have you been in this business?
20 years.
Could you please share your experiences?
It's been very exciting. It is challenging. It's been rewarding in many ways. We have met people. I'm meeting you now. If I wasn't in this business I wouldn't be talking with you. These people are our strength. The people that we have met are our friends.
Do you have any regrets?
No.