Jonathan Move To Avert Black Wednesday…. Meets With Labor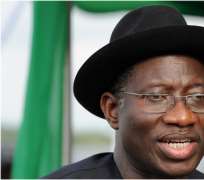 Huhuonline.com understands that Nigerian government is torn between a rock and a hard place, and is now desperately seeking means to avert the impending three day strike by Nigerian Labor Congress (NLC) and the Trade Union Congress. Our checks reveal that President Goodluck Jonathan has cut short his visit to Lagos, and will lead a high-powered government delegation to an emergency talk with labor in Abuja.
Labor leaders had issued a press release to all employers in Nigeria, accusing government of insensitivity, and exhibiting a nonchalant attitude towards the implementation of the eighteen thousand naira (N18, 000) or One hundred and twenty dollars ($120), monthly minimum wage. They warned that its workers would embark on a nationwide three day strike, which will take effect from tomorrow, Wednesday, 10th November 2010.
However, the President's spokesperson, Ima Niboro, said "government's interest in continuing its commitment towards achieving a realistic salary and wages for the Nigerian workers as evidenced in the salaries increases of Federal Government employees last month'.
"The labor leaders will show good faith in calling off the planned strike with its attended consequences for national economy after government reviews its action plan on a new national minimum wage in the shortest possible time".
Full text of labor's press release reads;
'The joint leadership of the national umbrella body of organized trade unions in Nigeria, Trade Union Congress of Nigeria (TUC) and Nigeria Labor Congress (NLC) have resolved to embark on a three days National Warning Strike from Wednesday, 10 th   to Friday, 12 th November, 2010 to press home the demand for the institutionalization of better working conditions for workers and give effect to the Agreement between the Nigerian State, Employers and Workers on Eighteen Thousand Naira (N18,000.00) Minimum Wage for Workers'.
'All our members across the nooks and crannies of the Country are enjoined to strictly adhere to and abide by the resolution'.
'The non-chalant attitude and insensitivity of the Nigerian Government to frustrate this Agreement can no longer be tolerated. We strongly believe that this strike would inevitably be healthy for our national economy, both for the private and public employers of labor and erase arbitrariness in setting the welfare conditions of workers in the country'.
'More importantly, it will serve as a tunic of motivation to heighten productivity, purchasing power and delivery of workplace goals'.
'While all our members will stay away from work places during this period, Managements are advised in the interest of all social stakeholders to close their offices from any form of transactions and desist from any act that may be considered as an inducement to report at duty desks, intimidation and unscrupulous frustration of strike objectives'.