I'M SINGLE BUT NOT SEARCHING: INI EDO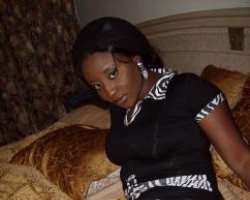 Her beauty and sexiness coupled with her acting prowess are outstanding qualities that have endeared her to many. Nollywood star actress Ini Edo is unarguably, the hottest star in Nollywood today. Since her debut few years ago, Ini' who has starred in over a hundred movies, made a big comeback to Nollywood after the one-year ban order slammed on her by the leadership of the Actors Guild of Nigeria (AGN), was lifted. The Eket, Akwa-Ibom indigene here, opens up on her meteoric rise to stardom, the controversial "ban," which lasted for four months, her relationship, life as an actress and more.
A lot of people have argued that your meteoric rise to stardom was sudden. Do you agree with them?
That is not true, I started years ago with auditions and minor roles, like six years. My first audition was for Child of Destiny, in Aba, Abia State. In fact, that was my first movie by Ndubuisi Okoh, from Zelex Productions. I did not plan where I am today and it is not because I am so good. For some reasons, I just have the favour of God and He made it happen. But, I don't like to admit I came from nowhere, I have paid a few dues. I may not have had it as rough as others, but, in my own little way, I didn't have it so smooth like that. I had a divine enlistment at the end of the day.
So, what were the major challenges you encountered on your way to the top?
When you come into an industry like Nollywood, it takes time for you to convince people to believe in you and also stake their money on you. Especially if you consider the fact that you are not known. I had to work harder in order to be given a chance to get to where I am today.
When did you get your first big break in Nollywood?
World's Apart, from the stable of Great Movies Production, was a major break for me, even though I had done other movies before then. It actually brought me to the limelight. I was already a diploma student of Theatre Arts at University of Uyo when I traveled to Aba for my first movie. A course mate of mine invited us, so my coming into Nollywood was never by accident. But, unfortunately, I never wanted to be an actress, I dreamt of becoming a lawyer or a newscaster. I was an actress in my school days; I was at New Era Nursery School, Eket, my town in Akwa-Ibom State. I eventually graduated with a degree in English and Literary Studies from University of Calabar. I will be going for NYSC soon.
What happens to your acting career when you leave?
My career will still be there. Just for one year, definitely, I will try and cope.
How many movies have you starred in since your arrival?
Let's say, I have done over 100 and I do not have my best yet. But Only Love, by O.J Production truly and really touched my soul.
A lot of people, especially your fans, do not know why you were banned. What really happened?
sincerely speaking, I also really don't know why I was banned. In fact, there were so many insinuations on the cause of the ban. And I could not really pinpoint any, but, whatever it was, I don't want to go into the details.
It was alleged then that you were fond of abandoning sets?
Well, nobody has the proof for that kind of heavy allegations. Besides, it has never happened with me. I don't think I have ever left anybody's set for any other job. The only time I left a set, I was very ill and I also made it clear, besides I left in the middle of the night, in fact, it was almost daybreak when I left, around 3a.m.
While the ban lasted, what were you doing and how did you cope?
It was really a break taking period for me, after all the years of hard work. The basic thing was that I rested a lot and also took out time to do my own personal things. Like visiting motherless babies homes and other things that I had wanted to do but didn't have the time to do them because of my busy schedule as an actress. Soon, I will be starting my NGO; we are still working out the modalities. The break gave me the opportunity to do the research and gather all the necessary materials needed for the take-off. Aside visiting my parents and all the people I hadn't seen in a long while, I also took out time to reflect on all that had happened to me in the past, both positive and negative.
People are of the view that you are very controversial and rude. How true is that?
I really do not know, better still, ask those who think I'm controversial. But deep down, I don't think I am. Most times, some people can't just seem to comprehend what you do and who you are. And I am not rude. Again, people confuse or misconstrue confidence with arrogance. I am somebody who does not like to be intimidated.
And now that you are fully back, what should your fans expect from you?
Even though I have several scripts waiting for me, I still want to take my time before hitting locations. I'm aware I have missed work but I won't jump on any location. I want to take my time and come out differently. I also want to take a look at those things that were so "bad" that they said I did and see how I will make them better. So, currently. I'm still going through all the scripts before me to choose the best among them. I don't want to be on every movie anymore. I want to strive and see how I can be very selective in all the scripts coming my way now.
What major lessons would you say you learnt from your ban?
The major lesson for me is that you should not take or judge people from what they look like. I trust very easily and that was one of my major problems. I also figured that, most times, some friends get closer in order to bring you down or get you out of your position. Another thing I learnt from the ban is the kind of responsibility God has put on me as a celebrity. I may not have reache the position or height God has taken me to. It is, generally, an eye opener from God to me.
Who are the showbiz personalities that have the greatest influence on your career?
Liz Benson used to really make me feel like I want to act. Edith Jane-Azu and a couple of others also influenced me. On the foreign scene, I like Julia Roberts and Chalize Theron.
What would you say stands you out and probably gives you an edge over your contemporaries?
I don't know but I always strive to be myself at all times. I like myself the way I am.
So, how are you coping with stardom?
I still try to be myself.
And how do you keep away male admirers?
I just try to be polite in telling them I'm not available because I'm hooked. The stubborn ones get stubbornness from me as well.
Sometime ago, there were stories about your romance with D'banj?
He is a good friend, we never dated and that's the truth.
Who is your ideal man?
My dream or ideal man is that man that is going to be good for me in all ramifications. He has to be God-fearing. I can't compromise that. He has to be neat and decent too.
Are you still searching?
No! I'm not searching. I have found a soul mate and when the time comes, everything will fall into place.
What are your hobbies?
I like to swim, watch movies a lot, especially foreign. I try to watch Nollywood sometimes.
What weighs you down?
Anything very bad breaks me down and also weighs me down. I'm quite emotional and do not like hearing sad news. Disappointment is another thing that weighs me down.
What is the next level for Ini Edo?
Well, I hope to do a lot more for myself by developing more as a total artiste. I also hope to launch my NGO and start a family.