DOCTORS' STRIKE TAKE TOLL ON HOSPITALS, PATIENTS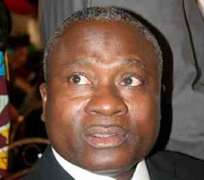 Lagos state commissioner for Health, Dr. Jide Idris.
Private hospital operators in Lagos State are learning to cope with increased patients' traffic trailing the ongoing strike embarked upon by medical doctors in the employment of the state since August 14. In spite of the increased pressure, some private hospital are smiling to the banks while poor patients now rely on God for healing, BUKOLA ADEBAYO, MOTUNRAYO ABODERIN and TAYO OTEGBEYE report
One man's pain is another man's gain is a saying that gives an apt description of chains of events trailing the ongoing strike by medical doctors in the employment of Lagos State. While the poor sick masses are groaning in pains, operators of private hospitals are smiling to the bank, wishing that the strike will last forever. And with the refusal of the state government to accede to the demands of the doctors, the business boom being enjoyed by operators of private hospitals is likely to continue. However, the poor among the sick will have to continue to wait on God for healing as the bill being charged at these private hospitals is beyond their reach. Though the private medical operators are making money, they are also contending with increased human traffic in their hospitals.
The public health sector had been paralysed since the doctors in the employment of the Lagos State government embarked on a strike action on August 14, to force their employer to implement the new salary scale granted the Nigerian Medical Association by the Federal Government.
When one of our correspondents visited the R-Jolad Hospital, a specialist private hospital in Gbagada, Lagos, the facility manager, Mr. Paul Emokhare, said that the population of patients visiting the hospital had tripled since the strike started.
Emokhare said that although the hospital was not caught unaware, as it had, had to manage huge population of patients from subsequent strikes in the past, he admitted that the prolonged strike had definitely put greater pressure on the hospital, as it had a policy of not rejecting patients.
'Patients are brought here everyday. As early as 6.30am, the reception is already jam-packed. We do not reject patients. Emergency cases have definitely doubled; accident victims are rushed here more than before.'
To manage this upsurge, we have to bring in more doctors and specialists to attend to the patients, because we cannot overstretch the facilities on ground for ethical reasons,' he said.
'We always get huge crowd when public hospitals go on strike, because we do not reject patients or insist on cash deposit in emergency situation, so people already know that we will attend to any serious case they bring here.
'We had to bring in more doctors to manage the patients. We cannot overcrowd patients in a ward, we cannot take more than our facilities can accommodate but we increased manpower,' he added.
He said that in order to avoid overcrowding, patients that could not be accommodated in the hospital were given first aid treatment till they were stable enough for referral to other private hospitals.
'We are admitting serious cases or emergency cases; others are treated on outpatient basis. We do not overstretch our facilities. When bed spaces are filled, we administer first aid in cases of emergencies and referr them to another private hospital when they are stable,' Emokhare said.
He said that despite the upsurge in the number of patients visiting the hospital, the management would not hike its fees, saying it could worsen patients' problems.
'We are known for attending to rich and poor patients. We have managed influx of patients due to strike in Lagos. We are not adding a dime to our previous charges. Attempting to do that will only compound the on-going challenges patients are facing,' he said.
Also, at the Light Hospital, Alimosho, one of the doctors on duty, Dr. Oluwaseun Oluwo, told our correspondents that the strike had really affected the hospital in terms of pressure as the number of patients medical personnel had to attend to had increased from like 40 to 80 per day. He added that the hospital had to also contend with referral cases.
'There are so many secondary cases that we are supposed to be referring to the secondary hospitals like the general hospital, but we cannot because the doctors that are meant to attend to the patients are on strike, so it is really affecting the management of the hospital.
'For example, there may be an instance whereby a baby is born before the normal duration which is nine months, so the need to put such a child inside incubator arises but we don't have the equipment here so we refer them to general hospitals who have the necessary equipment but now that the doctors are on strike, we have no other alternative.
'In a day, we attend to nothing less than 80 people. Before the strike, we frequently treated company patients, but now we have both company and private patients coming in.
'There is also an increase in the emergency cases which have stretched our normal routine and facilities. I seriously believe there is no need for more hands and facilities; instead, the strike should be called off.
But in spite of the pressure, Oluwo said that the hospital's revenue had experienced a turnaround as a result of the strike. Though he did not state specifically what the hospital realised in a day, he admitted that there had been an upsurge in revenue.
'Everybody is aware that private hospitals are expensive. There were times patients had to leave because they could not afford to pay even a deposit, and we know it is unfair, but we have no choice.' he said.
He, however, urged the warring parties to sheathe their swords and called off the strike for the sake of the masses.
'I think the doctors and the Lagos State government should negotiate among themselves because we are dealing with lives. The health sector in my opinion is the most important sector in a country. The earlier we realise this, the better for us,' he said.
A similar scenario played out at Crystal Hospital, Egbeda, where a medical doctor who pleaded anonymity, told one of our correspondents that the action had led to increased number of emergency cases in the hospital.
'On a normal day, we used to have six to seven doctors on duty but since the strike started, we now have 10 to 12 doctors on a shift and despite these measures, patients still have to wait for longer hours because we don't have enough hands. Some of these patients also resort to sleeping here in order to see a doctor. I am terribly saddened by what is happening,' he said. On what should be done to resolve the conflict, the doctor called on the state government to urgently acquiesce to the demands of the doctors.
He said, 'What the Lagos State doctors are requesting for has been long overdue because some other states have done theirs but I feel the Lagos State government does not see that it has a responsibility to its people. They are not bothered about the health system of the people.
'If nothing is done about this strike, I fear that Nigeria may witness a drastic brain-drain because we doctors feel we are not being appreciated. I'm also working on leaving the country to somewhere I would be more valued.'
Some of the patients our correspondents spoke to said that they had to resort to waiting for days before they could be attended to at private hospitals where they paid huge bill.
They also appealed to the Lagos State government to urgently resolve the issue.